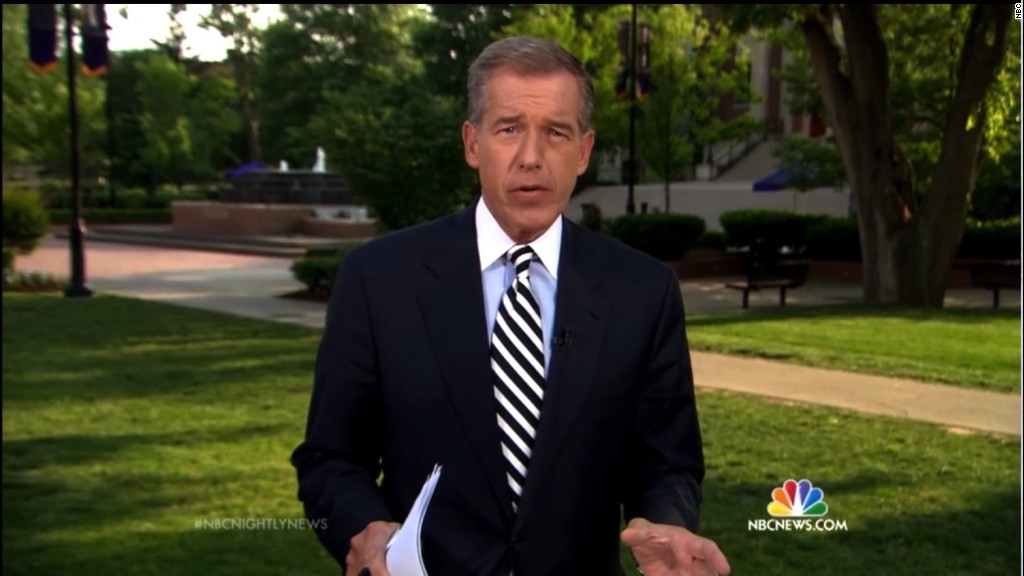 Brian Williams is figuring out how "he's going to respond" to the controversy that has sidelined his career, according to his predecessor at NBC News.
Tom Brokaw was asked during an appearance Monday on Fox News to promote his new memoir about the turmoil that has engulfed NBC and Williams for the last three months.
"I mean, he is now at a point where he's, I gather, trying to decide how it is that he's going to respond," Brokaw said of Williams.
When asked to elaborate on his comment, Brokaw told CNNMoney on Tuesday, "I meant what I said. No more."
Williams has made no public statement since he was suspended in February for telling an embellished tale about a helicopter mission in Iraq. Questions have subsequently emerged about some of Williams' other accounts.
After the controversy erupted, NBC launched an internal investigation of Williams. The probe has reportedly rounded up at least 10 exaggerations told by the anchor.
However Williams ends up responding, all indications are that the saga will reach its conclusion in the near future.
CNNMoney reported late last month that NBC's decision on Williams' fate was still weeks away.
The Daily Beast's Lloyd Grove reported that newly appointed NBC News chief Andy Lack assured a group of network and affiliate station representatives on Monday that a resolution to the situation will come "soon."
Related: 'Shell-shocked': new details about NBC's handling of Brian Williams situation
During his interview Monday on conservative pundit Sean Hannity's Fox News program, Brokaw reiterated what he said last month, urging media observers to let NBC's "process" play out.
And Brokaw, who yielded the "NBC Nightly News" anchor chair to Williams in 2004, once again criticized the media's coverage of the scandal.
"I read things attributed to me, or what my state of mind is, completely wrong. Almost all of them," Brokaw told Hannity.
Related: Tom Brokaw addresses Williams controversy
Brokaw's role in the matter has been an ongoing source of intrigue and speculation, and many reports have indicated that he and Williams have a frosty relationship. He told Hannity that he has a "cordial" relationship with Williams.
Brokaw released a statement in February to rebut a report claiming that he wanted Williams fired for his exaggerations. During an event last month at the University of Chicago, Brokaw ripped a story in Vanity Fair that quoted a "friend of Brokaw's" who said that the former anchor was "livid" about the Williams situation.
Brokaw asserted that Bryan Burrough, the author of the piece, "never ever picked up the phone and asked me whether I said something, how I felt about something." Burrough said he did, in fact, seek comment but was told by an NBC representative that Brokaw wouldn't be available for an interview.
Brokaw, who now serves as a "special correspondent" at NBC News, is currently promoting "A Lucky Life Interrupted," his memoir that chronicles his struggle and recovery from multiple myeloma. The book was released on Tuesday.