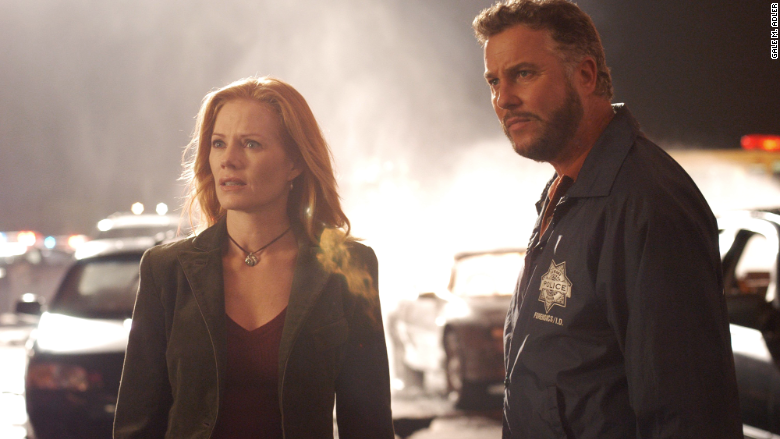 After 15 seasons on the air, "CSI" has reached the end of its run.
The pioneering crime-solving series will have what CBS entertainment chairman Nina Tassler calls a "historic series finale" on Sept. 27, right after the fall television season starts.
Tassler made the announcement on Wednesday morning, hours ahead of CBS's annual upfront presentation to advertisers.
She called it a "retirement" and said executives were "a little misty-eyed about this one."
By scheduling a two-hour special, CBS is positioning the iconic show's end as more than a mere cancellation.
The network said in a press release that the finale will be "reuniting original cast members including William Petersen and Marg Helgenberger."
Ted Danson, the current lead star of "CSI," will be moving over to the network's one-year-old spin-off, "CSI: Cyber." And "CSI: Cyber" will be officially taking over the mothership's Sunday-at-10 time slot.
While "CSI" has been one of the most well-known brands on TV, the news of its sign-off isn't a huge shock.
Related: Legendary CBS anchor Bob Schieffer to retire at the end of May
Much like Fox announcing the end "American Idol" on Monday, the show's time had arguably come.
But it shouldn't be understated just how big of a series "CSI" was for CBS -- and for TV in general.
Debuting in 2000, "CSI" was one of television's biggest powerhouses in terms of ratings ranking as TV's top-rated show in 2001 and 2002, according to ratings company Nielsen.
The series averaged over 20 million viewers for six seasons and amassed its largest audience, 26.5 million viewers a week, in its fifth season.
No drama gets that many viewers nowadays.
In recent years, "CSI" had lost much of its ratings power, but it still averaged a significant -- albeit smaller -- audience of roughly 11 million viewers for its latest season, which ended in February.
Apart from being a ratings success, "CSI" also generated multiple spinoffs for CBS like "CSI: Miami," "CSI: New York," and the latest one, "CSI: Cyber" which debuted recently.
"CSI: Cyber" is the only spinoff on CBS's schedule next season.
The series also spawned many imitations now seen throughout the current TV landscape.
And "CSI" also had an impact on the real world of forensic science by popularizing the profession for millions of people.