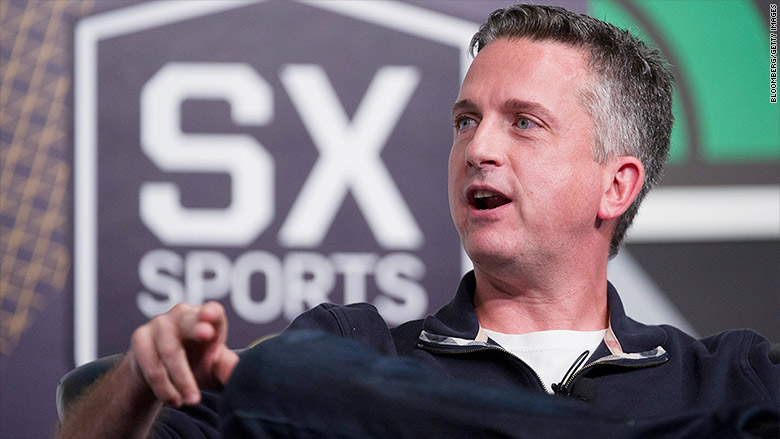 It appears that Bill Simmons was as surprised as the rest of us to learn that ESPN wasn't renewing his contract.
Shortly after ESPN announced that it was moving on from Simmons on Friday, reports circulated that the sports commentator wasn't informed of the decision before the New York Times broke the news.
Speaking to reporters Tuesday, ESPN President John Skipper responded to a question about whether the report was correct.
"The narrative that you read is accurate," Skipper told reporters following the ESPN Upfronts in New York. After a brief pause, Skipper chuckled and added, "I know I kind of dodged that, but I am going to."
The ESPN president addressed the story that hung over the network's presentation to advertisers by discussing what led to the decision.
"The decision I made earlier this week was business," Skipper said. "It should not detract from the appreciation I have for Bill Simmons. He was at ESPN for almost 15 years, and did a fabulous job for us."
The ESPN president also went on to say that even though it was a "business" decision that the choice to not renew Simmons didn't come down to just money.
"Look, we're a big company. If it was just dollars and cents, we would have figured something out," Skipper added. "It's about ultimately what he wants to do, what value that creates, what we could do together and deciding if it was going to be a match, and we decided it wouldn't be."
Related: Bill Simmons to leave ESPN
Simmons, who is usually vocal on Twitter, has not commented on the departure since Friday.
Simmons built a prolific and popular brand at the Worldwide Leader in Sports from being an on-air personality to founding the ESPN-owned sports and culture website, Grantland.
Skipper said that even though Simmons was leaving ESPN the company will continue to have a commitment to Grantland.
"We're going to continue to do it, and continue to do it at the same level both financially and staff-wise that we've been doing it," Skipper said.
As for the Upfronts presentation, ESPN avoided the Simmons fallout and focused on making a spectacle of big announcements for those in attendance at New York's Minskoff Theatre.
One such announcement was that ESPN would simulcast its 2016 NFL Wild Card game on its sister network ABC, which like ESPN is also owned by Disney (DIS).
And speaking of corporate synergy, the network also announced that the "Mike & Mike" radio show would be moving from ESPN HQ in Connecticut to above the "Good Morning America" studio in Times Square next February.
According to the network, the relocation of the popular radio show allows for "Mike & Mike" and the top-rated ABC morning show to share guests and talents.