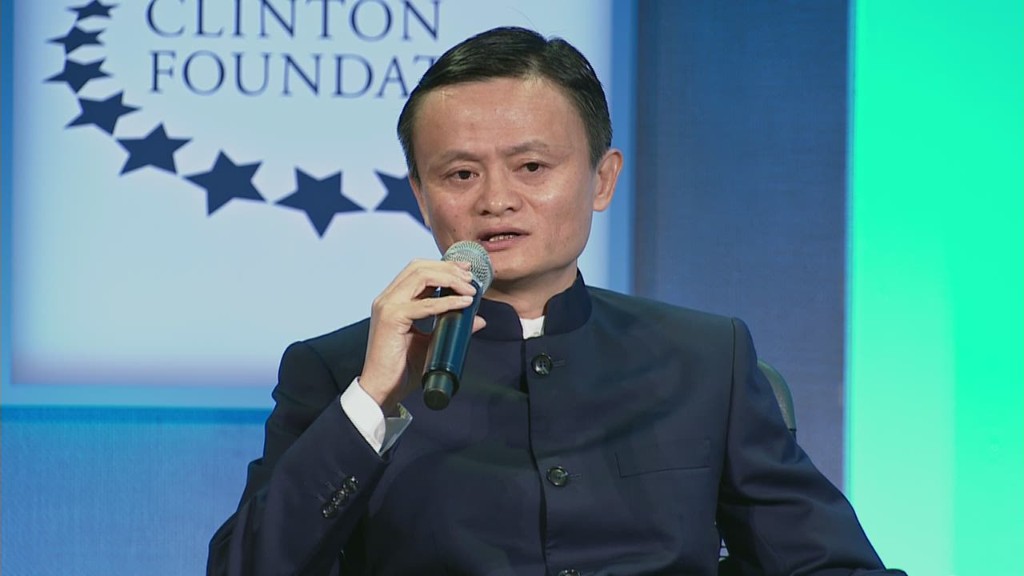 Alibaba might be the darling of China's tech scene, but the firm comes from scrappy, humble beginnings and struggled with plenty of obstacles on its way up.
A new book by former employee Porter Erisman, "Alibaba's World," explores how the small Chinese startup blossomed into an e-commerce giant.
Here are six surprising facts about Alibaba's (BABA) early days:
1. Jack Ma gave a speech, but only three people showed
Today, company founder Jack Ma is well-known for his rock star speeches, and some say he's funny enough to do stand-up.
But it wasn't always that way. In 2000, Ma was scheduled to give a speech at a tech conference in Berlin when disaster struck.
"Determined to make a grand entrance, we burst through the doors to a venue packed with 500 seats," wrote Erisman. "The venue sat 500, but only three people showed up."
Ma put on a brave face and gave his speech anyway, which ended with the sound of applause from just six hands.
Six years later, even Amazon (AMZN) CEO Jeff Bezos would be spotted at a Ma speech, taking detailed notes.
2. It all started with the Alibaba House
Apple (AAPL) famously got its start in Steve Jobs' family garage. And during the early days of Facebook (FB), Mark Zuckerberg used a Palo Alto house as a hacker's den -- think a frat house for tech geeks.
Alibaba had its own version -- Ma's humble Hangzhou apartment, where the company was founded in 1999. The first employees slept, ate and worked around the clock at the house, and over time, it became "a symbol of Alibaba's waste-no-renminbi culture," Erisman wrote.
The mentality stuck: In 2000, Alibaba opened offices in Silicon Valley, and rented a home in California -- the U.S. version of the "Alibaba House." Hordes of engineers sent from Hangzhou holed up in the house, worked odd hours and ate instant noodles for dinner.
Related: Who the heck is Jack Ma? Meet the man who built Alibaba
3. Alibaba hired farmers for its sales force
When Alibaba was looking to hire its first sales team, they couldn't afford to pay top dollar for recent graduates from China's best universities. Instead, they hired young people from rural, farming backgrounds.
"The pay was low, and conditions harsh, but Alibaba was a small step up for them and their families -- a source of hope," wrote Erisman.
4. Office blackouts were common
Hangzhou's electricity grid just couldn't keep pace with demand as the city added factories and air conditioners. During a heat wave in 2003, Alibaba -- along with the rest of the city -- was forced to ration electricity.
"On hot days, air conditioning was not allowed, so the company had large ice blocks stationed in plastic tubs around the office," Erisman wrote. "And on the hottest days, Hangzhou scheduled rolling blackouts, which meant our offices were shut down and staffers were sent home."
5. Taobao was a top secret project
Ma launched Taobao -- Alibaba's most popular online shopping platform -- in 2008, as a response to eBay's growing presence in China.
The founder hand-picked six employees to develop it -- but he wouldn't tell them a thing until they officially resigned from Alibaba and started working on the project from a secret location. The workers weren't allowed to tell their friends or family.
The Taobao platform was so top secret that Alibaba employees would even pull Ma aside to warn him about this snazzy new competitor -- at the time, they had no idea the website was actually a homegrown initiative.
Related: Meet four kings of Alibaba's online retail empire
6. EBay played dirty against Alibaba
Competitor eBay (EBAY) pulled out all the stops during its battle with Alibaba, even trying to persuade Bill Clinton to back out of a keynote speech at the company's annual summit.
Erisman writes that eBay sent screenshots of illicit items sold on Alibaba platforms -- AK-47s, uranium and counterfeit goods -- to the Clinton team. EBay founder Pierre Omidyar even called Clinton himself, according to Erisman.
EBay did not immediately respond to a request for comment.