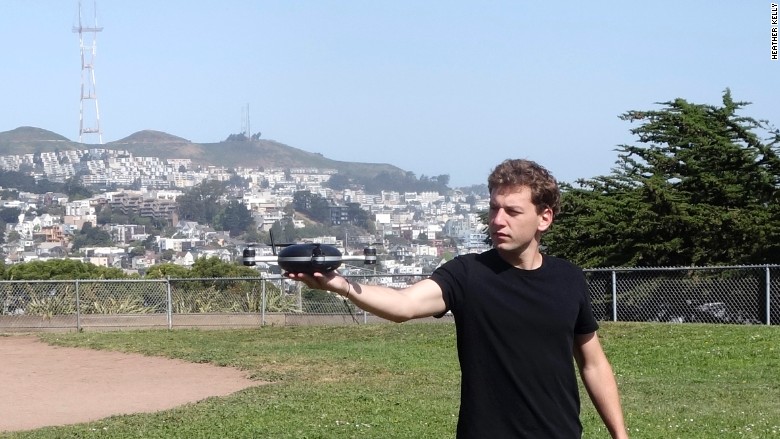 With his hand outstretched, a small drone resting in his palm, Antoine Balaresque looks like a falconer.
When he tosses the drone in the air, its propellers start spinning and a built-in camera begins recording. As Balaresque turns and walks away, the drone follows him.
The self-flying Lily Camera is a new consumer photography drone specifically for capturing aerial selfies. It knows exactly where its subject is at all times, automatically tracking their location through a small remote with GPS that users keep in their hand or pocket.
A surfer might fling the waterproof drone into the air for a shot that follows her along a wave. Mountain bikers could get a bird's-eye view of their trip down a hill. Tennis players might use the footage to improve their game. On the less sporty side, a family could cram everyone at a reunion into a group photo.
"It's all about getting the shot. Lily takes care of all the flight," said co-founder Henry Bradlow.
Co-founded in 2013 by Balaresque and Bradlow while they were students at Berkeley, Lily is entering a crowded field of consumer drones like DJI's Phantom and action cameras like GoPro. They hope Lily will appeal to the selfie stick and extreme sports crowds more than drone hobbyists.
Hobbyists pilot small drones for dogfights, photography
Flying anywhere between two and 50 feet off the ground, the drone doesn't require any real-time piloting or a hand-held controller. You just throw it in the air, and when you're done, press a button on the remote and it lands back in your hand.
Before takeoff, choose from a list of pre-set movements or program custom shots on the companion mobile app. Lily can follow a subject around for cinematic tracking shots, slowly zoom in or out, make a lazy circle around them, or just hover at a set spot in the air. The app also shows a live feed of the drone's view.
The disk-shaped black quadcopter is a little over 10 inches wide and 3 inches tall. It weighs 2.8 pounds, flies up to 25 miles per hour and can stay in the air for 20 minutes before needing a charge. Inside, a built in camera shoots 1080p video and captures 12 megapixel still photos.
How to shoot amazing video from drones
Inside the remote are an accelerometer, barometer and GPS sensor. Bradlow says the sensors can be used to program smart shots, like detecting when a snowboarder makes a jump and telling the camera to switch to slow motion. In addition to letting you zoom in and pan left or right, the remote has a microphone to record audio on the ground.
At a recent demonstration of Lily, Bradlow and Balaresque used prototypes they had built in-house using 3D printers and a CNC machine. However, they had an early production version of the drone on hand and said they're already working with manufacturers in Asia.
Though Lily won't be commercially available until February 2016, the company is starting to take early orders this week. Pre-sale units will cost $499 -- half the final retail price of $999. So far Lily has raised $1 million in funding from SV Angel, High Line Venture Partners and Upside Partnership.