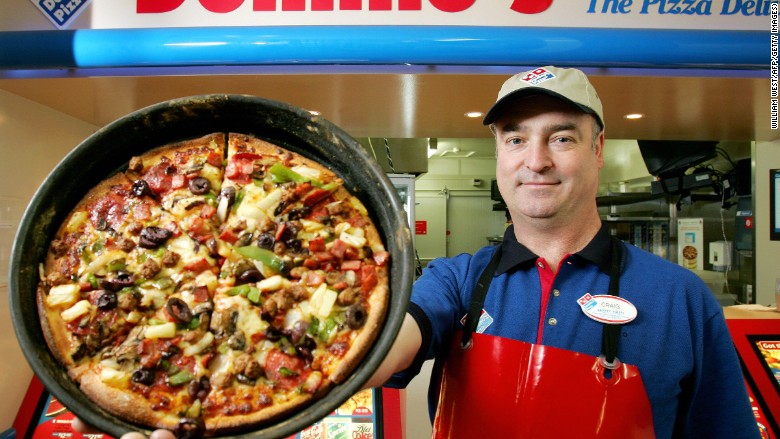 In the next phase of Domino's brave new upgrade, customers will be ordering via Twitter.
Starting on May 20, Domino's Twitter (TWTR) followers will be able to tweet the company to have a pie delivered to their house.
In fact, they won't even have to type out the tweet. They can order a pie by tweeting a pizza emoji, said Domino's (DPZ) spokesman Tim McIntyre.
In order to do this, customers must set up a so-called Pizza Profile in the company's online delivery service, where they can save an Easy Order.
"Customers who add their Twitter handle to their Domino's Pizza Profile will be able to re-order their Easy Order by simply tweeting #EasyOrder or the pizza emoji to @Dominos," explained McIntyre, in an email. "Domino's will then send their Easy Order through an automated direct message, which customers must confirm."
Related: Domino's is hot again
Domino's has spent the last year aggressively reinventing its brand to make its pies more palatable to discerning foodies.
Wall Street has taken notice, driving up company shares by more than 50% over the last 12 months as the company has added stores and boosted profits.
Even customers who may not be buying the claims about better quality would have to admit that Domino's is getting more interesting.
Its "specialty pizza" uses chicken instead of dough with uncommon topping combinations such as jalapenos with pineapples.