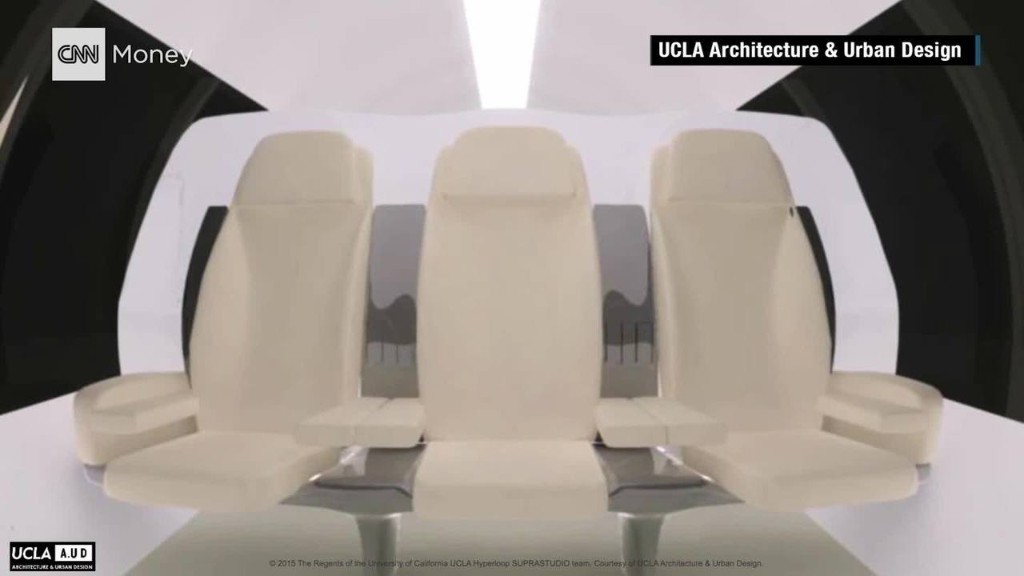 It really isn't that hard. If we want better passenger trains in the United States, we need to spend more money.
Congress gives Amtrak about $1.5 billion a year to cover the funding gap between ticket sales and expenses, which typically run around $4 billion annually.
"That's just barely the fumes to get by," said Kevin DeGood, director of infrastructure policy at the Center for American Progress, a left-leaning think tank. "They are just fixing the things that absolutely need fixing, and nothing else."
How much more is needed is an open question.
The American Public Transportation Association would like $50 billion over the next six years to fund high-speed rail between certain U. S. cities -- an idea the Obama administration supports but one that has gone nowhere in Congress.
Meanwhile, Amtrak wants $151 billion between now and 2040 to put high-speed rail in the Northeast.
No one really expects these huge sums to materialize, but any additional amount is an improvement, said DeGood.
Related: Is the bus finally sexy?
In the Northeast, where passenger trains travel on tracks separate from freight trains, more funding could be used to make incremental improvements like straighter tracks, bridge repair and more advanced automated control systems.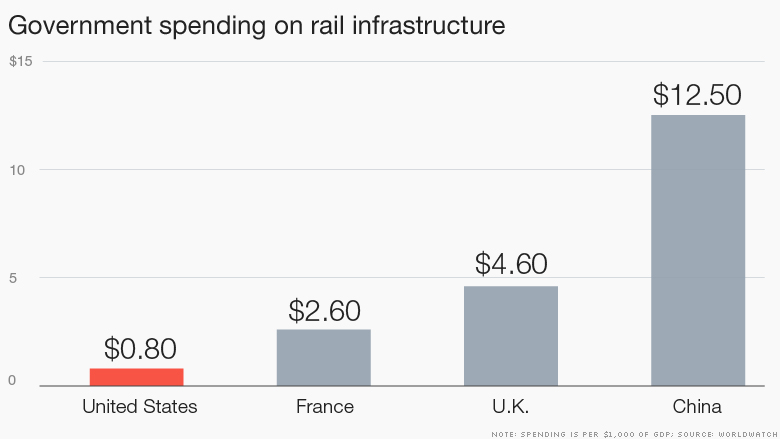 While it's unclear if better warning systems or simply newer tracks would have prevented Tuesday's derailment, the technology does exist to make trains safer.
Outside of the Northeast, passenger trains share tracks with freight trains. That means improvements are largely outside of Amtrak's control.
Some say the U.S. should focus just on the Northeast, since it's the only region that has the density -- and congestion problems -- to make trains really worth it.
"It's probably the only rail corridor in the nation where true high-speed rail service is both needed and economically justified," said Ken Orski, publisher of infrastructure publication Innovation NewsBriefs.
But even just focusing on the Northeast will take money, and the U.S. is a laggard by international standards. Research group Worldwatch looked at rail spending relative to GDP. Of 14 countries, the U.S. came in second to last -- only Turkey fared worse.
This pattern of low spending holds true for infrastructure as a whole. In an op-ed Tuesday arguing for more federal money, New York City Mayor Bill de Blasio and Oklahoma City Mayor Mick Cornett noted the U.S. spends just 1.7% of its GDP on infrastructure, while the EU spends 5% and China spends 9%.
This is mostly why the American Society of Civil Engineers gives the country a D+ rating on infrastructure (sadly, its highest rating ever), and says there's a $1.6 trillion funding gap between now and 2020.
So whether it's railroads, ports, bridges or roads, the message is clear: We need to pay up.