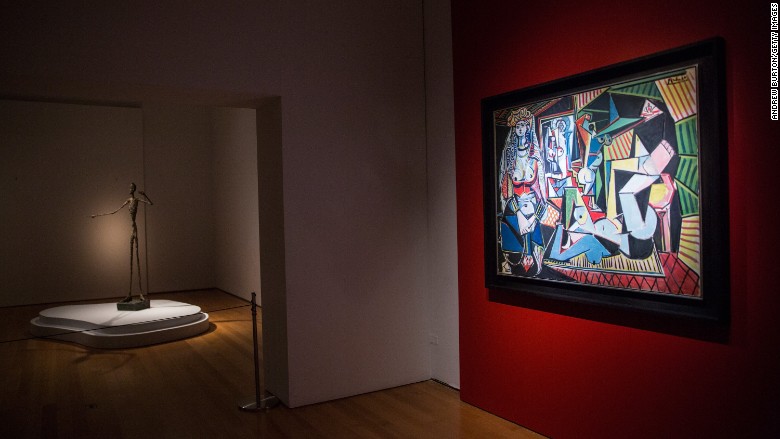 Christie's auction house is having a stellar week, selling $1.54 billion of fine art and collectibles over just three days.
The week started with a big splash -- Pablo Picasso's "Les femmes d'Alger (Version "O") went for $179.4 million on Monday, making it the most expensive painting to ever sell at auction.
And an Alberto Giacometti bronze, "L'homme au doigt," from 1947, sold at $141.3 million, setting a world auction record for sculpture.
Christie's has held nine auctions so far this week, with its top two events accounting for nearly 90% of sales thus far. Both featured contemporary art, bringing in $705.9 million and $658.5 million. The auction house isn't done yet -- another six auctions are scheduled for Thursday and Friday in London and New York.
Related: Wealthy investors flock to fine art funds
Other big hits from the week include Mark Rothko's "No. 10," which went for $81.9 million, and Andy Warhol's "Colored Mona Lisa" sold for $56.2 million.
On Wednesday in Geneva, a rectangular-cut 5.18-carat vivid pink diamond ring sold for over $10 million.
Picasso's "Les femmes d'Alger," which translates to "The Women of Algiers," is considered a masterpiece of contemporary art. It features nude courtesans, a common theme for the iconic abstract artist, and is painted in his signature Cubist style.
Picasso, who died in 1973, painted it as an homage to his friend and rival, Henri Matisse, the famous French impressionist.
The seller, who bought the painting privately for an undisclosed amount, remains anonymous. The painting was last sold at auction -- at Christie's -- for $31.9 million in 1997.