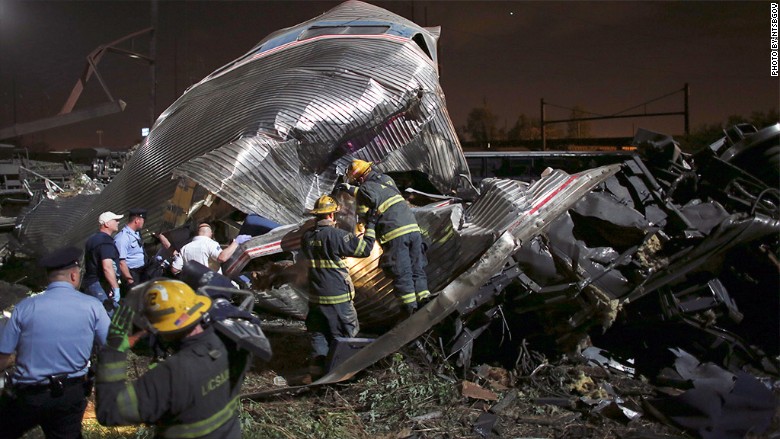 Air fares between New York and Washington, D.C. are jumping since the fatal Amtrak crash in Philadelphia on Tuesday.
Amtrak service from Philadelphia to New York has shut down, which means train travelers in the popular Washington-New York sector are stranded. And that has sent demand for airlines soaring, and travelers are having to pay up.
Ticket prices were fluctuating wildly from hour to hour on a nonstop roundtrip flight search on Expedia (EXPE) from New York to D.C. for flights leaving on Friday and returning on Sunday.
At different times Thursday, US Airways and American Airlines (AAL) were each displaying tickets for between $699 and $1105. But at around 3 p.m., all those flights seemed to have just one ticket left. Delta Air Lines (DAL) too listed flights with prices between $716 and $968, with similar caveats on availability.
Typically, a roundtrip flight between those cities costs around $200 on a normal day and can go up to $600 for a last-minute booking, according to experts.
According to a search on Saturday, tickets were averaging about $300 for a one way fare.
Delta spokeswoman Elizabeth Wolf said it had added two additional 76-seat flights each way after seeing an increase in bookings.
American Airlines added 2-3 planes for service from NY to DC due to the derailment this past week, and plans to monitor the coming week to see if they need to add more, a spokesperson said.
United Airlines spokeswoman Karen May said there was an increase in demand, but that the airline had so far not added additional flights.
"There's no question (the airlines) are making hay while the tracks aren't working," according to travel expert George Hobica of Airfarewatchdog.com.
Related: Why doesn't the U.S. have better trains?
At least eight people died and eight more were in critical condition after the speeding train derailed and crashed in Philadelphia on Tuesday. The train was going from Washington to New York.
Amtrak has been offering limited service in the Northeast corridor since the crash, with "fewer frequencies than normal" between Washington and Philadelphia and also between New York and Boston.