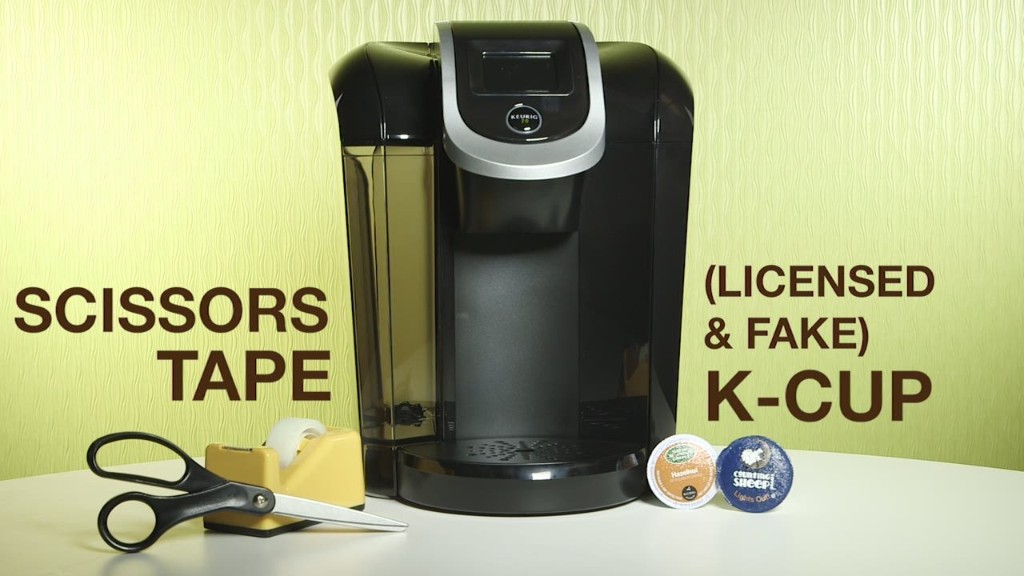 Keurig Green Mountain has a new make-your-own-cola machine coming out this year called Kold. But investors are starting to worry that sales will be frigid.
The company disclosed in a meeting with analysts Thursday that the expected retail price for Kold is between $299 and $369.
That's much more expensive than the products from SodaStream (SODA). The cheapest SodaStream model sells for just $79. And it's not as if SodaStream is doing all that well.
SodaStream's stock has plunged due to sluggish sales. The do-it-yourself carbonated beverage craze is starting to look like a fad that has peaked.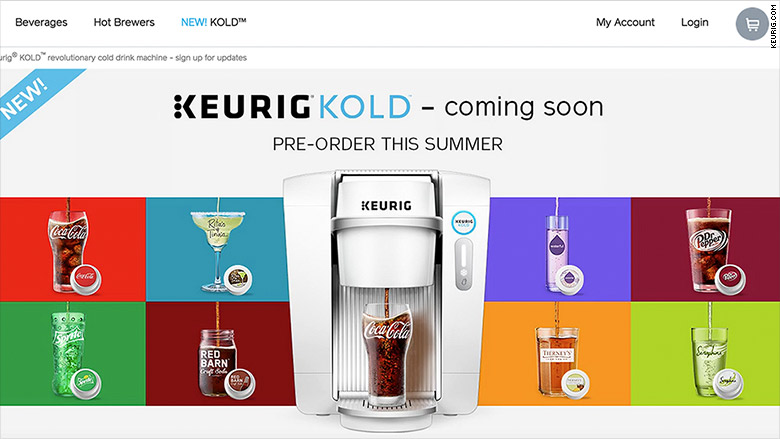 So Keurig may be getting into this market way too late and with a product that's overpriced.
Shares of Keurig (GMCR) plunged 8% Friday to a 52-week low and are now down nearly 30% for the year.
The shift in sentiment has been stunning.
The K-Cup coffee maker was one of the hottest stocks of 2014. It was at an all-time high as recently as November.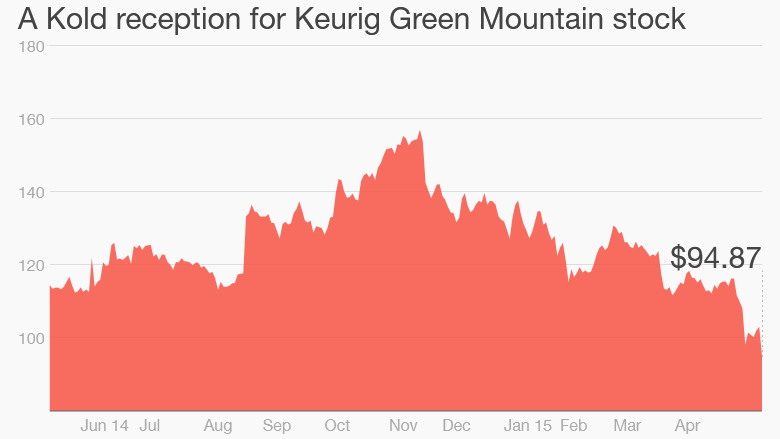 Keurig added Kraft (KRFT), which owns Maxwell House and Gevalia, as a K-Cup partner in August. And Coca-Cola (KO) agreed to buy a 16% stake in Keurig last year. It is also working with the company on the Kold.
But consumers and investors have turned against the company in the past few months.
Related: More problems for Coke. Keurig and Monster Energy lose their edge
Keurig angered its customers by forcing them to use only licensed K-Cups with its newest machine, the Keurig 2.0.
That's a change from previous Keurig models. There are several companies that make cheaper private label single-cup pods, such as TreeHouse Foods (THS), that were not compatible with the 2.0.
TreeHouse actually sued Keurig, alleging unfair practices for locking out competitors.
Still, some people have figured out ways to hack the Keurig 2.0 so other pods can be used.
But the damage has already been done.
Keurig reported sales for the first quarter earlier this month that were as weak as a watered-down cup of coffee.
Related: Keurig gets roasted and CEO apologizes
CEO Brian Kelley admitted that the company made a mistake with the 2.0. Keurig now plans to bring back the My K-Cup reusable pod that it had discontinued.
Kelley also said that the price of the 2.0 may have been too high at $149.99 and that the company was working on a more affordable model.
If that's the case, why is Keurig pricing the Kold at nearly four times the cost of a competing product at SodaStream?
Kelley defended the pricing during Thursday's conference call, saying that it's a new piece of technology and that consumers have shown strong interest for the Kold despite the price.
The Kold, which produces chilled beverages, is a lot different from SodaStream's machines. You won't need carbon dioxide canisters for example.
Keurig is also clearly hoping that consumers will flock to the Kold because it has relationships with Big Soda. In addition to Coke, Dr Pepper Snapple (DPS) has signed on as a partner.
No Pepsi though. Pepsi (PEP) actually did a test of homemade beverages with SodaStream last year, leading to speculation that it may want to invest in SodaStream or buy it outright.
Related: Inventor of K-Cups regrets the idea
But even though Keurig has deals that SodaStream doesn't, you still have to wonder why it's worth buying a Kold when you can just purchase regular cans or bottles of Coke and Sprite?
Customers that own the Kold will also have to shell out 99 cents to $1.29 per pod.
So the soda better taste really good because it sure isn't cheap. You can get a pack of two dozen 12-ounce cans of Coke online at Staples or Office Depot for just $12.99. That works out to 54 cents a can.
It's no wonder then that investors are nervous. Keurig is going to have to convince skeptical consumers and Wall Street that the Kold is not going to be its New Coke -- an epic flop.
CNNMoney's Heather Long contributed to this report.