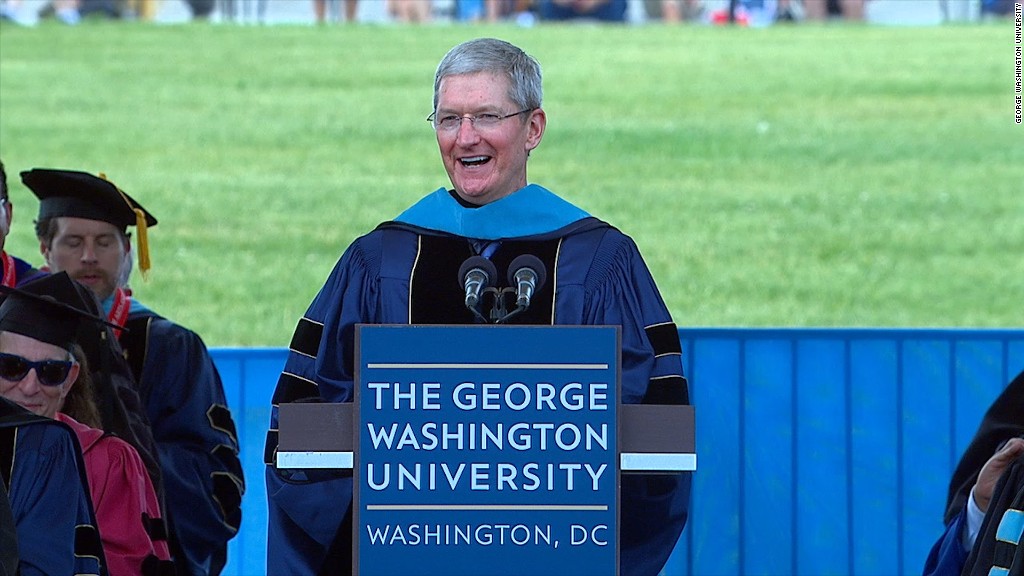 In a powerful commencement address to George Washington University graduates, Apple CEO Tim Cook implored the class of 2015 to follow in the footsteps of Steve Jobs.
Many view work as boring, hopeless drudgery -- a view Cook said he shared in 1997 before he came to Apple (AAPL).
But Cook said Steve Jobs made him question everything he thought was true. Jobs persuaded him that "doing good and doing well" were not mutually exclusive.
"I always figured that work was work," Cook said. "There were things I wanted to change about the world, but I figured that was what I had to do on my own time. Steve didn't see it that way. He convinced me that if we made great products, we too could change the world."
As an example, Cook pointed to features on iPads, Macs and iPhones that allow blind people to communicate with their friends and family.
On how to change the world: Cook also referred to citizen journalists who use their smartphones to capture and report police brutality. He got loud applause when he said that Apple products can empower people who witness injustice, because people now have a camera in their pocket all the time.
"At Apple, we believe the work should be more than about improving your own self; it's about improving others' lives as well," Cook said. "We believe that a company with values and acts on them really can change the world."
On meeting George Wallace and Jimmy Carter: Cook said his moral compass was tuned when he met both Alabama governor George Wallace and President Jimmy Carter as a high school student in the summer of 1977.
Apple's CEO was born into a poor family in Alabama, and by the time he was in high school, he still hadn't left the south. But he said meeting the segregationist Wallace "was not an honor for me."
"Shaking his hand felt like a betrayal of my own beliefs, like I was selling a piece of my soul," Cook said of his introduction to the notoriously racist governor.
Instead, meeting Carter was more of a highlight for Cook. Though Carter had been the governor of another, bordering southern state (Georgia), and like Wallace was a Democrat, Cook said Carter approached life differently. He was "kind and compassionate," Cook said.
"One was right, and one was wrong," Cook said of Carter and Wallace.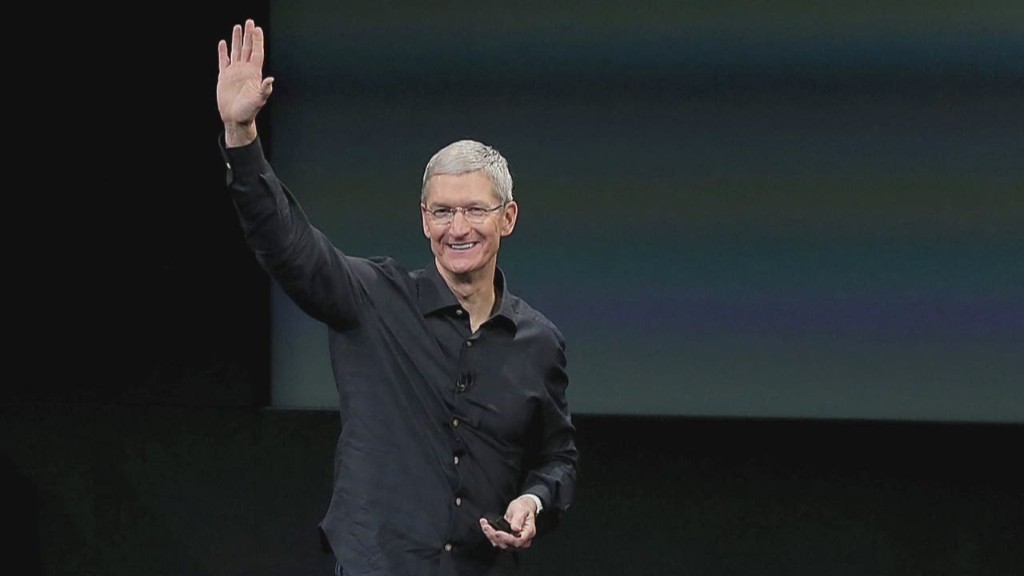 On Steve Jobs and the 'North Star': Cook's advice to the graduates of the class of 2015 was to use their own morality as their guides. He encouraged them to have Jobs' optimism that work could better the world, and he urged them to embody Carter's humanity -- something Cook said the president "had not sacrificed" despite holding the highest job in the world.
"Your values matter. They are your North Star," Cook said. "Otherwise it's just a job, and life is too short for that. The sidelines are not where you want to live your life. There are problems that need to be solved and injustices that need to be ended."
Cook ended his address by taking a photo of the graduating class with his iPhone.
Sunday's speech was the first commencement address delivered by an Apple CEO since Steve Jobs spoke at Stanford University's graduation in 2005. Cook also delivered a commencement address at Auburn University, his alma mater, in 2010, when he was Apple's chief operating officer.
- Nefi Alarcon contributed to this report