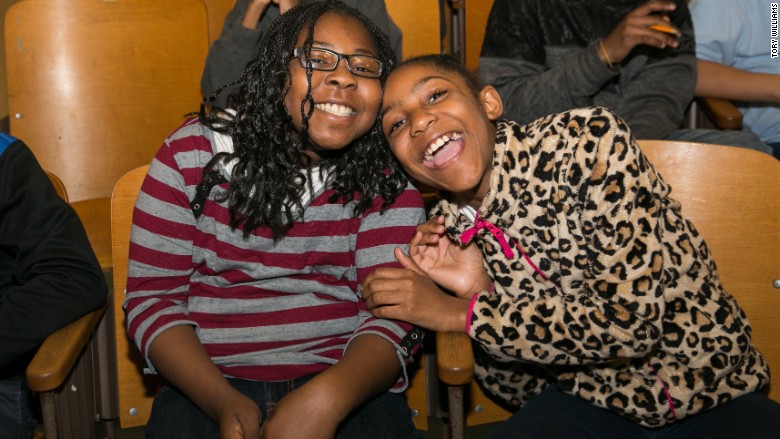 When elementary school kids were asked to solve a problem, they thought up a new kind of piggy bank, a kid-safe Instagram and a smartwatch for people with diabetes.
The concepts were all part of Big Idea Week, which matches 4th through 8th graders with mentors to encourage entrepreneurship. The kids spent a week working in groups to develop business ideas. The event brought together 40 mentors, 500 students and 10 schools.
One Brooklyn 5th grader named Robert worked on the piggy bank with Tom Takigayama, a mentor from Etsy (ETSY). Robert said meeting Takigayama "made me think if those people can create things, then I can too." (CNNMoney is not using the children's last names to honor a request for privacy.)
The piggy bank, appropriately called "The Piggy Clock," is a combination bank and alarm clock, and reinforces positive behavior by giving kids their allowance once they've woken up and completed certain chores.
Related: Tech's next entrepreneurs: 4th graders
Simone, one of the kids who thought up Kidzdagram, a kids-safe Instagram, said Big Idea Week taught her "to believe in yourself because you know you're going to do great, and don't quit."
Big Idea Week began in 2013 as a collaboration between Brooklyn's DUMBO Improvement District and Flocabulary, which uses hip hop to teach kids about things like dividing fractions or the history of ancient Egypt.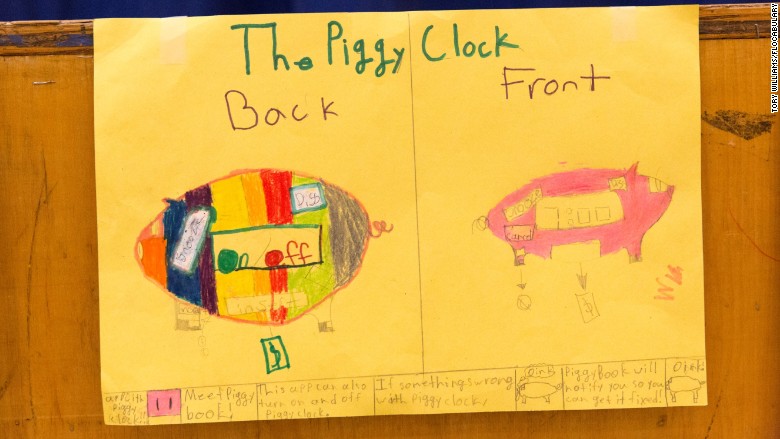 The program started at a school in Brooklyn that serves mainly underprivileged students who live in public housing. Both this year and in previous years, the kids have come up with ideas to solve specific problems they face.
There have been products to deal with litter on the street and a jacket that signals when danger is approaching. This year, the kids thought up a surveillance system with a flying camera that looks for potential thieves.
Related: Kids do a lot better when schools ban smartphones
This idea grew out of a discussion about home break-ins, according to mentor Maurya Couvares, a co-founder of ScriptEd, an organization that teaches coding to students in under-resourced schools.
Couvares said it was "really refreshing to see kids get excited about what they were learning."
Blake Harrison, the co-founder of Flocabulary who was also a mentor this year, said the event was a success. "You get to see the students thinking critically, creating something and taking pride and ownership in what they've created."
Some of the ideas from previous years have been turned into prototypes. Though it's not yet clear whether something like The Piggy Clock will get to that phase, Couvares said it's important that the kids are solving universal problems -- even if it's just the struggle to wake up in the morning.