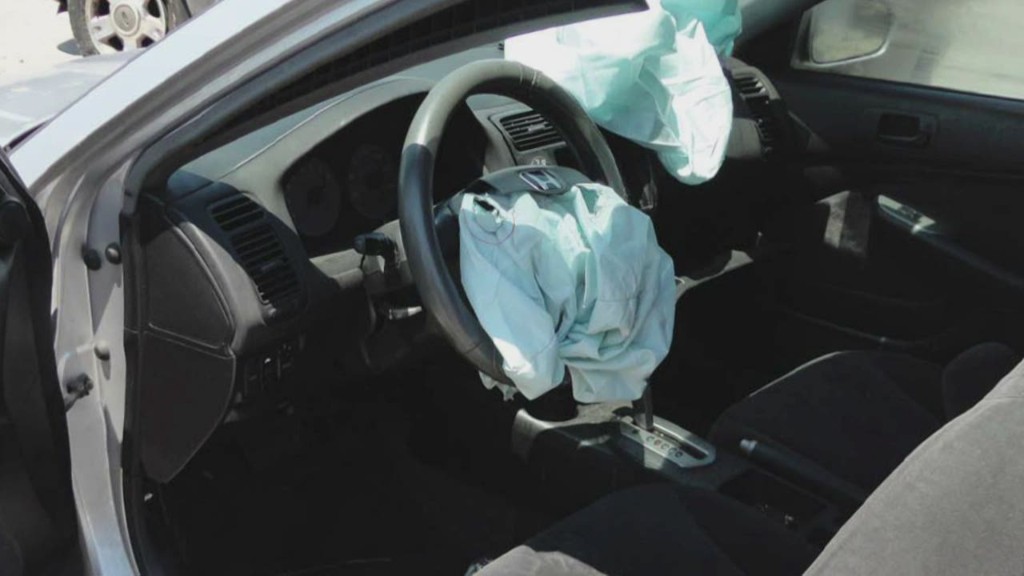 Safety regulators have still not publicly identified all of the car models included in the record 34 million vehicle recall by Japanese airbag maker Takata.
So we spent several hours on Wednesday compiling as exhaustive a list as we could.
What follows is based on data from the National Highway Traffic Safety Administration's web site, as well as from the Center for Auto Safety, an advocacy group that has researched recalls for decades.
NHTSA has a Web site dedicated to the Takata recall with a database. The site lets you enter a vehicle identification number, or VIN, to see if your car is included in this or any other recall.
But the database is not yet complete.
Until then, here's a list of car models, and model years, already known to use the recalled Takata airbags.
A
Acura CL, 2003
Acura MDX, 2003-2005
Acura TL, 2002-2003
B
BMW 325Ci, 2004-2006
BMW 325i, 2004-2006
BMW 325Xi, 2004-2005
BMW 330Ci, 2004-2006
BMW 330i, 2004-2006
BMW 330Xi, 2004-2005
BMW 3-Series, 2000-2006
BMW M3, 2001-2006
C
Chrysler 300, 2005-2008
Chrysler 300C, 2005-2007
Chrysler Aspen, 2007-2008
Chrysler SRT8, 2005-2007
D
Dodge Charger, 2005-2007
Dodge Dakota, 2005-2007
Dodge Durango, 2004-2008
Dodge Magnum, 2005-2007
Dodge Ram 1500, 2003-2008
Dodge Ram 2500, 2003-2008
Dodge Ram 3500, 2003-2008
F
Ford GT, 2005-2006
Ford Mustang, 2005-2008
Ford Ranger, 2004-2005
H
Honda Accord, 2001-2007
Honda Civic, 2001-2005
Honda Civic Hybrid, 2003
Honda CR-V, 2002-2006
Honda Element, 2003-2011
Honda Odyssey, 2002-2004
Honda Pilot, 2003-2008
Honda Ridgeline, 2006
I
Infiniti FX35, 2003-2005
Infiniti FX45, 2003-2005
Infiniti I30, 2001
Infiniti I35, 2002-2004
Infiniti M35, 2006
Infiniti M45, 2006
Infiniti QX4, 2002-2003
L
Lexus SC, 2002-2007
M
Mazda6, 2004-2008
MazdaSpeed Mazda6, 2006-2007
Mazda RX, 2004-2008
Mitsubishi Lancer, 2004-2005
Mitsubishi Raider, 2006-2007
N
Nissan Maxima, 2001-2003
Nissan Pathfinder, 2001-2004
Nissan Sentra, 2002-2006
P
Pontiac Vibe, 2003-2007
S
Saab 9-2X, 2005
Subaru Baja, 2003-2005
Subaru Impreza, 2004-2005
Subaru Legacy, 2003-2005
Subaru Outback, 2003-2005
T
Toyota Corolla, 2003-2007
Toyota Corolla Matrix, 2003-2007
Toyota Rav4, 2004-2005
Toyota Sequoia, 2002-2007
Toyota Tundra, 2003-2006