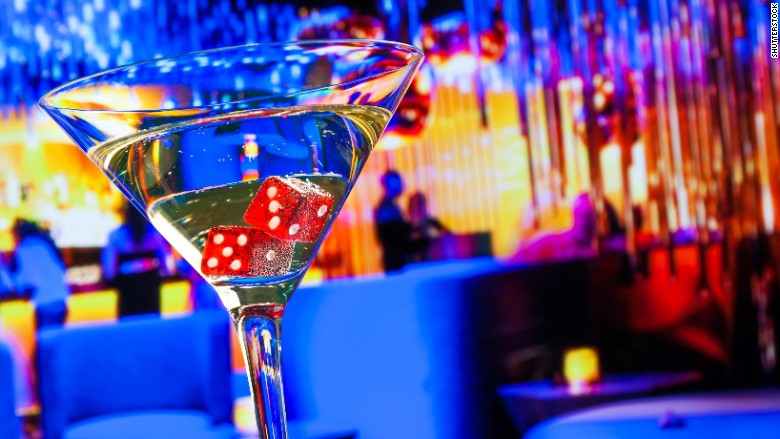 Sin stocks are like the stock market's favorite uncle. They might drink, smoke, and gamble too much, but they're fun to watch, and they're always the life of the party.
Even then, not all sin stocks are for everyone. Some investors won't buy tobacco or gambling stocks for ethical reasons, but if you need a good vice in your portfolio these are the cash kings to consider.
1. Putting the odds in your favor
One of my favorite places to look for sin stocks is in Sin City: Las Vegas, Nev. The city is home of some of the most iconic resorts in the world, and they're also cash flow machines.
Many of the these companies' most expensive cash outflow is building the actual resorts. Once that is finished, it's time for casino companies to cash in.
The best cash flow company in gaming today is Las Vegas Sands (LVS), which owns The Venetian and Palazzo Las Vegas and is also one of the largest casino developers in Macau and Singapore. Its Asian properties give Las Vegas Sands a massive boost to its over $4 billion in annual operating cash flow, and the cash register will likely keep on ringing for years to come.
Related: Is $1 million enough for retirement?
Wynn Resorts (WYNN) is a smaller rival to Las Vegas Sands with properties in both Las Vegas and Macau. Founder and CEO Steve Wynn has built Las Vegas icons including the Mirage, Bellagio, and Wynn Las Vegas, but his masterpiece could be the new Wynn Palace in Macau. Set to open next year, the resort could double Wynn Resorts' already impressive operating cash flow almost overnight.
MGM Resorts International (MGM) is the biggest player on the Las Vegas Strip and also owns a casino in Macau. The company was hit hard by the recession, but its subsequent recovery resulted in more than $1 billion in operating cash flow over the past year. With Las Vegas on the mend and another resort in Macau under construction, that cash flow should grow in the future.
Gambling might not be a good investment, but owning the casino certainly can be, and Las Vegas Sands, Wynn Resorts, and MGM Resorts are three of the best in the business.
Related: Is Netflix really worth $100 billion?
2. Who wants another round?
A surprisingly small number of companies own the world's supply of booze. Your favorite beer is probably made by Molson Coors Brewing (TAP) or Anheuser-Busch InBev (BUD), while your hard alcohol probably comes from Diageo (DEO), Brown-Forman (BFA), or Beam Suntory, a new merger of Beam and the Suntory Holdings in Japan (traded over the counter in the U.S.).
When it comes to cash, the king of these five is the king of beers, Anheuser-Busch InBev. But Molson Coors has been growing steadily and Diageo and Brown-Forman are at the forefront of the move toward craft spirits around the world. In 2014, Beam Suntory's profit came in at $1.27 billion; with a full year of Beam included in its results that figure should grow in 2015.
The great thing about all of these businesses is that they're very difficult to disrupt. In beer, brand awareness is key and the brands owned by Molson Coors and Anheuser-Busch InBev are at the front of every beer case. And in hard alcohol it literally takes years to make many of the products Diageo, Brown-Forman, and Beam Suntory produce, leaving it difficult for competitors to enter the market.
Unless the world stops drinking, which I doubt will happen, these five sin stocks should provide stable cash flow to investors for years to come.
Related: Is the joke on America? Top 10 warning signs for stocks
3. Anyone for a smoke?
Many investors, myself included, avoid the next area of sin stocks: tobacco stocks. However, they're among the best-performing stocks over extended periods of time. Philip Morris (PM) and Altria Group (MO) have both crushed the market's total return over the long term, and a huge reason is their large cash flow.
Over the past year alone, Philip Morris generated $6.6 billion in free cash flow and Altria generated $4.9 billion. With that cash, they can boost shareholder value through share buybacks or maintaining their respective 4.8% and 4.1% dividend yields.
Owning tobacco stocks isn't for everyone, but they are a cash-generating machine for now with no sign of letting up in the future.
Related: The Single Best Stock for Dividend Investors
The bottom line: Sin stocks are a cash machine
If sin stocks are on your radar then these 10 stocks are worth a hard look. They represent the "best" in gambling, drinking, and smoking, and they generate a ton of cash, which is great for each company's shareholders.
Travis Hoium writes for The Motley Fool. He owns shares of Apple, Molson Coors Brewing Company, and Wynn Resorts, Limited. The Motley Fool recommends Apple and Diageo.