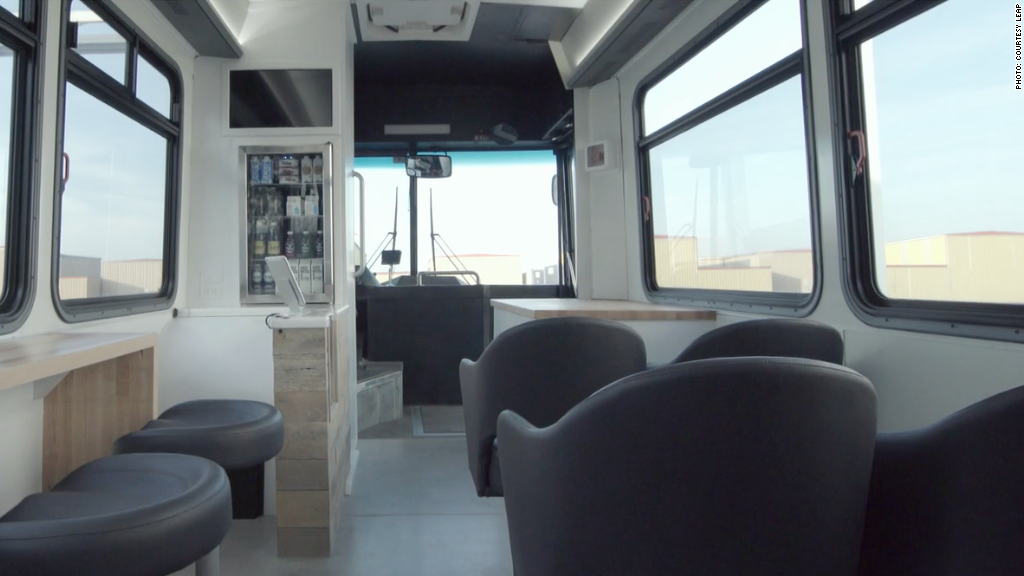 Luxury bus startup Leap is putting the brakes on its service.
The San Francisco company got a cease-and-desist letter last week for not demonstrating that it has proper insurance -- one of the reasons it also doesn't have the required permit to operate.
According to the letter from the California Public Utilities Commission, the lack of a permit is a misdemeanor punishable by a fine of up to $5,000 and/or a year in jail.
In an email to Leap riders on Tuesday night, Leap CEO Kyle Kirchhoff said the permit was held up by "clerical issues." Leap's buses will not run for the rest of the week, and possibly longer, as they "work through a regulatory issue," according to the email.
San Francisco's luxury bus puts your commute to shame
"While we believe that our service is in full compliance with all state and local laws, we have decided to halt operations until we clear this final hurdle. We know that this is extremely frustrating for you and -- believe us -- it kills us to do so," said Kirchhoff in the email.
The most glaring problem cited by the PUC is that Leap didn't provide proof of insurance, specifically for public liability, property damage and workers compensation. It also did not give evidence that it had complied with drug and alcohol testing requirements. These are all prerequisites for getting a permit.
Other safety issues included not running an Employer Pull Notice, a process for running a background check on drivers through the DMV. It also did not get its bus stops inspected by the California Highway Patrol.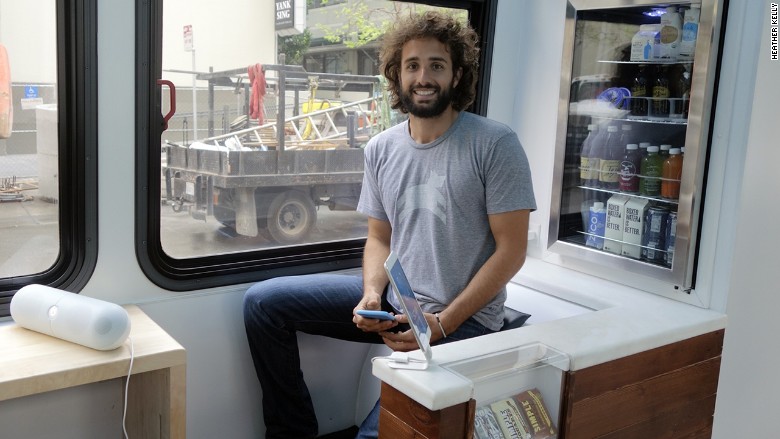 Related: How Detroit's buses can make your city better
In a March interview, Kirchhoff said the company had hired its drivers through a third-party transportation operator that handled staffing, background checks, drug testing and insurance. He did not give the name of that company.
Leap did not immediately respond to a request for comment about the cease-and-desist letter.
When it launched in March, Leap drew attention for its amusing Silicon Valley techie amenities. Running from the wealthy Marina district to downtown San Francisco for $6, the buses had creamy leather seats, reclaimed wood accents and wifi. Riders could order Blue Bottle iced coffee and snacks, including small-batch yogurt, from their smartphones.
It was supposed to be a premium alternative for well-paid tech workers who preferred not to ride an overcrowded $2.25 public bus. However, Leap has to battle regulations and negative public opinion in a city where the influx of wealthy workers has led to skyrocketing real estate costs and tension with long-time residents.