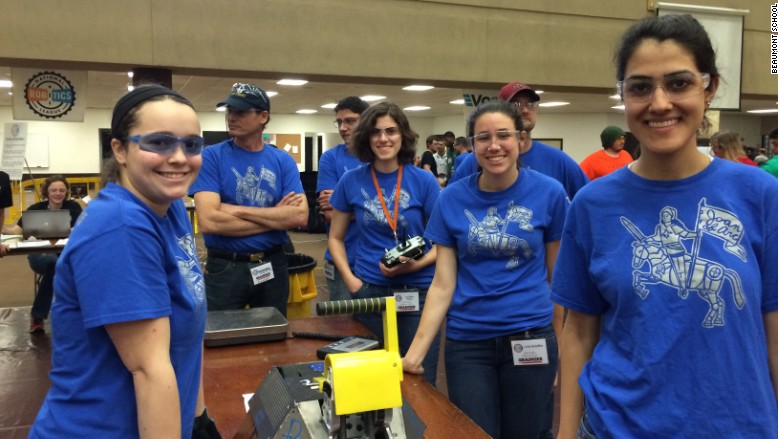 Watch out for the "Beaumonsters!"
No, they're not characters in a new animated TV series. They're an all-girls high school robotics team that made waves at the National Robotics League grand championship last weekend.
The four-person team didn't take the top prize with their combat robot (they came in fourth), but the girls said that's not what it was about.
"I have learned that success is not necessarily measured by whether you win or lose, but more importantly by whether or not you have gained knowledge," said Julie Schiffer.
This knowledge is increasingly important to an industry that's aging and male-dominated.
"The idea is to expose students to the real-life manufacturing processes," said Bill Padnos, director of youth engagement with the National Tooling and Machining Association, which organizes the annual contest. "This is a group that could surface our future engineers, programmers, welders."
There's a desire to attract more young people to skilled manufacturing jobs.
"The industry wants to break the gender stereotype too," Padnos said. "It's important when we have an aging U.S. workforce coupled with a shortage of 2 million manufacturing workers over the next 10 years."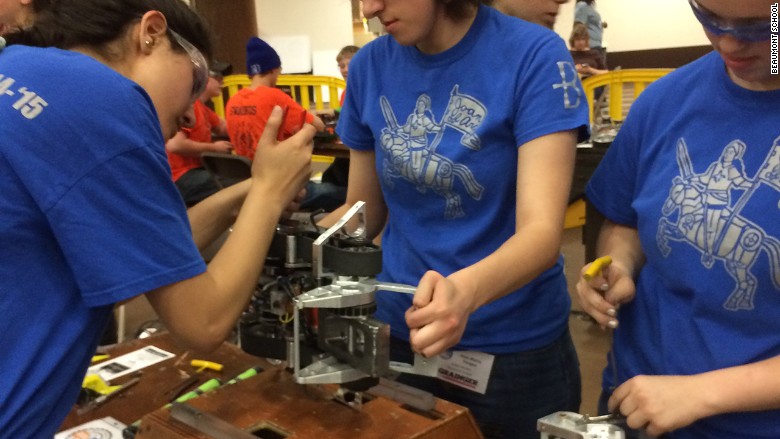 The Beaumonsters -- Molly Cogan, Ana Maria Vargas, Julie Schiffer and Alyssa Muttillo -- are seniors at the all-girls Catholic Beaumont School in Cleveland Heights, Ohio. Theirs was the only all-girls group among the 65 teams at the competition.
Related: Women take on manufacturing
All teams that participate in the contest work with advisers.
Christopher Tool and Manufacturing, a family-owned firm that makes aircraft parts has worked with the Beaumonsters for the last four years.
Owner Patrick Christopher said the average age of his workers is 45, and he's constantly trying to attract younger people, which is a challenge.
"I've worked with this same group now for all that time. They are very passionate, talented and very smart," he said. "They're all very interested in engineering and I would hire them -- after they graduate from college."
Related: From street child in China to Intel mentor.
With their advisers, the girls designed, manufactured and assembled their 15-pound fighting battle robot called "Joan of Arc."
Vargas, the driver of the team's robot, is headed to MIT in the fall. "I haven't exactly defined it yet, but I somehow want to bring robotics into everyday public consciousness," she said.
Team captain Muttillo, headed to the University of Dayton, wants to pursue mechanical engineering. "I do want to work in manufacturing. I've learned so much more about it through this experience," she said.
Schiffer wants to pursue a double major in mechanical engineering and French.
"I have been considering either a job in manufacturing or potentially becoming a pilot," she said. "I've learned that I am just as capable as any man at being successful in the fields of engineering and manufacturing."