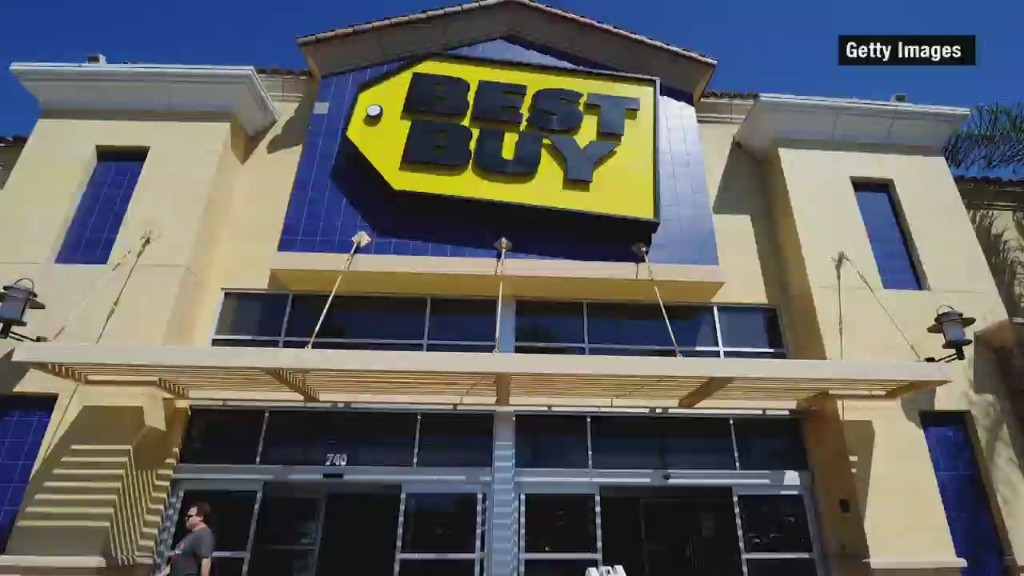 Many retailers have reported disappointing results this quarter. Best Buy was not one of them.
The electronics chain lived up to its name Thursday, posting sales and profits that topped Wall Street's forecasts. The company also gave a solid outlook for the next quarter.
Shares of Best Buy (BBY) were up 4% Thursday on the news.
Although overall sales were down for the quarter, that was expected as Best Buy's international business was impacted by the stronger dollar and restructuring of its Canadian operations.
Revenue from its U.S. stores and online business were up in the quarter, and that appears to be what has Wall Street excited.
The first quarter is typically sluggish for Best Buy. Consumers aren't as inclined to spend as much on electronics after doing so during the holidays.
There also don't tend to be major new gadgets released in the quarter.
But in an interview with CNNMoney Thursday morning, CEO Hubert Joly said demand remains strong for large-screen 4K ultra HD televisions. He said TVs were one of the biggest drivers of sales growth in the quarter.
Smartphones helped too. Joly touted solid sales of "iconic mobile phones" in the earnings release but didn't mention any smartphone maker by name.
Related: Booming iPhone 6 sales fuel Apple's second-best quarter ever
However, Joly admitted in the interview that the two "iconic" phones he was referring to were the iPhone 6 -- which has been a gigantic success for Apple (AAPL) -- and Samsung's new Galaxy S6.
Best Buy is benefiting from the mobile revolution in many ways.
Last month, Best Buy agreed to start accepting Apple Pay on its iOS app and will roll out the adoption of it in stores later this year. Joly said during a conference call with analysts that Best Buy's new mobile app has "received strong customer reviews."
Best Buy was not among the initial backers of Apple Pay when Apple first launched it last year.
Related: The Samsung Galaxy S6 is an iPhone for people who hate Apple
But Joly said in the interview that Best Buy was always interested in Apple Pay. It was simply waiting to announce plans to adopt it once Apple Pay actually went live.
So will Best Buy start selling the Apple Watch later this year? Joly said he couldn't talk about that. The company does sell Apple Watch accessories but revenue from them is pretty small so far.
Beyond electronics, Joly said appliance sales were strong at Best Buy once again and that they have been doing well for several quarters.
"The housing market recovery has been driving that growth," he said, adding that the company is now one of the four major appliance retailers along with Home Depot (HD), Lowe's (LOW) and Sears (SHLD).
The latest results show that Joly's turnaround plan for the company appears to be on the right track.
The company has faced tough competition from Amazon (AMZN) as well as Walmart (WMT). But since Joly took over as CEO in 2012, the company has cut costs and invested more in its online business.
Best Buy's stock has soared since Joly took over, although much of the pop came in 2013. Shares were up 235% that year. But they fell last year and are down so far this year as well.
Turmoil at other electronics retailers may also be helping Best Buy though. Smaller regional electronics chain hhgregg (HGG) reported poor results last week. And RadioShack has gone bankrupt.
"There is a clear differentiation between winners and losers," Joly said. "We are winning and others are losing. There is no doubt about this."