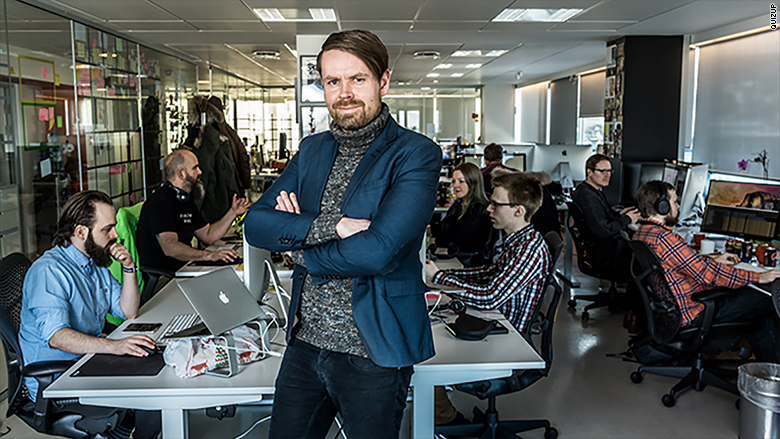 Will trivia be at the core of the next big social network?
QuizUp co-founder and CEO Thor Fridriksson thinks so.
QuizUp, which is headquartered in Iceland but has an office in San Francisco, has won the attention of users and investors with its trivia app.
The app has 33 million users around the world -- and has banked over $27 million in venture capital from top investors like Sequoia Capital and Chinese firm Tencent Holdings.
On Thursday, QuizUp will launch a new version of its product, a social networking platform rooted in trivia.
"I've always had a bigger vision around what we're building," said Fridricksson, 35.
Available on desktop and as a mobile app, the new QuizUp has features that resemble everyone's favorite social networks -- Facebook (FB), Instagram, Twitter (TWTR).
While Facebook lets users connect with existing friends, QuizUp wants to help people find new friends, and new lovers.
It lets users find and follow each other based on location, gender or shared interest. Profile pages let users upload photos, share links and boost their stats.
Trivia content will remain user-generated (and vetted by the QuizUp team), but it will also be populated by content partners like HBO to create themed trivia games.
That's one way that QuizUp can eventually monetize its product, though it's not a focus for now and Fridricksson said the company is not yet profitable.
While the earlier version of the app let users play against their friends and chat with strangers, Thursday's update will put that piece front and center.
"There was something a little bit magical that happened when you connected two people when they were playing some topic they were both passionate about," said Fridricksson. "It serves as some sort of an ice breaker for them to start communicating."
Fridricksson said they've heard about QuizUp users who met in real life, fell in love and got married.
"We have a dozen QuizUp marriages," he said.
This was validation for what Fridricksson said was his intention all along -- to create a social network based on interests.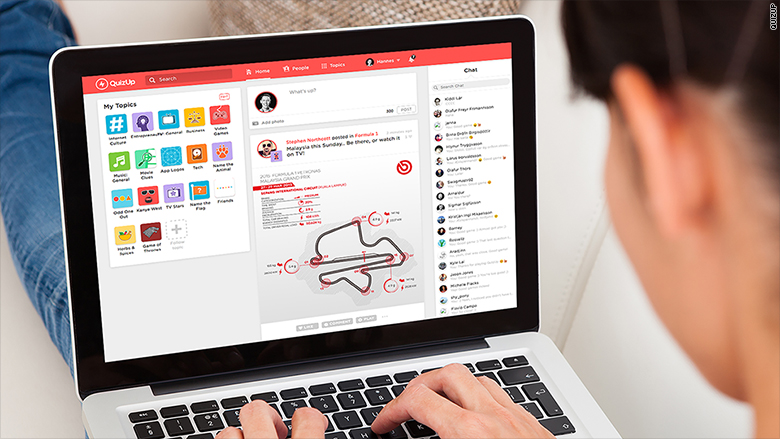 The QuizUp team has grown from 10 to nearly 100 employees in the past year.
Just last month, the firm launched a version of its product for the Chinese market called WeQuiz, with the help of partner Tencent.
Turning the brand into a social network may also help the firm escape the user fatigue that gaming apps are often plagued by.
"You have games that become super popular and then people stop playing [them]," he said. "That has been the problem with the gaming industry."
But Fridricksson said this hasn't been the case for QuizUp. Users spend an average 30 minutes a day in the app, which has been consistent over the past two years.
"We're lucky, our retention rate has been good," said Fridricksson. "But we're breaking out of this game mold."
According to Roelof Botha, a partner at Sequoia Capital and former chief financial officer at PayPal, the app's core retention is stronger than anything else he's seen.
That's because users are able to play different trivia games as their passions naturally shift and evolve over time.
There are 1,200 subjects and over 600,000 verified questions on the platform.
"There's an incredible amount of content and variety," said Botha. "Maybe we can have far more interesting and meaningful relationships thanks to the Internet -- not in spite of [it]."