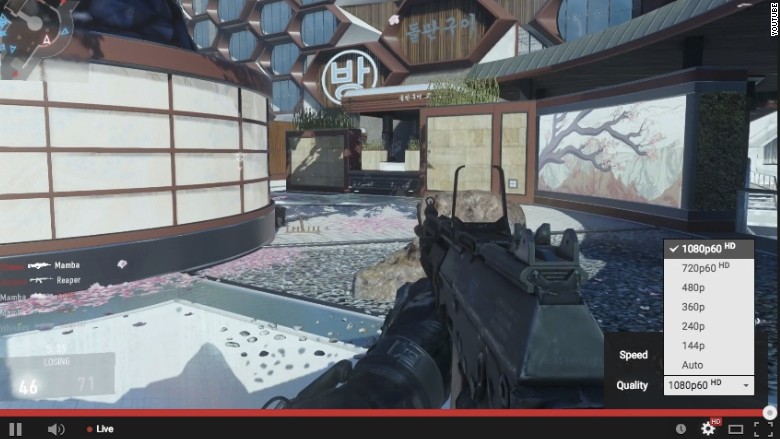 YouTube live-streams just got more lifelike.
You can now stream live videos at double the previous frame-rate -- it's now 60 frames per second, up from 30.
The update gives live-stream videos a giant boost in clarity and smoothness. When played in high definition, 60 frames per second (fps) video footage resembles real-life motion. For video gamers, YouTube says this also means "silky smooth playback."
The option to stream in 60fps is available through the settings menu on the bottom right corner of the YouTube video player. Currently, it only works on desktop devices.
If you're streaming videos on your phone, or watching on another mobile device, live videos will play at half the speed. YouTube says it will expand the feature to mobile "in the coming weeks."
High frame-rate playback has been available on YouTube videos since the fall of last year. Making it available for live-streams puts the site on par with Amazon's (AMZN) Twitch, a popular live-streaming platform for video gamers.
YouTube also allowed live streams to be played back without any additional software -- namely Adobe Flash. Twitch uses Flash, which has constant security problems and consumes extra processing power.
The YouTube update signals Google's (GOOGL) intent to become a more attractive choice for live-streamers who may have preferred Twitch in the past.