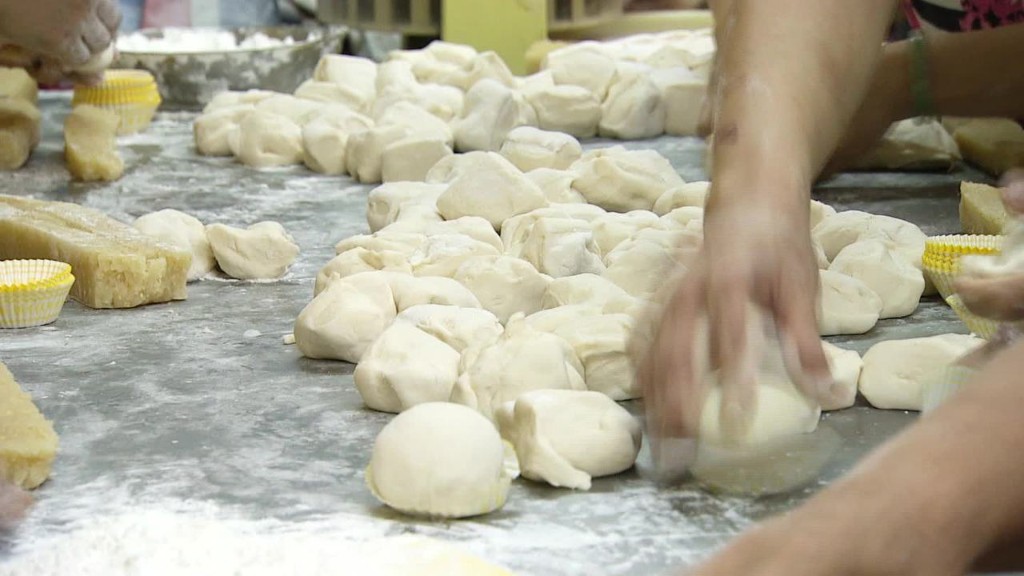 Show me the buns!
Each May, a sleepy Hong Kong island of just one square mile, Cheung Chau, lights up in excitement as boatloads of visitors celebrate a traditional holiday -- the Bun Festival, featuring tens of thousands of delicious rice flour buns.
The week-long celebration gets bigger every year. And that means booming business for local bakery Kwok Kam Kee, the official bun supplier for the festival.
"For these 8 to 10 days, it's like doing 8 to 10 months of business," said owner Kwok Kam Chuen, 64, who opened his shop 40 years ago. "We make over 60,000 buns for the festival."
During the holiday, Kwok brings in as much as HK$80,000 ($10,320) a day -- 20 times more than his average daily sales. By the end of the festival, he usually ends up making over HK$500,000 ($65,000).
Local lore about the Bun Festival's origin goes like this: Over a century ago, to ward off the pirates and plague that had crippled Cheung Chau, island fishermen made offerings of buns -- stamped with "Ping On," the Chinese characters for "peace" -- to Pak Tai, a god of the sea. The bun sacrifice worked, and the island was cleared of maladies.
Since then, Cheung Chau has repeated the tradition to bring renewed luck to the quiet beach island, where even cars are banned. Festivities culminate in a midnight bun snatch (搶包山), a three-minute race to the top of a 50-foot tower covered with 9,000 buns -- the higher the bun, the greater the fortune.
Related: China's latest investment craze: U.S. pecans
For Kwok, preparation starts a month before when he stockpiles ingredients and hires over a dozen extra helpers. His shop, which normally makes a variety of traditional Chinese breads and pastries, stops baking everything else to make way for the onslaught of bun production.
The buns have a sweet filling -- sesame, red bean or lotus paste. Once the dough is rolled, the yeast needs time to ferment.
"It's faster when it's hotter," he said. Then "we manually put fillings into the dough ... before we steam the buns" said Kwok, who learned the recipe as an apprentice in his uncle's bakery.
Kwok's assembly line is efficient; one blink and the buns are wrapped and ready for giant steamers that can hold 200 at a time.
At peak production, his 700-square-foot shop can pump out 10,000 buns a day.
While he'd love to open another shop, he thinks he's getting a bit old to manage it all. He is hoping one of his sons will take over the business.
"It's very hectic making so many buns for the holiday," Kwok said. "I rarely have time to go a restaurant to eat, so when I am hungry, I just grab a 'Ping On' bun."
--CNN's Vivian Kam and Felicia Wong contributed to this report.