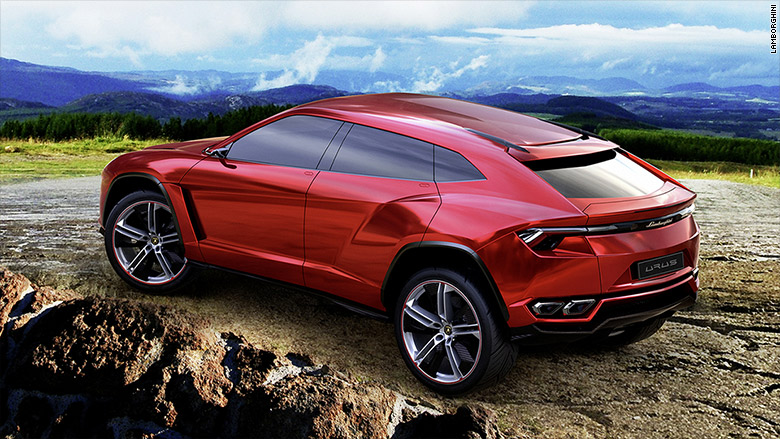 Lamborghini's new SUV will be built right where it should be -- Italy. And the legendary sports car maker is aiming at the family market.
The luxury sports car maker has been rumored to be working on a SUV since it unveiled the Lamborghini Urus, a concept car, at the Beijing Auto Show in 2012.
Lamborghini said Wednesday it will bring the car to market in 2018 but has yet to announce the cost.
However, until Wednesday, there had been some question about where the SUV would be manufactured.
Lamborghini was founded in Italy in 1963 and is still headquartered there. But it has been owned by Audi, a division of Germany's Volkswagen group, since 1998.
The automaker believes existing sports car owners will buy the new four-door SUV, but it's also aiming at "families and customers new to the Lamborghini marque."
Lamborghini said it would spend "hundreds of millions of euros" over the next few years to expand its main factory near Bologna where the new model will be manufactured.
Related: Actor Idris Elba breaks speed record in a Bentley
"The new SUV will be made in Sant'Agata Bolognese, demonstrating our commitment to safeguarding the values of 'Made in Italy' worldwide," Lamborghini CEO Stephan Winkelmann said in a statement.
The factory will grow to 150,000 square meters from 80,000 square meters currently. Lamborghini, which had 917 employees as of 2012, plans to hire 500 new people to work on the project, which was supported by the Italian government.
Winkelmann said the SUV represents "the beginning of a new era" for Lamborghini, which is best known for super-fast performance cars.
Related: Cool cars from the New York Auto Show
Other exotic car companies have been moving into the market for SUVs, including Maserati, Bentley and Rolls Royce.
Lamborghini plans to produce about 3,000 of the new SUV annually, which would double the company's current sales volume. Its target markets include the United States, China, the Middle East, United Kingdom, Germany and Russia.
If the production version is like the concept car, the Urus will be a "crossover" SUV with huge 24-inch wheels and a 600-horsepower engine. Like most of Lamborghini's cars, the Urus will have full-time all-wheel-drive with a focus on on-road performance.
This actually isn't Lamborghini's first SUV. The LM002, a much chunkier vehicle that looked as if it had been built out of shoeboxes, was available from 1985 to 1992. Only about 300 of those were ever built.
-- CNNMoney's Peter Valdes-Dapena contributed to this report.