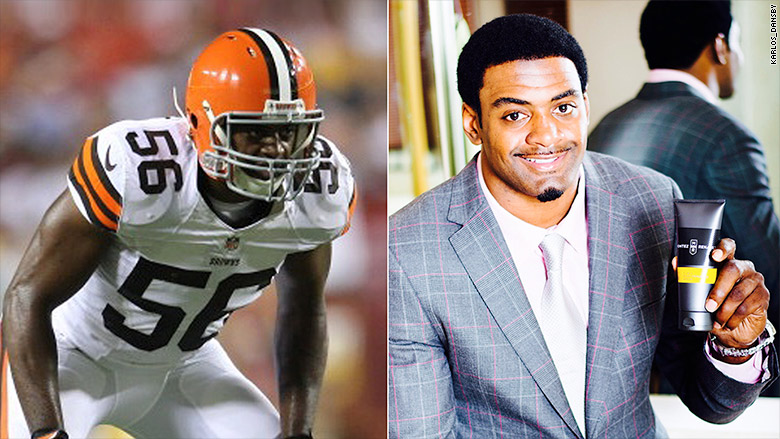 Cleveland Browns' linebacker Karlos Dansby is trained to keep his eyes on the ball and execute successful plays.
Those lessons from the football field are coming in handy as the NFL player sharpens his entrepreneurial chops.
Dansby, 34, and business partner Chris Butler, 35, want to corner the market for men's high-end grooming products and services.
Together they invested $250,000 and launched a men's-only salon -- Butler's Grooming Club -- in their hometown of Birmingham, Ala., in 2009.
The idea was to create a "man cave where guys can get away and be comfortable among their own," said Dansby. "They can relax, drink, play pool and get a haircut, shave, manicure, facial, even get waxed."
Today the salon takes walk-in customers and also has 300 members who pay $90 a month for grooming packages and unlimited shoe shines.
Related: Kim Kardashian and Jessica Alba power his startups
Dansby and Butler played football together at Auburn University. While Dansby got drafted into the NFL, Butler became a banker.
The two stayed in touch and seven years ago, Butler floated the idea of a men's grooming salon.
"I knew he was on to something," said Dansby. "There are many guys like me and Chris who understand the importance of being well groomed. But the only places we had around us were run of the mill barber shops."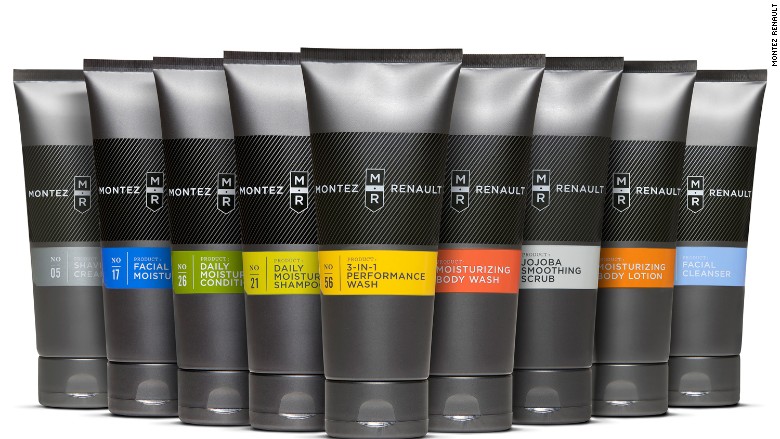 Three years after the opened their salon, the concept caught the attention of Saks Fifth Avenue.
In 2012, they partnered with the luxury retailer and opened a second Butler Grooming inside of the Saks store in Birmingham.
The name recognition has helped spur business.
"Karlos is a dynamic NFL player who plays at a very high level. [He] has established a reputation of being a leader on and off the field, and having a lot of integrity," said Butler.
Related: From Wall Street newbie to millionaire by 27
Despite his busy football career, Dansby said he's hands-on.
"It's not just the money. I have invested a lot of time, too," he said. "I'm never out of the loop even when I'm on the field."
"Karlos was there from day one," said Butler. "He's been involved in all the testing and in making sure that we're offering the best products to the consumer."
Piggybacking off the salon's success (the business became profitable last year), Dansby and Butler launched a line of men's products in late 2014 called "Montez Renault," a combination of their middle names.
The nine-piece collection, priced between $17 to $63, uses all organic ingredients.
"We spent two years developing [the product] to make it really effective for men's skin," said Dansby. "We tried it on our clients in the salon and really incorporated their feedback."
Related: She's $10 million richer for replacing plastic bottles
What's more, the entire line is already offered by subscription service Birchbox, and Dansby is hoping to have it picked up by high-end retailers nationwide. Butler said the line is already profitable. "We are in a growth stage right now and anticipate hitting all our projected targets for the year," he said.
The men want to expand the salon to more locations. "We foresee them in other big cities," said Butler, adding that they'd love to target Georgia, Tennessee, Texas and Florida.
For Dansby, his entrepreneurial venture is also a plan for the future.
"I'm averaging 12 years in the NFL," said Dansby. "Football is my passion. But so is skincare. I'm making time for both."