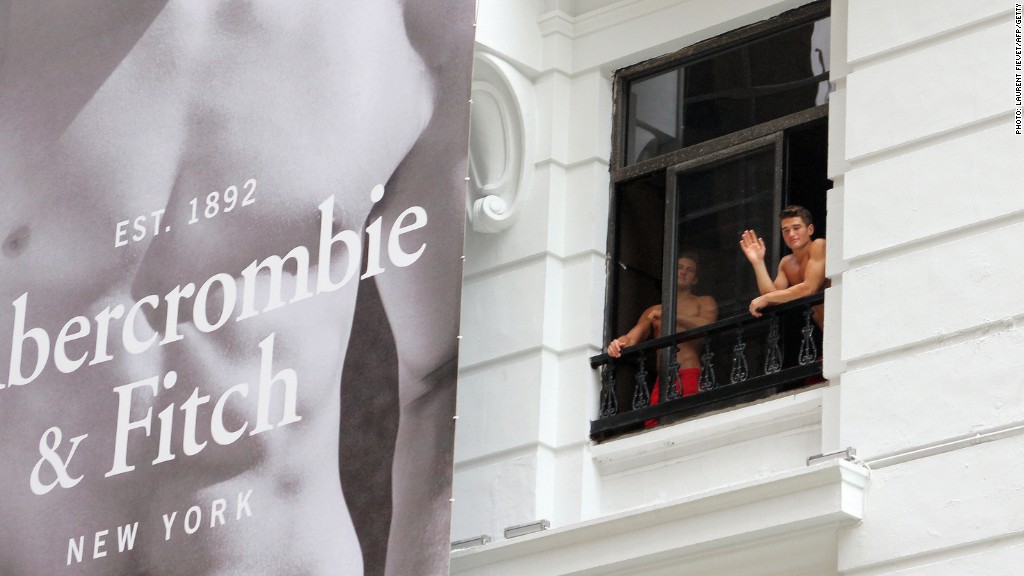 Abercrombie & Fitch reported another lousy quarter on Thursday. A big loss. Sales fell.
But for the first time in awhile, investors are hopeful about the teen apparel retailer's future. Shares of Abercrombie & Fitch (ANF) surged nearly 15%. Imagine that.
The company's interim CEO, former Sears (SHLD) chief Arthur Martinez, said there are signs that the company's sales will improve in the second quarter.
Since the departure of controversial CEO Mike Jeffries in December, Abercrombie & Fitch has taken steps to reinvent itself.
It's no longer emphasizing the clothes featuring the logos of A&F and its other big brand, Hollister. They're now passe with many teens and young adults.
Abercrombie & Fitch also is pulling back on its overly sexual marketing. The company announced in April that it will no longer feature shirtless models in stores and that risque images on gift cards will be gone by July.
Related: Abercrombie makeover: No more shirtless models
These are probably smart moves. But they're not having the desired impact just yet.
Overall sales plunged 14% in the first quarter and same-store sales, one of the most important measures of a retailer's health, were down 8%. Amazingly enough, the same-store sales were not as terrible as investors were fearing: Wall Street was predicting a 9% drop.
Still, it would be a mistake to say that the worst is definitely over, And Martinez is urging investors to be patient.
"While our turnaround won`t be accomplished overnight, we believe the changes we are making will reinvigorate our iconic brands and lead to meaningful and lasting improvement," he said in a statement.
Related: Your clothes are killing us
That appeared to be enough to satisfy Wall Street Thursday.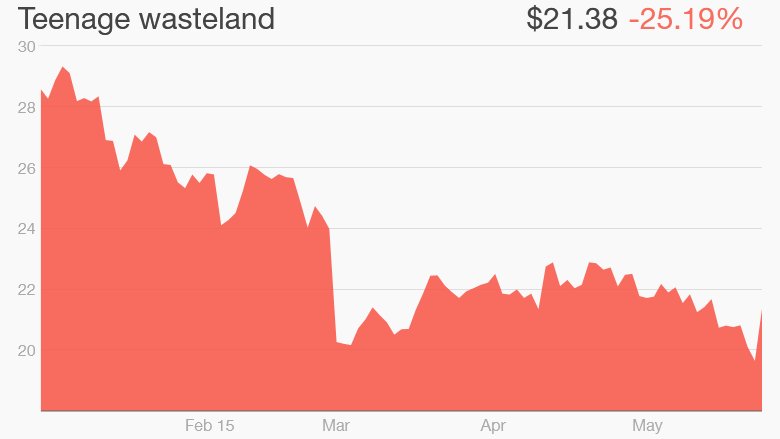 But the company faces a long road ahead.
The stock is still down 25% this year. It's not clear that Abercrombie & Fitch will ever be able to return to its former glory.
There is a lot of competition in the world of teen apparel. Today's mallrats are increasingly flocking to fast fashion companies like Zara, H&M and Forever 21 that feature pretty cheap clothing.
Related: Is Abercrombie & Fitch the next retailer to die?
Other teen retailers are fighting to stay relevant too.
There are signs of improvement at American Eagle Outfitters (AEO). But Aeropostale (ARO) continues to stumble and the most recent results from Urban Outfitters (URBN) were disappointing as well.
It's also worth noting that many investors are still betting on more bleak times ahead for Abercrombie & Fitch. The stock is a favorite target of short sellers, who profit when a stock goes down.
These investors may be scrambling to buy back stock they borrowed and sold in order to avoid getting hit with a big loss. That's a phenomenon called a short squeeze. It's usually temporary.
Martinez -- and his eventual replacement -- will have to prove to Abercrombie & Fitch's many skeptics that it can make a real comeback.
It's not looking promising. Sales are still expected to be down for this fiscal year .. and next.