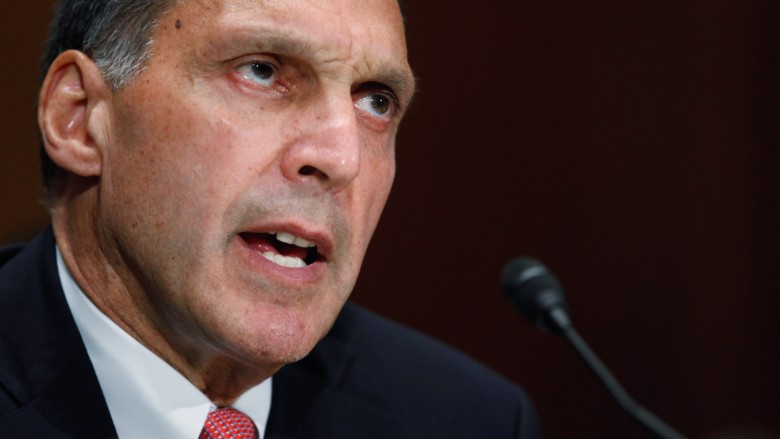 In the fall of 2008, Dick Fuld may have been the most hated man in America.
As the disgraced former CEO of Lehman Brothers, he had just presided over the largest bankruptcy in American history. Fuld quickly became the poster child for the reckless risk taking that fueled the Wall Street meltdown and Great Recession.
Since the financial crisis Fuld has largely stayed silent -- until Thursday when he decided it was "time for me to raise my ugly head."
"Not a day goes by that I don't think about Lehman Brothers," Fuld said at a conference in Manhattan.
Fuld alluded to how unpopular he is, but he downplayed how much the criticism impacts him.
"My motto is: That was then, this is now," Fuld said. He added: "My mother still loves me. She's 96."
Fuld is something of a toxic asset on Wall Street, not unlike the ones Lehman bet on that caused the bank to collapse. Fuld has not been hired by any big firms and has been the subject of countless lawsuits, including a shareholder suit he and other Lehman execs paid $90 million to settle in 2011. On Thursday, he received modest applause from the crowd of mostly financial professionals.
Related: More bankers OK with breaking the law to get ahead
Fuld's comeback effort: Fuld's comments marked his first public remarks since being grilled by investigators on the Financial Crisis Inquiry Commission in 2010. After years of silence, he is trying to make a comeback of sorts. He took the opportunity to talk up the work of Matrix Advisors, the consulting firm he founded in 2009.
Fuld, who built and lost a $1 billion fortune on Wall Street, said he didn't think he "had a choice" other than to try to get back into finance.
Sarcastically asked by the moderator why he didn't ride into the sunset after presiding over the epic Lehman failure, Fuld replied: "Why don't you bite me?"
'Perfect storm': If he could, Fuld said there are many things he'd do differently over his final year at the helm of Lehman.
"You have to have enough liquidity to ride out the storm. I've been there, done that," he said.
During the crisis, Lehman and other big banks were stuck with too many "illiquid" assets, meaning ones they could not buy or sell quickly enough to meet other obligations.
"It's very easy to look back...I missed the violence of the market and how it spread from one asset class to the next," Fuld said.
He described a "perfect storm" and "self-fulfilling negative loop" that drove financial panic, including an explosion of debt and financial products and lax regulation.
Related: Jamie Dimon lashes out at 'lazy' shareholders
Is the American Dream to blame? Yet in many ways Fuld remains in denial about Lehman's final days, reiterating his belief that the bank was the victim of nefarious forces. It was not a truly bankrupt company, he said.
"Did we try to do everything we possibly could? Yes. Did we fall prey to other agendas? I'll leave it at that," he said.
Like many, the ex-Lehman chief believes the 2008 crisis was started by a confluences of forces. Fuld said it's important to focus on the "buildup" to the housing bubble, which he believes started with the government's very aggressive push to increase homeownership.
"They wanted everyone to fulfill their view of the American Dream," Fuld said.
Penny stocks? Given his infamous role in the 2008 financial crisis, Fuld chose an ironic venue to start a comeback tour: A conference for what are essentially penny stocks.
Fuld spoke -- without receiving a fee -- at the Marcum Microcap Conference, an annual event for publicly-traded companies valued at less than $500 million. (Marcum said it made a donation to a charity instead of paying Fuld.)
Related: Where are the key players of 2008 crisis now?
Due to their smaller size, microcaps -- also sometimes known as penny stocks -- are more volatile than larger stocks. Many don't even file financial reports with the Securities and Exchange Commission. That makes these risky securities, especially the smaller ones, vulnerable to fraud such as "pump-and-dump" schemes, the SEC warns where they are bid up in value and then crash.
It's not Fuld's first flirtation with penny stocks. As recently as 2013, he served as a consultant to GlyEco, a tiny green technology company that was originally part of a holding company for Boys Toys, a San Francisco strip club.
It's not clear if Fuld is still affiliated with GlyEco, which didn't respond to requests for comment from CNNMoney. Interestingly, GlyEco is aware of Fuld's toxic reputation. The company listed its association with Fuld and the "negative publicity" it may bring as a risk in its 2012 annual report.