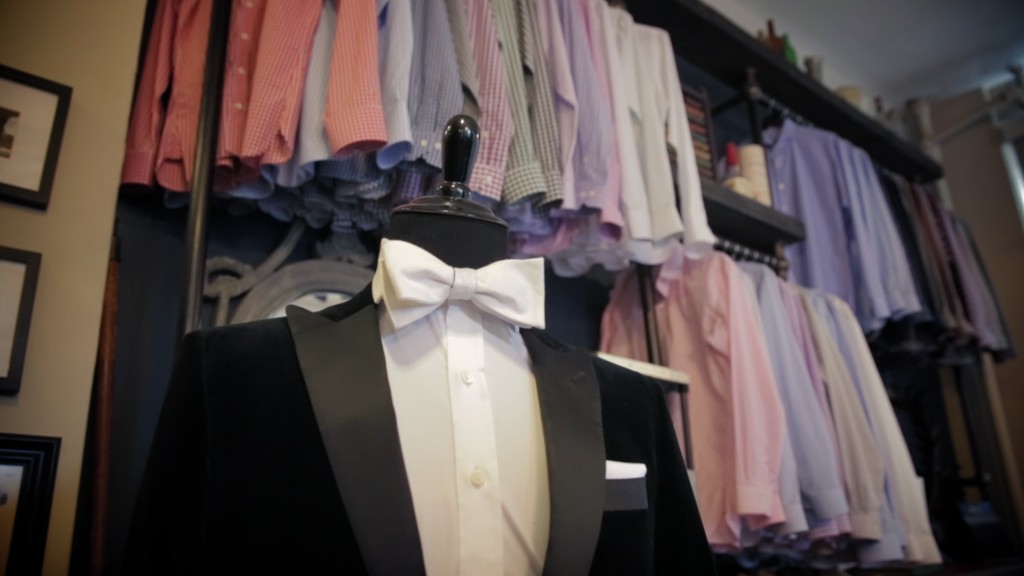 Fur sellers have bigger things to worry about these days than paint-throwing animal rights activists.
Sales in the world's largest fur markets have taken a hit, but the industry is fighting hard to ride out the downturn by targeting new customers with modern, vibrant clothing, accessories and furnishings.
The $40 billion trade is trying move beyond the once-a-decade coat purchase and into the home to secure its future against fashion's changing whims and other headwinds.
China's corruption crackdown has slugged trade in Beijing and Shanghai as people avoid ostentatious displays of wealth, while the savage fall in the ruble sidelines Russia buyers.
But a renewed appetite for all things mink, fox and raccoon in America and the U.K. is helping offset some of the weakness.
"In fashion terms it's never been stronger," International Fur Trade Federation's chief executive Mark Oaten said. "We have very high production levels and I expect those will remain very strong in Europe and America."
Related: Chanel is the hottest luxury brand in China
A stronger economy, cold winters and fashion show exposure have fueled sales on America's east coast. Fur featured in about 70% of the major catwalks last season, Oaten said.
The industry is just as upbeat about prospects in the U.K. London winter sales were up 20%, thanks to runway showings and faster growth, the IFTF said.
British fur retailer Hockley -- whose sold-out Chinchilla jacket went for up to £11,000 ($17,000) -- had a bumper year. And growing demand for less expensive furs and accessories is prompting the emergence of startups, Hockley chairman Frank Zilberkweit said.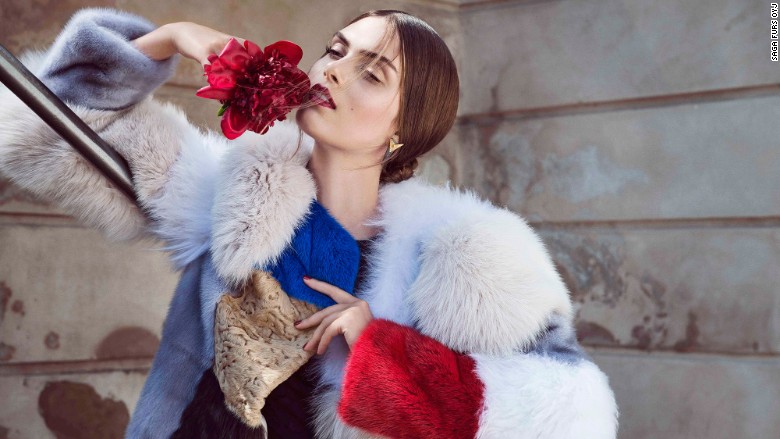 Diversification is critical to the industry's future growth.
It wants fur to be seen as just another textile - like wool or cotton. Oaten believes there's "enormous potential" for fur-based homewares such as rugs and cushions.
Improved production techniques have allowed the creation of lighter and colored furs, making the material less seasonable and more versatile. That's luring younger buyers -- retailer Hockley said it's seeing growing interest among the under 40s.
Youth-focused product placement might also be helping, as fur begins to lose its taboo. Pop star and trendsetter Rihanna is often spotted wearing fur products, as is reality TV sensation Kim Kardashian.
Related: Made in Britain: U.K. factories back in fashion
It's a bitter pill for animal rights groups working hard to dismantle the industry.
The anti-fur movement peaked in the 1990s with supermodels such as Naomi Campbell and Christy Turlington claiming "I'd rather go naked than wear fur."
That campaign by People for the Ethical Treatment of Animals still runs but its star power has dimmed. It's traded supermodels for reality TV personalities.
When Oaten became CEO of the fur federation four years ago, friends warned he would be "covered in paint."
"There's not been a single tin of Dulux anywhere near me," he said.
Still, PETA says fur's comeback is an illusion. It said furriers bankroll designers by sponsoring shows in return for seeing their products on the catwalks, creating a false impression of how popular fur is.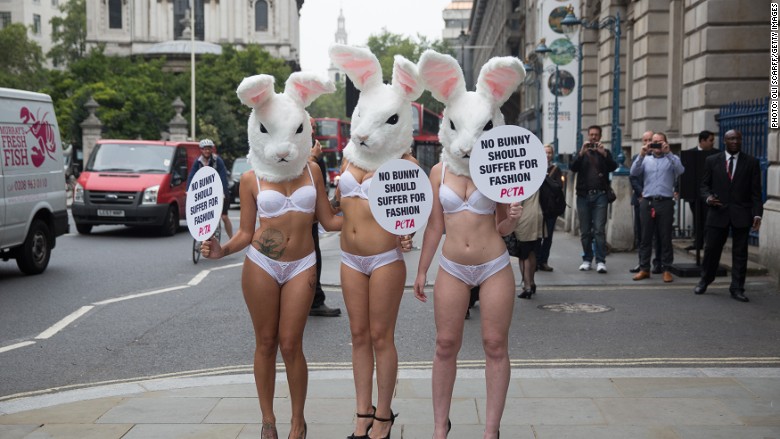 Many labels -- including Stella McCartney, Zara and H&M (HMRZF) -- still shun fur, and faux products are widespread.
But others have come back on board: High-end British department store Harvey Nichols recently reversed a long-standing no-fur policy.
PETA releases disturbing footage of animal cruelty and squalid conditions on fur farms, but retailers argue the bad practices don't represent the trade fairly.
"They exaggerate it, they misrepresent it," said Hockley's Zilberkweit. "There's not an industry in the world that you couldn't do that to."