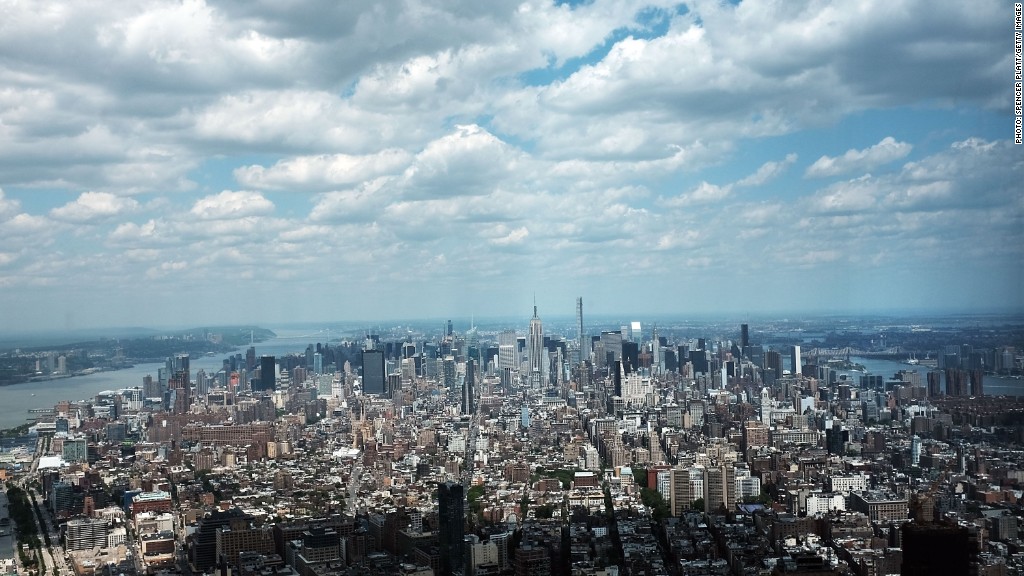 At the tallest café in the Western Hemisphere, prices are skyscraper high.
That's because you have to pay up just to get in the door. The elevator ride alone will cost you $32, which is the price to get in to the One World Observatory.
The 360-degree viewing platform and eatery located near the top of the newly-rebuilt One World Trade Center, opens Friday to the general public.
Tickets are $32 for adults, though seniors pay $30 and children aged 6 to 15 pay $26. Kids 5 and under are free.
There are higher priced tickets for those who don't want to wait in line, considering that queues can be notoriously long at New York's most popular landmarks. The viewing prices are comparable to the observation deck at the Empire State Building, but if you want the whole One World experience, you'll have to pay up.
That's because ticket prices are just the beginning. If you want to get a bite at the cafe, it's going to cost you:
$24 for fish and chips
$32 for steak frites
$20 for a burger
The restaurant on the 101st floor is a bit fancier, with a menu to match:
$40 for chicken
$48 for a steak with foie gras
$34 for salmon
$75 for three-course dinner
$55 for wine pairing with each course
Related video: Check out the view from One World Observatory
Don't even think about bringing your own food and drinks. That's on the list of things you're not allowed to bring, along with:
No pets that are not service animals.
And no, you cannot visit the restaurant without buying a ticket to the observatory. Nice try, though.
If you want to pick up some souvenirs on your way out the door, that'll cost you, too. Here's what you'll find at the gift shop:
T-shirts for $29.95
"Metallic" tote bags for $29.95
Coffee cups for $14.95
Necklace with Swarovski crystals for $79.95
Tapestry blanket for $79.95
The observatory, on floors 100 through 102, is operated by Legends Hospitality, a concessionaire that also provides services (like hot dogs and beer) at Yankee Stadium and Cowboys Stadium. Legends is owned by the New York Yankees and Dallas Cowboys, as well as Checketts Partners Investment Fund.
One World Trade Center is 104 floors and 1,776 feet tall. It opened to tenants, including Conde Nast, in November, 2014.