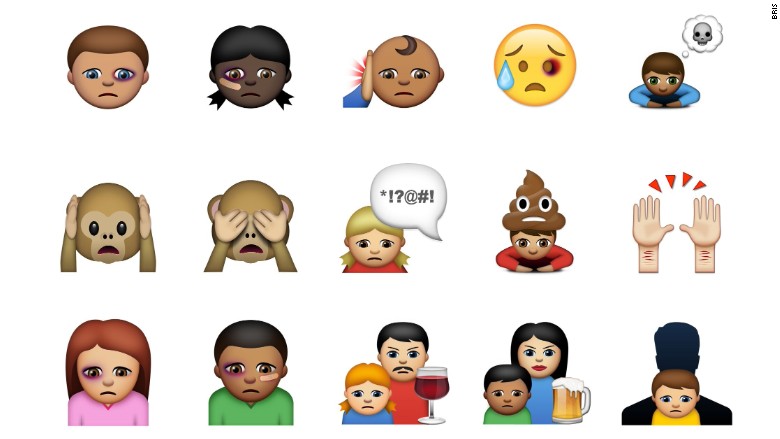 Abused Emojis is a new iOS app and keyboard that aims to help kids and teens communicate difficult situations through images.
The idea was developed by Bris, a Swedish non-profit which manages a helpline for children and teenagers.
The organization says the app is intended to reflect and extend the kind of work Bris does.
"Every day we have contact with hundreds of kids through phone, chat and mail conversation," Bris explains on its site. "Many of the problems that children face today are stigmatized ...The Abused Emojis app is a symbol for our work to make children talk more freely about their situation."
The set of 15 emojis are based on existing icons, each revised to portray different types of physical and psychological harm.
The hear-no-evil, see-no-evil monkeys, for example, are upset. The praise hands have red cuts across the wrists, and various figurines have bruises or Band-Aids on their faces.
Mark Davis, president and co-founder of Unicode, says his personal opinion is that the Abused Emojis campaign seems like a "very worthy cause."
Some of the Abused Emojis "could be represented already in Unicode, using what are called 'joiners,' which is how Apple portrays diverse families. Others would require new characters, and would have to go through the selection process, Davis said.
The Unicode Consortium is releasing a set of 41 new emojis in June, and it has selected 38 emoji characters as candidates for next year's release. The list of those candidates is not final.
Bris communications director Silvia Ernhagen said that being included in the larger set of Unicode emojis "would be a good outcome to broaden the range of feelings," but emphasized this wasn't the app's main goal.
The iPhone app launched on the iTunes App Store a little over a week ago and has been downloaded tens of thousands of times.
According to the developer, Abused Emojis is already the third most downloaded free iOS app in Sweden.
Some users have been concerned about letting the app have "Full access" to an iPhone's keyboard. Third-party apps can retrieve information that is typed on a device this way, but Bris says it does not collect, store or transmit any personal data from users.