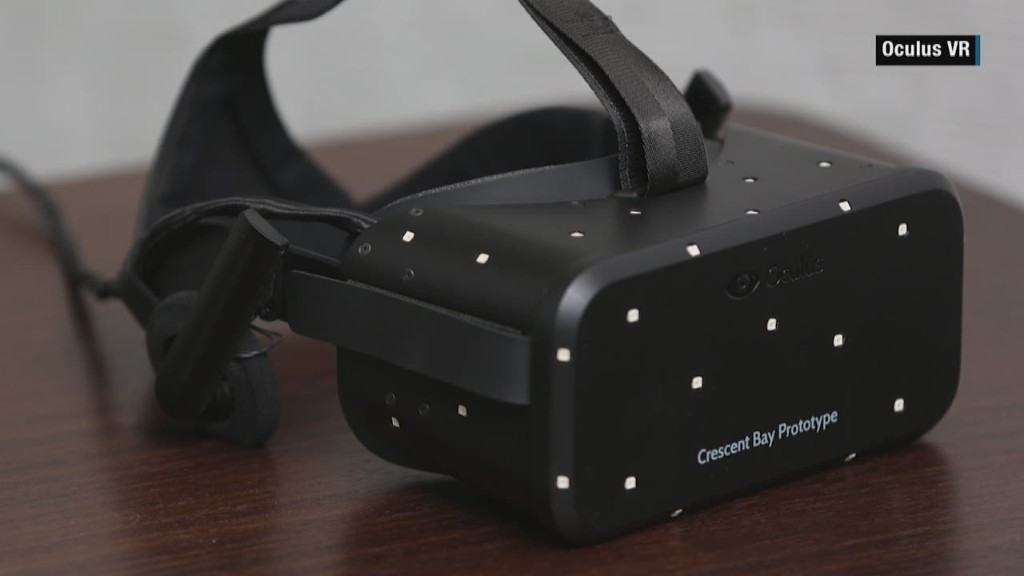 How much will it cost for an Oculus Rift? About $1,500, if you want the virtual reality headset and a compatible computer.
Oculus Rift is a virtual reality device equipped with a 3D viewfinder that, when strapped to your head, makes you feel like you're in a different world.
Oculus CEO Brendan Iribe said he would like to see the price drop to less than $1,000 over time, according to Re/code, a tech news news site. (Iribe spoke onstage at Re/code's Code Conference in California Wednesday night.)
A big portion of the cost will go to the computer, which tech blog ArsTechnica estimates will be around $900 to $1,200. The headset, then, would be about $300 to $600.
That's still expensive when you look at what's already on the market:
Google Cardboard is free if you download the templates and build it yourself. Plus, it works with any smartphone with a screen of up to 6 inches. However, the experience isn't as immersive as the competition.
Facebook (FB) bought Oculus Rift for $2 billion in 2014, and wants to build a mass-consumer virtual reality product. But there are outstanding questions about the market it wants for Oculus. Will it just be for gamers? Will it offer differentiated devices? One for just 3-D movies? Virtual meetings? What will they look like? How much will they cost?
The first iteration of the Oculus Rift VR headset is scheduled to go on sale in the first quarter of 2016, so these questions won't be answered for a while.