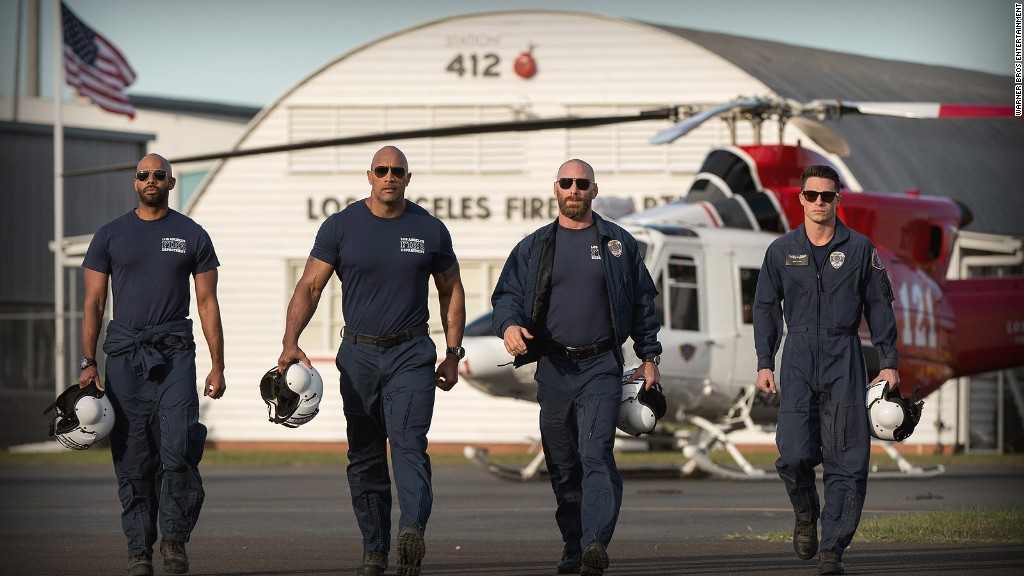 Dwayne "The Rock" Johnson sent shockwaves through Friday's box office as "San Andreas" pulled in higher than expected totals.
The disaster film raked in $18.2 million Friday, and is now expected to be the #1 movie this weekend with a projected U.S. opening of nearly $50 million, according to box office analysts.
That number is up from previous predictions of around $40 million.
If the film approaches the $50 million mark, it'll become the biggest opening for Johnson apart from the mega-successful "Fast and the Furious" series and his small role in 2001's "The Mummy Returns."
Regardless, it's likely to take the top spot on a weekend that looks somewhat (pardon the pun) shaky.
Analysts are projecting that this weekend's box office could total roughly $123 million overall, which would be down about 22% from the same weekend last year.
Following Hollywood's dreary Memorial Day the summer movie season looks to be going through a bit of a rough patch.
Related: Memorial Day box office worst since 2001 as 'Tomorrowland' fails to take off
As for the film -- which is distributed by Warner Bros, a company owned by Time Warner (TWX) like CNN -- it does have some other challenges like bad reviews to deal with.
However, it has one of the most bankable stars in Hollywood leading its cast.
After building a fan base as a professional wrestler, Johnson has grossed over $5 billion worldwide starring in film franchises like "Fast and the Furious" and "G.I. Joe."
"He's someone who people recognize, he's got a good persona... He can carry certain films," said Eric Handler, media and entertainment analyst for MKMPartners. "He can make a franchise bigger."
"San Andreas" is also an epic disaster film -- a big genre for Hollywood.
For example, other disaster films like 2004's "The Day After Tomorrow" made $544 million globally while 2009's "2012" brought in $769 million worldwide.
Related: IMAX conquered Hollywood. China is next
Despite Hollywood's present box office slump, the summer movie season has some of its potential biggest blockbusters ahead with Universal's "Jurassic World" and Marvel's "Ant Man" still on the way.
More from CNNMoney:
The text you never want to get on your iPhone