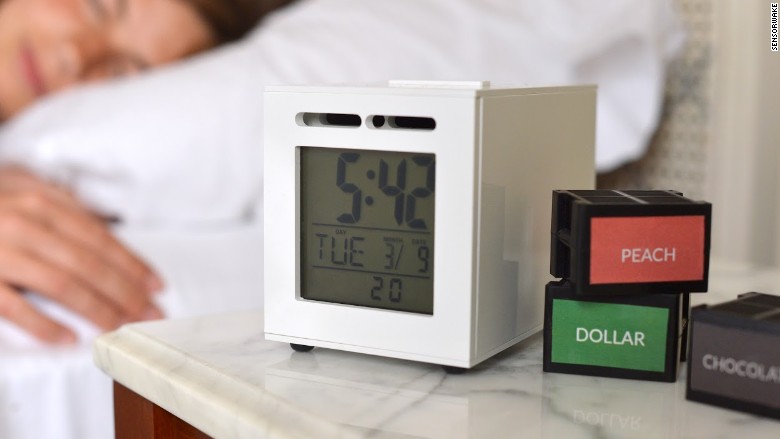 The best part of waking up...is your olfactory alarm clock.
SensorWake is a new alarm clock which wakes you up with familiar scents that are delicious, delightful and motivating.
There's the "Continental breakfast," which smells like an espresso and hot croissant, the "Candy Rush" (peach and strawberry), seaside, fresh cut grass and leaves, chocolate and even money -- yes, the smell of cold hard cash.
Each aroma is contained in a rectangular, 100% recyclable pod and lasts 60 uses. When the alarm goes off, a hatch in the SensorWake clock opens and gradually diffuses a solvent-free, air quality compliant fragrance.
In pilot tests, everyone who tried the device woke up within two minutes. But if you have a stuffy nose, the boxy clock does have an audio alarm that will turn on after three minutes. There is no snooze button, just a button to turn the diffuser off.
The new gadget was created by Guillaume Rolland, a sleepy college student who wanted to build a better way to wake up.
People weren't meant to be shaken from their sleep by iPhone alarms, Rolland says. "Everyone should have the right to wake up happy, relaxed and peaceful," according to the French 18-year-old.
The idea of waking up to the smell of sweet buttery croissants certainly sounds nice, but after a while, you might get sick of the scent. And even if you change fragrance pods, you might start associating a lot of different aromas with the agony of workday mornings.
Google seems to disagree. In 2014, Google (GOOG) recognized Rolland's idea as one of the top 15 "inventions that can change the world." But the SensorWake isn't a new idea. Oscar Mayer launched its bacon alarm clock last year, and there is an array of aromatherapy alarm clocks from companies like Hammacher Schlemmer and Oregon Scientific.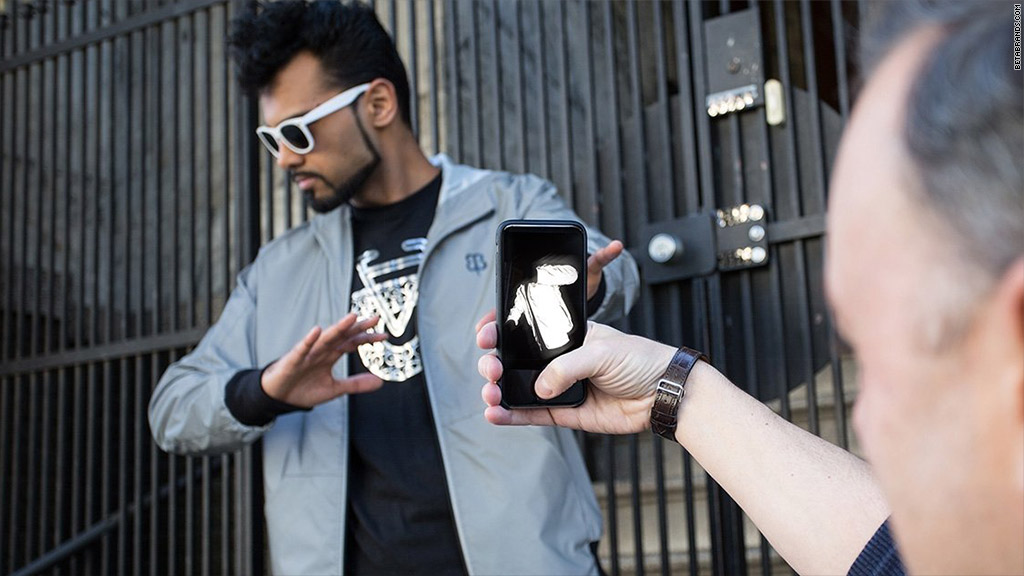 The SensorWake launched its Kickstarter campaign Wednesday and reached more than 60% of its goal in less than 24 hours. It reached its goal of $54,751 in two days. Pledges started at $66 for one alarm clock and two aroma packs for early birds. The same package deal is now being sold for $89.
Shipping is expected to start in November, and future models could be produced if Rolland and his team find success with this initial launch. SensorWake plans to add more scents and offer subscription-based refill delivery services. If sales do really well, you may be able to buy a SensorWake in retail stores.