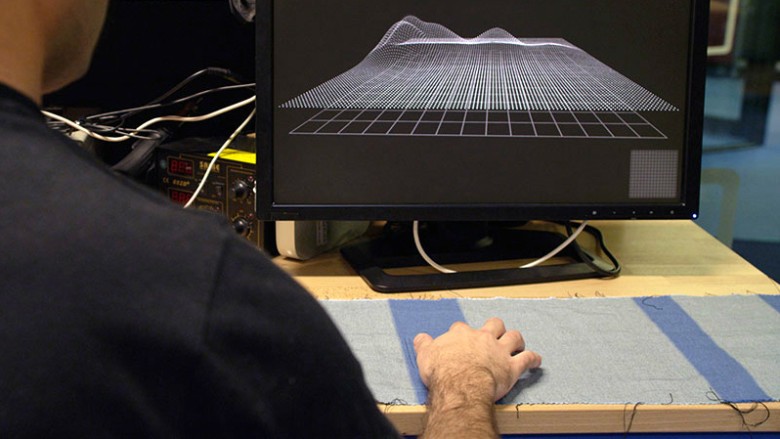 Google and Levi's are teaming up to make digitally connected clothing, literally, smarty pants.
The company's Advanced Technology and Projects group, known as ATAP, is working on fabric that can sense touch gestures. Using a new kind of conductive yarn and woven multitouch panels, they can turn normal clothes into interactive devices.
Wearing clothing made from the textiles, you could swipe your hand over the sleeve of a jacket or side of your jeans to silence a phone. Tap a finger to start playing a song.
Called Project Jacquard, the initiative was officially announced at Google's annual developer conference on Friday. Levi's is its first official clothing partner, and the two Bay Area companies will start designing and experimenting with smart clothing.
They did not announce a timeline for when any smart clothes would be commercially available, though Levi's global head of product innovation, Paul Dillinger, said the process would be iterative, fast and fun.
This is not the first time a company has tried to make conductive fabric, but Google is thinking on a global scale. The clothing industry produces 19 billion garments a year, 150-times the number of mobile phones.
"We cannot expect global fashion industry to change just for us even though we're Google," said Google's Ivan Poupyrev. "We have to adapt to the textile industry."
To move beyond novelty requires a yarn that can seamlessly work on existing industrial looms. ATAP has been working with textile experts in places like Japan to creating a conductive yarn that can withstand the brutal industrial weaving process, and also look good enough to make real clothes.
Levi's said smart clothing could help people interact more with the real world around them instead of constantly staring at phones.
On stage, Poupyrev wore a normal seeming beige jacket custom made by tailors in London. The fabric in the jacket was 85% cotton and 15% Project Jacquard. He waved his hand over the arm and a nearby display showed the information being picked up by the electronics.
Teaming up with legitimate fashion designers with an eye towards mass product mean gadgets could quickly become mainstream.
"You would not call it a wearable, you would call it a jacket," said Poupyrev.