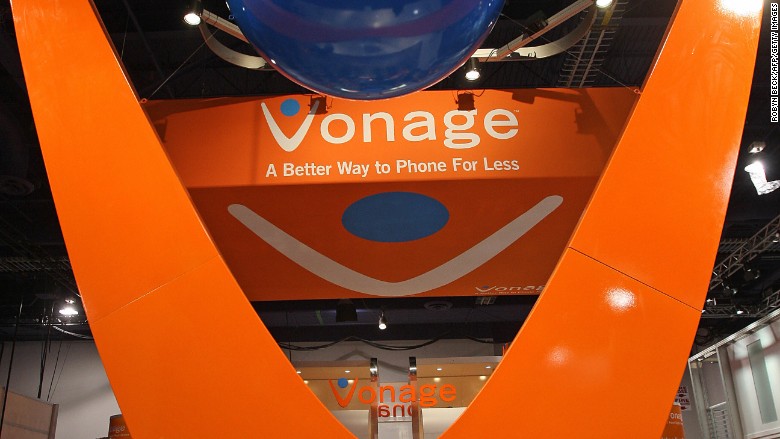 Remember those TV ads for Internet phone service Vonage? The ones with that catchy "Woo Hoo! Woo Hoo Hoo!" song? It was hard to avoid them since they aired so much.
Vonage CEO Alan Masarek says people sing it to him all the time. But Masarek, who just joined Vonage (VG) from Google last year, is trying to change people's perceptions of the company.
He told CNNMoney that he wants to turn Vonage into a leading provider of cloud-based communications services for small businesses.
Masarek said Vonage isn't abandoning the average consumer. The company still has 2.1 million subscribers.
But the company has been losing average consumers at a decent clip for the past few years. The stock, which went public in 2006, has been a dud since then. It is about 75% below its all-time high.
So Vonage has to focus more on small businesses since that's where the most growth is.
Masarek said that for many small businesses, having their landline and wireless phone systems run through the cloud is a lot cheaper.
Related: 5G wireless is coming, but it will cost you a bundle
Emphasizing business will also help Vonage compete more effectively against the likes of telecom giants AT&T (T) and Verizon (VZ) as well as smaller Internet phone companies 8X8 (EGHT) and Magicjack (CALL).
The consumer phone business is incredibly tough. The big wireless carriers are all launching cheaper monthly plans to try and grab consumers. And you have to spend a lot of money on marketing -- typically big TV ad campaigns -- to get noticed.
That's what Vonage used to do. Masarek said the company will still have TV commercials.
But it's not going to be as aggressive it used to be. Instead, it is going to focus more directly on targeted digital advertising -- especially search -- to attract more small business customers.
Vonage has already made several acquisitions to bolster its small business product offerings as well. And Masarek said that more deals are likely.
Growth through acquisition is definitely something he knows firsthand. Google (GOOGL) has made several big deals throughout its history.
Related: RealNetworks hopes for a cloud comeback too
In fact, Masarek joined Google after a company he co-founded, Quickoffice, was bought by Google in 2012. Masarek was a director for Chrome and Apps at Google before he took the Vonage job.
"Google was a great place to be. But deciding to leave was easy," Masarek said. "We want to reinvigorate the Vonage brand. It's an exciting opportunity."
One of the companies that Vonage just bought under Masarek's watch, gUnify, has close ties to Google.
The company is a Chrome app extension that connects the call log data of small businesses to customer relations software services like Salesforce (CRM) and Zendesk (ZEN).
Masarek said he is also trying to bring a bit of the Google culture to Vonage. For example, Masarek said that he plans to personally sign off on every single hire at Vonage.
It's something that Google CEO Larry Page used to do before the company became as big as it is now.
Related: Verizon wants to eat Google's and Facebook's lunch
Other ex-Googlers, most notably Yahoo (YHOO) CEO Marissa Mayer and AOL (AOL) chief Tim Armstrong, have reportedly done the same.
"We all learned from Larry Page," Masarek said.
And Masarek added that the other thing he's hoping to replicate at Vonage is an obsessive focus on customer satisfaction.
"Delighting the customer is a goal at Google. We are trying to do that at Vonage. We want to wow customers," he said.
So far, the strategy appears to be working. Earnings have topped Wall Street's forecasts for the past two quarters even though overall revenue growth remains sluggish.
The stock is up 40% since Masarek took over. But Masarek will need to prove that the company's new strategy can really work for the long haul before most shareholders start singing "Woo Hoo! Woo Hoo Hoo!" about Vonage again.