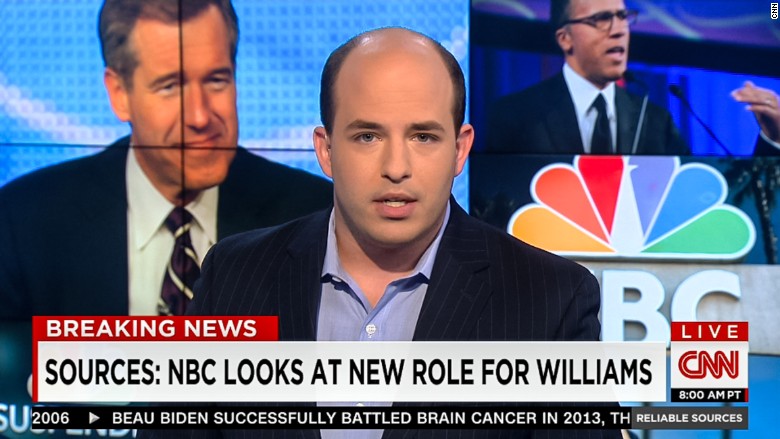 Wherever there's change, there are good stories to be told. And right now there is dizzying change happening across the media business, affecting journalists, media moguls and entrepreneurs alike.
That's the impetus for CNN Media, a new team of reporters, producers and editors within CNNMoney. Today we're showing off a new section front, at CNNMoney.com/Media, with a unique design that makes the site stand out.
What makes the site really stand out, though, is reporting. The relaunch of the section is a chance to brag a little bit.
Because, rather than announce a plan for vigorous media coverage and then try to put it into action, we've been doing it for months. Now we're ready to showcase it.
Here are a few recent examples:
-- Reporter Frank Pallotta camped out on the sidewalk of the Ed Sullivan Theater on David Letterman's last week, and that's why CNN was hours ahead of other outlets with a preview of the comedian's "Late Show" finale. This information fed CNN's television coverage.
-- Reporter Tom Kludt peeled back the curtain on the leadership crisis at Al Jazeera America -- the unforgettable quote was the CEO telling staffers, "I trust all of you. Well, I trust some of you" -- and then, weeks later, broke the news when the ousted CEO actually left.
-- Producer Molly Shiels and the CNNMoney video unit made videos about the Washington Post reporter jailed in Iran; Bob Schieffer's retirement; Charter's proposal to buy Time Warner Cable; and the future of "19 Kids and Counting" -- and that's just in the past week.
-- Mark Mooney, one of our editors, marked Monday's 35th anniversary of CNN with an unusual look back at the channel's very first day on the air, accompanied by video.
When it comes to media coverage, we have a couple key advantages. One, we have a mandate to go and report, not just aggregate or opine. Two, we can report with both text and video. Every publisher is prioritizing video these days, but it just comes more naturally to outlets like CNN that originated on television.
To put it simply: we're integrated.
Let me show you what I mean. I'm a product of the web -- I ran a succession of websites starting in 1995, most successfully with the blog TVNewser in 2004. Then I joined The New York Times in 2007 and split my time between the web and the print newspaper.
When I joined CNN 18 months ago, some people thought I was becoming "a TV guy."
Now don't get me wrong, I am "a TV guy." My work weeks begin and end with Sunday morning's media program "Reliable Sources." Hosting the show is simultaneously an honor and a whole lot of fun.
But hosting is one part of a three-part job. I've come to think that each part makes the other better.
"Reliable Sources" comes first.
The second part is CNN Media -- reporting, writing news stories, making videos with Molly, brainstorming with Frank and Tom, occasionally editing their stories too.
The third part is covering big media stories for CNN's television channels -- taking what we've produced on CNN Media and sharing it with viewers through live shots, discussions and taped packages.
Picture a wheel, rolling round and round. This wheel doesn't work perfectly every day. But it's working more and more often. Television segments amplify web stories and vice versa. Video explainers made for the web (here's an example about net neutrality) appear on TV and interviews for TV (here's an example with Senator Al Franken) appear on the web. Web scoops inspire TV debates.
When Bill O'Reilly was under scrutiny for past reporting claims, Tom worked with the producers of "Reliable Sources" to track down sources. When "Fast & Furious 7" outperformed box office expectations, Frank obtained the raw data that TV newscasts needed.
Here are a few examples I'm particularly proud of:
-- On Sunday we were first to report that suspended anchorman Brian Williams might return to NBC, but in a new role, not as "NBC Nightly News" anchor. I wrote a web story based on my interviews with sources, which CNNMoney executive editor Lex Haris edited. It became the template for the top story on "Reliable Sources" and followup discussions on other CNN newscasts.
-- We were first to report that Rolling Stone planned to take no disciplinary actions amid Columbia's review of "A Rape on Campus." CNNMoney managing editor Rich Barbieri edited and published the web story just as I reported the news on television. And viewers were referred to the web site for further coverage.
-- We were first to report that Sony had struck a YouTube distribution deal for "The Interview." Same drill as before: The web story and the TV segment hit at the same time. The key source for the scoop paid attention to me because they'd seen our extensive Sony coverage on "Reliable Sources" the prior Sunday.
So -- the wheel is working. And we're ready to highlight it on CNNMoney.
Now ... back to work!