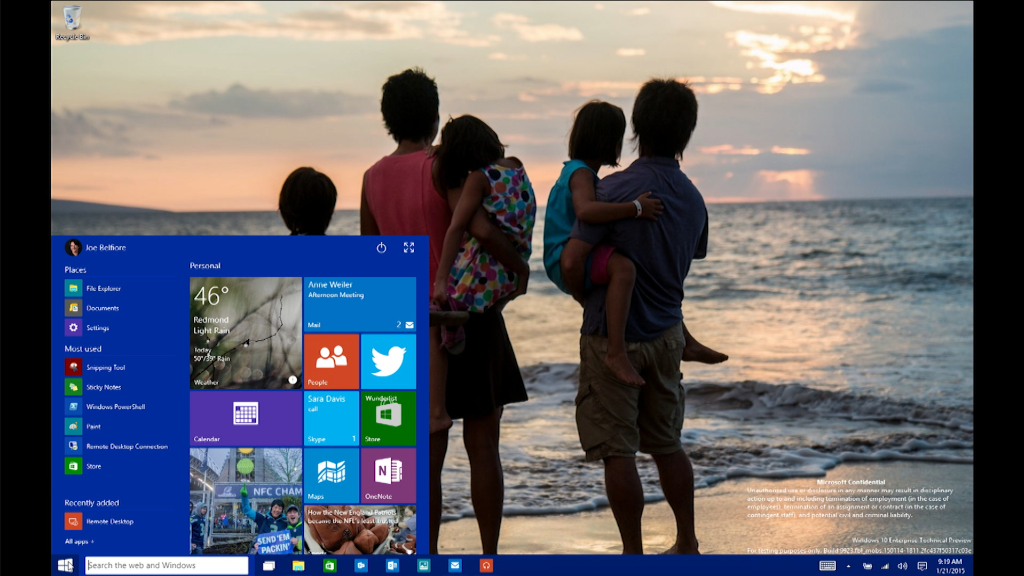 Windows 10 finally has an official release date: July 29.
Unlike previous Windows releases, you won't have to go to a store -- whether online or brick and mortar -- to get it. Windows 10 will come as a free upgrade to anyone with a Windows 7, Windows 8 or Windows 8.1 PC. Customers with Windows Phone 8.1 will also be eligible for a free Windows 10 upgrade on their smartphones.
Windows 10 will be Microsoft's first major update to its operating system in three years. Microsoft (MSFT) understands that Windows 8 wasn't well-received by customers, and most of its updates to Windows 10 reflect that.
The new Windows offers a familiar experience to Windows 7 users who never made the jump to Windows 8, while still bringing some innovations to the PC that tablet and smartphone users have become accustomed to.
Related: 10 things you'll love about Windows 10
Here's a quick recap for the uninitiated.
Start is back: Windows 10 brings back the Start menu, which organizes all of the PC's program files, folders and settings as well as tiles that were abundant in Windows 8.
The desktop is back too: Windows 10 boots straight to the desktop, and it stays there. You can run multiple desktops too, if you'd like. If you have a tablet or a tablet-laptop hybrid, Windows 10 will automatically adjust to deliver the best experience for the screen it's running on through a feature called Continuum.
Edge: Internet Explorer is taking a backseat to a new and improved Web browser called Microsoft Edge. It supports extensions and applications, offline reading and reading mode, lets you write directly on websites, and integrates Cortana to give you directions to restaurants and other locations.
Cortana: Microsoft's Siri-like Cortana voice assistant will live in the task bar. You can ask it to do a number of tasks either by typing or saying "Hey Cortana" and then speaking your command. When you click on the "Ask me anything" search box next to the Start button, Cortana will give you a list of weather, news and other events tailored to your interests. It can tell you about your computer and launch apps.
Notifications: A new Action Center gives you a quick glance at your PC's status. Emails, updates and app messages all appear in a drawer that pulls out from the right hand side of the screen.
Security: You can even unlock Windows 10 with facial recognition software, finger print scans or an iris reader. The feature, called "Windows Hello," requires some special equipment -- most PCs don't come with biometric scanners installed.
Phone-like updates: if you upgrade to Windows 10, you'll get free Windows upgrades for the life of your PC or phone.
To reserve a free installation of Windows 10, Microsoft will be sending existing Windows customers notifications. Look for an icon that will pop up in your system tray at the bottom of your screen. If you click on the icon, Microsoft will allow you to complete the reservation process.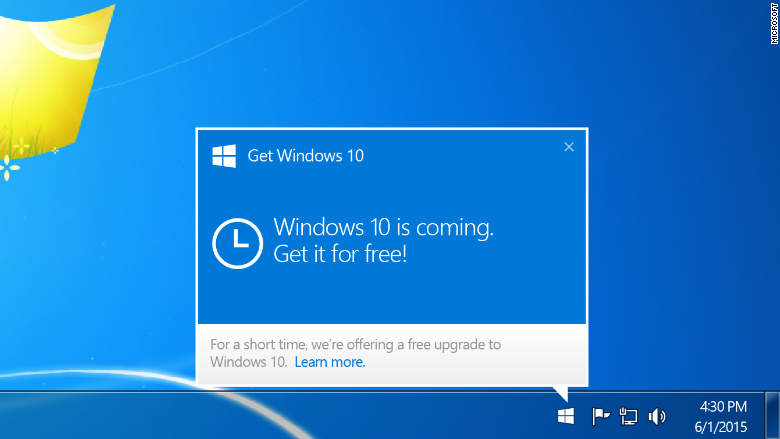 But you'll still have to wait two more months to upgrade.