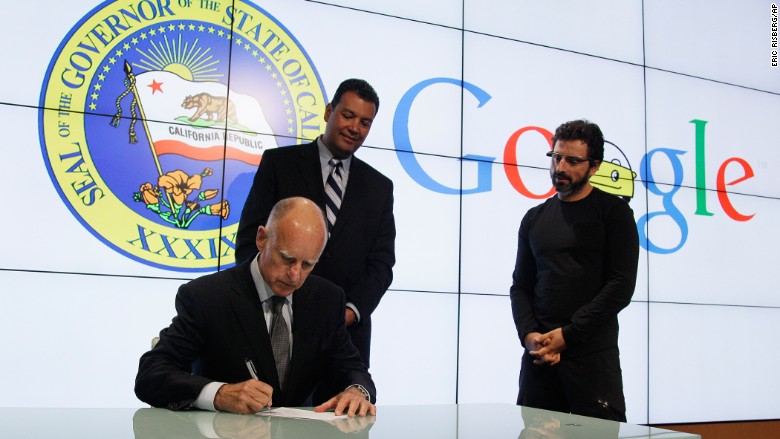 If you do an Internet search for "Google lobbying," you learn a lot.
You see that Google donated $26,000 to Democrat Jerry Brown in his last campaign for governor of California, and that the company has already given $10,000 to Republican Marco Rubio's 2016 U.S. Senate campaign (yes, that was before Rubio announced his run for president).
Google is now a big spender in Washington -- and in state capitals across America. Since President Obama took office, Google has spent over $60 million on lobbying in Washington alone.
But here's what you don't find even with the best Google searching: Just how much is the Internet giant giving to various trade organizations and "third party" groups?
Related: Top 10 companies lobbying Washington
Pushing for change: Some Google shareholders say it's time for Google to truly live by its openness value. They are demanding that the company fully disclose all of its lobbying.
"Our request isn't far-fetched. Many companies do this," says Tim Smith of Walden Asset Management, a $3 billion firm that owns Google (GOOGL) stock.
Walden filed a formal shareholder resolution to require Google to be fully transparent about its lobbying expenses and objectives. There will be a vote on the proposal at Google's annual meeting for shareholders on Wednesday.
On its website, Google lists 43 trade associations that it belongs to, such as the Ad Council and National Cyber Security Alliance, although it says that is a "representative listing" and Google doesn't indicate how much money it gives these organizations. Google also has links to over 100 third-party groups like the AARP, Heritage Foundation and iKeepSafe that it "provides support to."
At its heart, the debate centers on Google's ties to the U.S. Chamber of Commerce.
Related: Google keeps audio records of your 'OK Google' requests
Problematic ties? Smith sees a big disconnect between Google's claims that it is committed to "protecting the environment" and the fact that the company still funds the Chamber, which has spent over $1 billion on lobbying since 1998, including campaigns to stop the Environmental Protection Agency and President Obama from combating climate change.
Other companies, such as Nike (NKE)and Apple (AAPL), have spoken out very publicly against the Chamber's anti-climate change policies. Apple even canceled its membership.
"Because the Chamber's position differs so sharply with Apple's, we have decided to resign our membership effective immediately," Apple wrote to the Chamber in 2009.
Related: Apple stock is making regular Americans rich
Public pressure on Google: The lobbying disclosure proposal isn't expected to pass on Wednesday -- that's nearly impossible given that Google executives own so many of the shares. But it puts public pressure on Google to change its ways.
Last year, more than 8% of the shareholders voted "yes" on a similar proposal. That sounds puny, but it's actually quite high since so few people who own the company's stock actually bother to vote. It also might have had some tangible impact. Just a few months later, Google cut all ties to the American Legislative Exchange Council because it was "lying" on climate change.
Google (GOOG) opposes the latest proposal from Walden Asset Management, arguing that it would be "impractical and burdensome" to disclose more about its lobbying than it does now.
Smith doesn't buy that excuse. He points out that companies like Accenture (ACN) and Bristol-Myers Squibb (BMY) now break down their direct and indirect lobbying down in annual, if not quarterly, reports.
"The ironic thing is Google has a reputation for openness," Smith says.