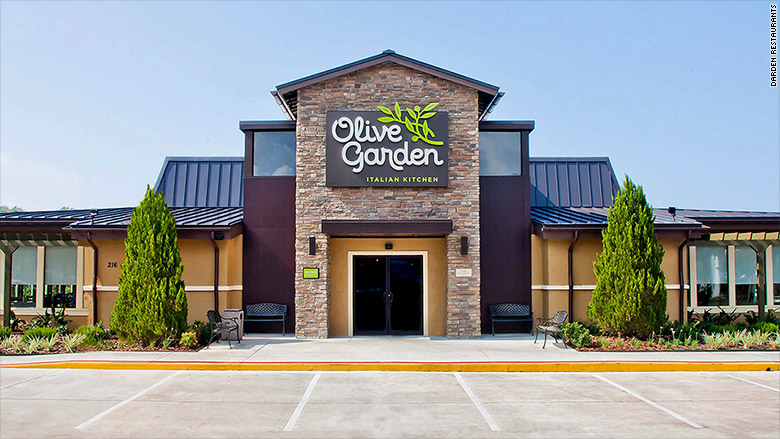 Talk about learning the business from the ground up.
The activist investors who loudly complained about Olive Garden's food had to work shifts in the kitchen and wait tables before rolling out the restaurant's bold new reboot.
"Every single board member took a night and worked inside a restaurant," said Jeffrey Smith, CEO and founder of hedge fund Starboard Value, owner of the largest stake in the restaurant chain, in an interview with Bloomberg.
"I was waiting on tables, greeting guests, serving some food, in the kitchen," he added. "All of us did that. It was an amazing experience because we felt as board members how are we going to make good decisions in the board room without really knowing what's going on in the restaurants?"
Starboard, and its partner hedge fund Barington Capital, released a scathing critique of Darden Restaurants (DRI) last year. But instead of just focusing on the financials, the investors took the unusual move of trashing-talking the food.
The furious foodies published a communique' that targeted Olive Garden's policy of unlimited bread sticks, which led to "high food waste and a worse experience" because there are too many and they get cold.
The investors also slammed the pasta, saying that it was "overcooked with sauce simply ladled on top," and the cooks didn't bother to salt the water. They said that Olive Garden must embrace its Italian roots, even though the company is from Florida.
Related: Olive Garden flunks CNNMoney taste test
Darden's leadership acquiesced by selling off the unloved Red Lobster brand for $2.1 billion, but the hedge fund forced out Olive Garden CEO Clarence Otis and the board of directors last year. Darden shares increased, and Olive Garden sales gained momentum.
But rather than cast off the much-maligned bread sticks, the new Olive Garden is embracing them. The revamped menu still provides unlimited bread sticks and it also includes a new item: Breadstick bun sandwiches with meatballs or chicken parmigiana.
The company is trying to emphasize or create a cult following for the humble but "signature" appetizer, with a social media campaign called Breadstick Nation.