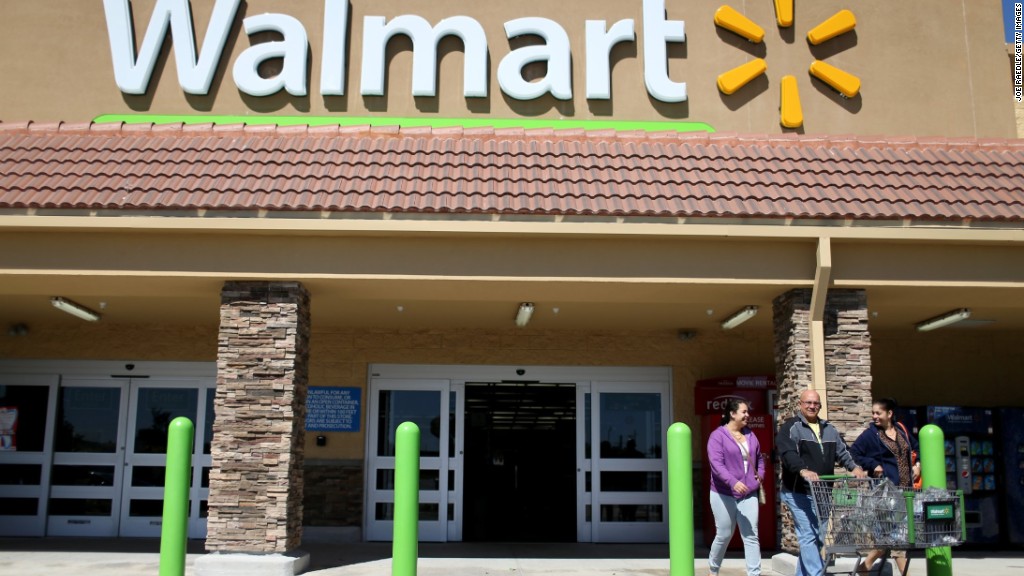 Walmart, which started raising worker pay in April, will hike the wages of 100,000 managers by as much as 26%.
The new pay scales mean wages for managers of more complex departments, such as produce, electronics and auto care, will start at $13 an hour and go as high as $24.70 an hour. They go into effect next month.
Managers in other departments such as clothing and consumer staples will start at $10.90 an hour and go up to $20.71 an hour.
Walmart is also revamping its management structure within stores, creating more manager and assistant manager positions. About 2,000 workers have already been promoted into the new jobs, said spokesman Kory Lundberg. Walmart anticipates adding about 8,000 additional managers this year.
"This is all part of our plan to make Walmart a better place to work and a better place to shop," he said.
In February, Walmart (WMT) said it would increase the starting wage at its stores to $9 an hour in April and $10 an hour next year.
Walmart employees had previously started at whatever the minimum wage is in their state. Nationally, that's $7.25 an hour, but many states are higher. The company said in February that only about 6,000 workers out of its 1.4 million employees make the minimum wage.
Related: Tearful Tracy Morgan thanks Walmart after accident
A total of 500,000 Walmart workers, both staffers and managers will get a raise this year.
The company reported disappointing profits last month for the quarter that ended April 30, and said the higher pay scale was part of the reason. It estimated the higher wages cost it almost $65 million off its bottom line for the one month they were in effect.
Related: Walmart's profits hurt by wage hike for employees
Still the company said it believes the higher wages will eventually help its results by giving employees more money to spend.
Walmart is not the only company that's boosted worker pay recently. Target (TGT), T.J. Maxx owner TJX (TJX) and McDonald's (MCD) have all announced plans to raise some of their workers' pay above minimum wage as well.