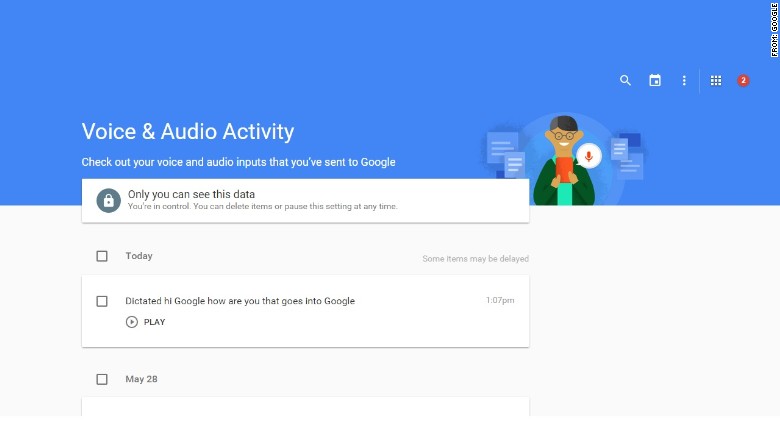 Remember all those times you spoke to your smartphone, said "OK Google..." and asked a question? Or tapped the microphone to dictate a text message?
Chances are, Google (GOOGL) kept every audio recording. And you can play them back to yourself.
This is one of things some Google users were surprised to discover on Monday, when Google launched its new "My Account" feature. The company is trying to give users a better idea -- and more control -- over what information it collects.
It's already obvious that Google remembers every text search you perform on its site. What's clear now is that the company also stores a recording of your actual voice.
On its website, Google says these recordings help it better recognize your voice -- and more accurately accomplish tasks.
If you're a Google account holder, you can find the collection of recordings in a section called "Voice and Audio Activity."
The stored recordings can go back months, but it's not clear how long Google keeps these files. Users may delete the recordings. (Or you can keep them as mementos.)
Google did not respond to questions for comment on Monday.
But to Google's credit, users can simply select an option to stop the company from storing this information.
This type of thing isn't entirely new. In 2013, the world learned that the Apple (AAPL) voice dictation service, Siri, keeps user audio samples for two years. And the company says it reviews customer speech recordings to improve Siri, according to Apple's iOS license agreement.
You might be surprised how well these speech recording services get to know you. When customers use Siri, Apple's servers remember previous requests (and combine contact names and stored songs) to better recognize your pronunciation and satisfy requests.
In Apple's case, customers have the option to delete the data on the company's servers by resetting Siri and the dictation feature.
It's similar for the Microsoft personal assistant, Cortana. The company says Cortana "learns about you by collecting information about how you use your phone," like the music you play, your scheduled clock alarms, and what you buy in the Microsoft Store online.