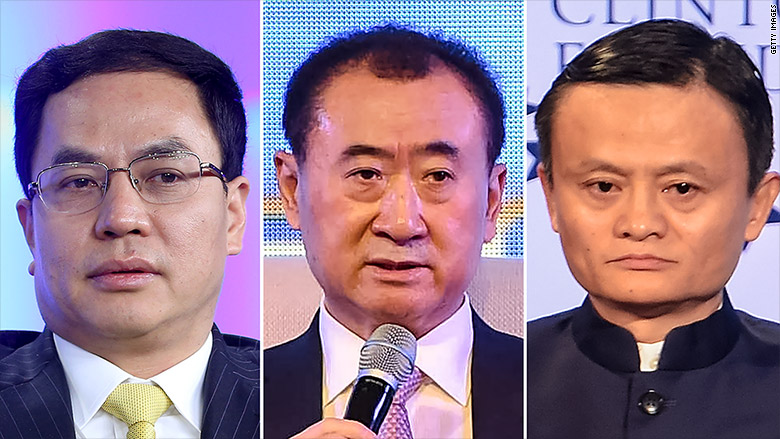 China's three richest men are all in trouble.
Li Hejun made his fortune in the clean energy sector, while Wang Jianlin made big bucks in property and entertainment. Jack Ma is the driving force behind Alibaba, one of the world's largest tech companies.
But the trio of self-made multi-billionaires are all facing sticky business situations that are hitting their bank accounts. Here's what's going on:
1. Li Hejun, founder and CEO of Hanergy
Li, formerly the richest man in China, has been at the center of a bizarre scenario: Stock in his company, Hanergy Thin Film Solar, plummeted by 47% in a single hour of trading in late May. Hanergy lost almost $19 billion in market capitalization as a result, and Li's stake dropped by as much as $15 billion in value, according to data compiled by CNNMoney.
It later emerged that Li had upped his own short position in Hanergy just days before the drop.
Based on available information, a CNNMoney estimate shows that his short position wouldn't have been enough to offset major losses. Investors taking a short position borrow shares to sell, betting they'll turn a profit by buying back the shares once prices drop.
Since then, Hong Kong's Securities and Futures Commission has confirmed that it is investigating the company. Hanergy has largely remained silent on the issue, as questions continue to pile up.
Related: China's richest man lost $15 billion in one hour
Li had quickly climbed the wealth ranks in China as Hanergy stock soared -- shares surged 625% over the past year prior to the crash. The astonishing rise prompted scrutiny by media and analysts who probed the company's accounting practices and sales. It was revealed earlier this year that Hanergy Thin Film got about 60% of its business from its Beijing-based parent company.
Before Hanergy's tumble, Li was estimated to be worth $26 billion and was China's richest man, according to the Hurun Report.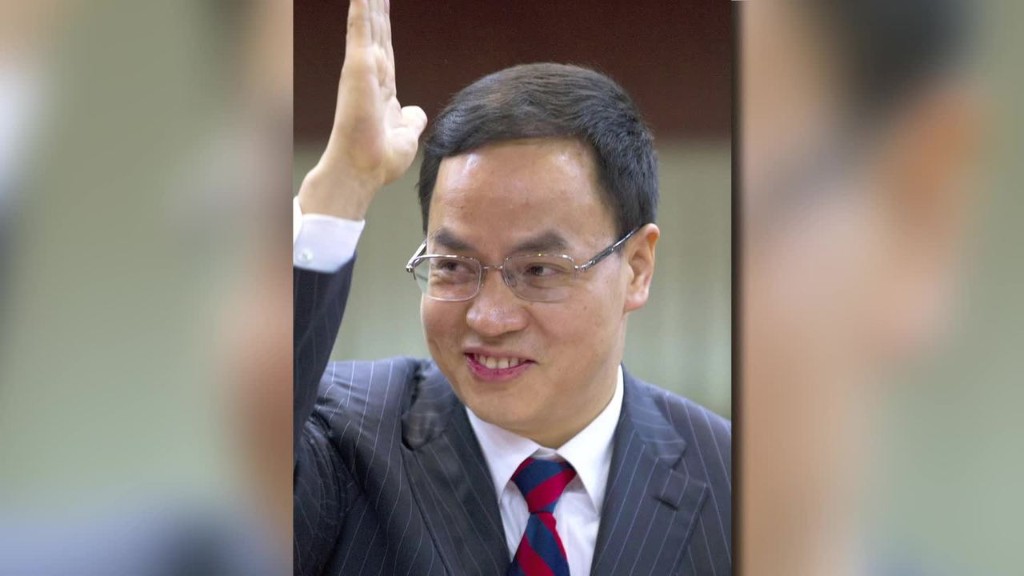 2. Wang Jianlin, chairman of Dalian Wanda
Dalian Wanda owns AMC Entertainmen, (AMC) which is now under investigation by the U.S. Department of Justice for an anti-competitive practice known as "film clearances." Under the practice, theaters allegedly tell Hollywood film studios they won't show certain movies if competitors located nearby also screen the films.
AMC is one of the largest chains in the U.S. with 4,972 screens, and smaller multiplexes say the company has used the tactic to steal their business.
Related: China's $8 billion plan to rival Hollywood
Wang was estimated to be worth $25 billion in February, making him China's second-richest man, according to Hurun.
3. Jack Ma, co-founder of Alibaba
Ma, who founded Alibaba (BABA) in his tiny apartment in 1999, led the company to a record-breaking IPO last year. But Alibaba has been plagued by counterfeits on its e-commerce shopping platforms. Alibaba has pledged to fight this "cancer," as Ma has described it, taking down millions of product listings and introducing a "three-strikes" policy for sellers on Taobao, one of Alibaba's shopping sites.
But that hasn't been enough to keep scrutiny -- or lawsuits -- at bay.
Earlier this year, the Chinese government released a scathing report that accused Alibaba of turning a blind eye to illegal activity, and failing to police its online marketplaces. The company was "far too lax" in its business operations, allowing some merchants to sell counterfeit goods, from designer bags to smartphones, according to the State Administration of Industry and Commerce.
While the report was eventually removed from the SAIC website, it still angered investors. Alibaba now faces a class action lawsuit in the U.S. for failing to disclose to investors that it was meeting with the regulator.
Alibaba has also been sued a second time by Kering, a luxury brands group that includes Gucci and Yves Saint Laurent, over counterfeits.
Shares have dropped in New York nearly 13% so far this year. Ma's wealth was estimated at $24.5 billion in February.