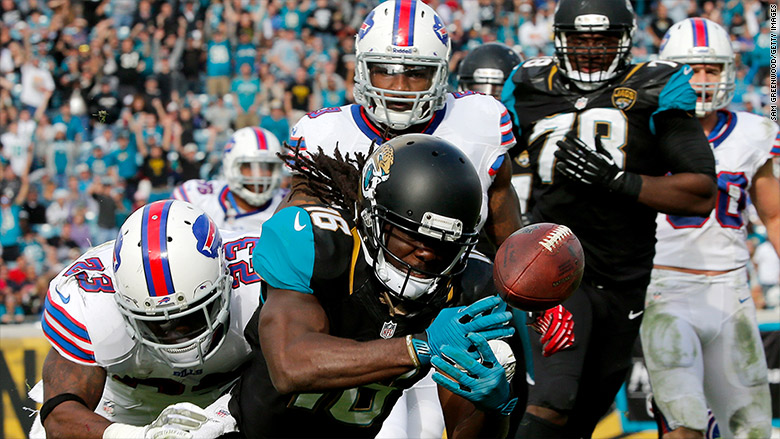 The NFL said in a statement Wednesday that Yahoo is its "exclusive partner to deliver the first-ever live stream of an NFL game to a global audience across devices and for free."
The October 25 Buffalo Bills-Jacksonville Jaguars game will be groundbreaking because it won't be shown on television in the United States like every other NFL game is. (It will still air in the Bills' and Jaguars' home markets.)
It will be available for streaming, with ads attached, all around the world.
Even if the game itself is dull, it will be a glimpse of the future. Yahoo, Google and other web giants are interested in competing with TV networks for the rights to NFL games.
CBS, NBC and other networks own most of the games through the early 2020s, but there is a slate of Thursday games that might be available starting in 2016 -- if CBS doesn't hold onto the rights.
Related: NFL to try out live-streaming this fall
For this first experimental stream, Yahoo is paying an "eight-figure sum" -- at least $10 million -- according to a person involved in the negotiations.
Several other companies, including Google, were involved in the bidding, said the person, who insisted on anonymity because the financial details were not being disclosed.
"The NFL is not losing money by showing this on the Internet instead of TV," the person said.
The match-up is on October 25. It's part of the NFL's international series, so it is taking place in London, at 9:30 a.m. ET, making it a logical choice for a live-streaming test.
As CNNMoney's David Goldman pointed out when the NFL's plan was previewed in March, "sports bars won't exactly be filled to capacity then, and ratings will likely be lower than the typical 1 p.m. and 4:30 p.m. Sunday games."
But the game is primed to reach fans in Europe and other parts of the world, where it'll be later in the day.
Yahoo is promoting the event this way: "For the first time in NFL history, anyone with an internet connection can tune in, exclusively on Yahoo, from anywhere to watch a live football game for free. Whether you're on your phone, tablet, laptop, console or connected device -- we've got you covered."
For Yahoo, the game is a huge opportunity to tout itself as a leader in web video.
"We're thrilled that the NFL has chosen Yahoo for this historic opportunity," Yahoo CEO Marissa Mayer said in a statement. "It marks a significant change in the way users can access this amazing content."