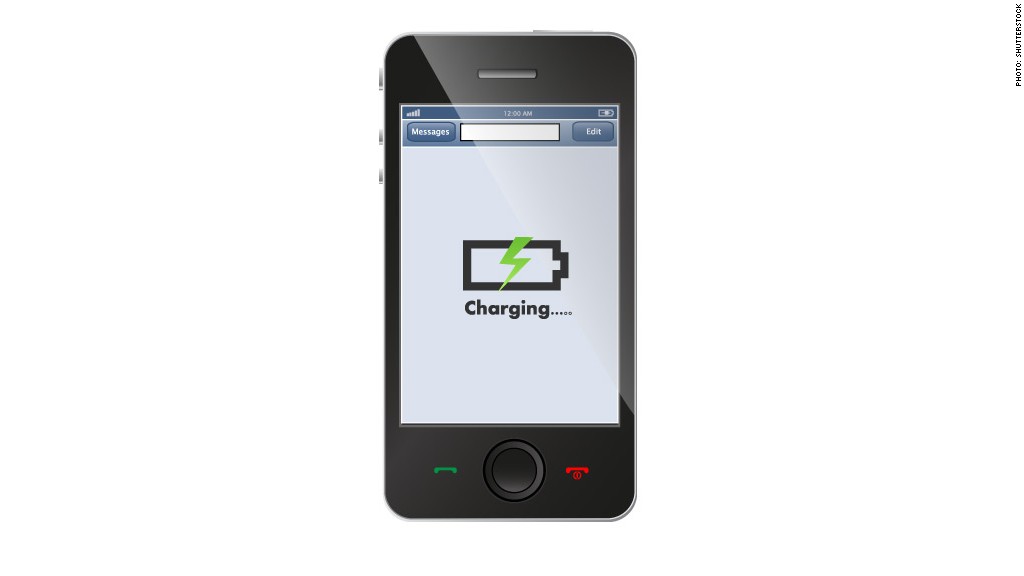 Smartphones are getting more powerful, but battery life hasn't caught up to power all the apps we're using.
U.S. smartphone users have about 30 apps on their smartphones, on average. But the most used apps -- messaging, social media, and streaming entertainment -- happen to be the biggest guzzlers of battery power, according to a new study of Android phones from AVG Technologies (AVG), an online security company.
Some of the worst offenders are apps that run automatically when a phone boots up, whether you open them or not. The biggest offenders in that category are Facebook (FB), Kik, WhatsApp, Facebook Messenger and RetailMeNot. These apps are constantly running in the background, checking for updates and messages.
For apps that don't start automatically, Amazon (AMZN) Kindle, Snapchat, LINE, Spotify, Netflix (NFLX) and Amazon Shopping give battery life the biggest beating -- but only when you're actively using them, unlike Facebook, which drains your battery whether you're using it or not. Surprisingly, the Wal-Mart (WMT) app is the top battery drainer among U.S. Android users in this category.
Related: How to max out your phone battery
AVG's study looked at mobile games separately because of the huge number of apps in this segment. It found that King's (KING) Candy Crush Soda Saga, Candy Crush Saga, Clash of Clans, Crossy Road and Solitaire were the biggest power-suckers.
To conserve battery life, AVG offered a few tips: limit push notifications, reduce frequency of refreshes, turn off connectivity (Wi-Fi, Bluetooth, GPS) when not in use, dim brightness, and disable background location tracking.
The study examined data from over one million AVG AntiVirus Android app users worldwide during the first three months of 2015. AVG excluded from its study apps with less than 1 million downloads on Google Play and core system apps.