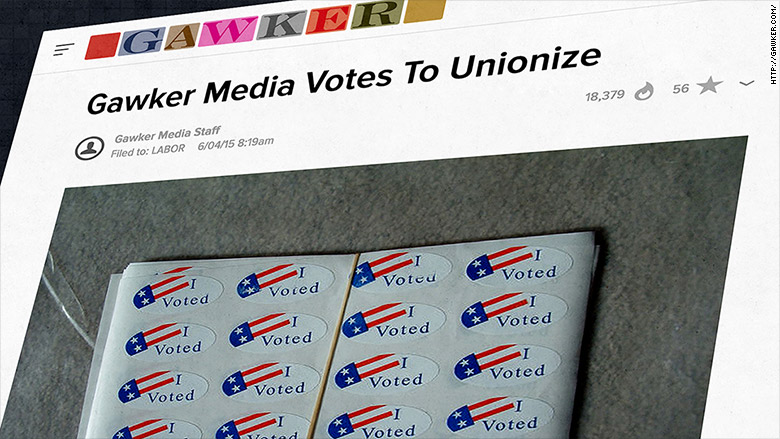 In a potentially groundbreaking move for digital media, the staff of Gawker Media has decided to unionize with the help of the Writers Guild of America.
The guild made the announcement on Thursday morning, one day after a vote among the staff of web sites like Jezebel, Deadspin, Gizmodo, and the original one of the group, Gawker.
The vote was specifically about whether the staffers wanted to be represented by the guild for collective bargaining purposes. They said yes by a 3 to 1 margin. (The guild said 107 of 118 eligible staffers participated in the vote, a 90% turnout rate.)
The vote is just one step toward a future contract.
"The next steps: determining what we want to bargain for; forming a bargaining committee; and negotiating a contract," a Gawker blog post about the vote said Thursday morning.
Lowell Peterson, the executive director of the Writers Guild of America, East, described the vote as an important demonstration that "collective bargaining is a real possibility for digital media workers."
The guild already represents online writers and video producers at some traditional media companies.
But Gawker Media is the "first sizable standalone digital media site" to come under the guild's umbrella, Peterson said in a telephone interview.
He'd like to add more and he said conversations about union organizing have taken place with staffers at other sites.
There are no imminent unionization votes at those other workplaces, however. "At this point, the employees [elsewhere] are a little more cautious," he said.
Gawker's deliberations about a union were unusually public, which seemed proper, given the site's roots as a destination for Manhattan media gossip.
Writer Hamilton Nolan outlined the reasons for the organizing effort in a mid-April blog post.
"Generally speaking, Gawker Media is a very good place to work," he wrote. "So why do we want to unionize?"
Among the reasons he identified: "We would like to ensure that things like pay and raises are set in a fair, transparent, and unbiased way." Also, he added, more generally, "every workplace could use a union."
Peterson affirmed that "people are basically happy" at Gawker Media, per the guild's meetings and surveys.
He said staffers "want to have the good aspects of working at Gawker locked into place in a contract."
The staffers would also like "a more objective, transparent process for determining pay, including bonuses," Peterson said, and potential improvements to health benefits.