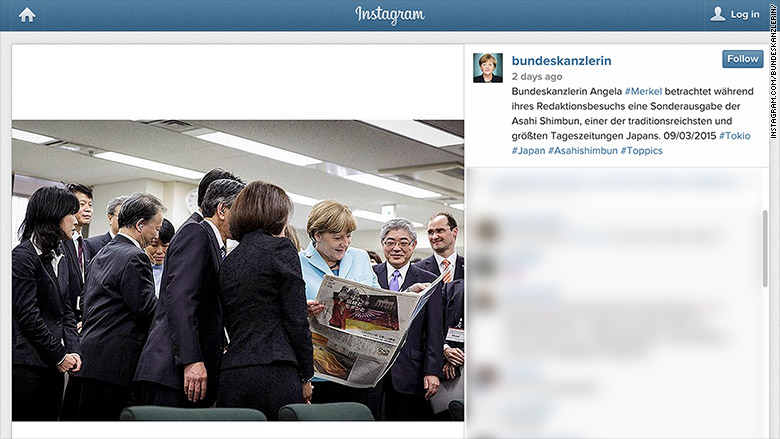 Wunderbar! Angela Merkel has joined Instagram.
The German chancellor signed up this week under the handle "Bundeskanzlerin" and has already posted 45 photographs.
Most of the photos are from Merkel's official engagements. But they offer a more offbeat view of situations, important discussions and moments.
There is a shot of Merkel, deep in conversation with French President Francois Hollande, with Russian President Vladimir Putin looking on from right behind on the back of a bus.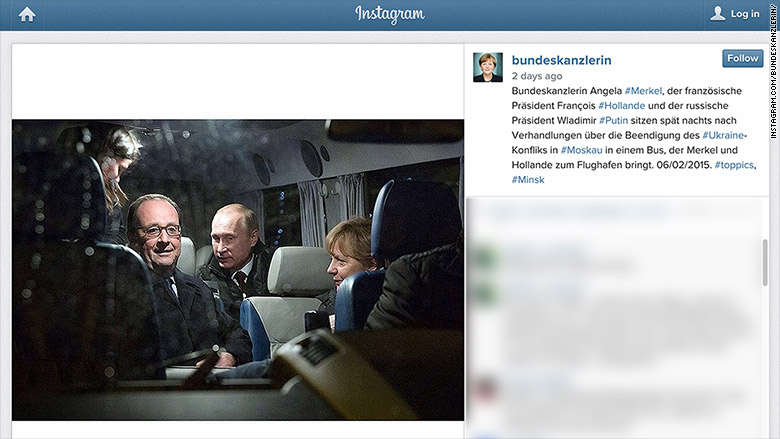 There's another one of her chatting with soldiers, and a photo from a visit to Steven Spielberg's film set in Berlin.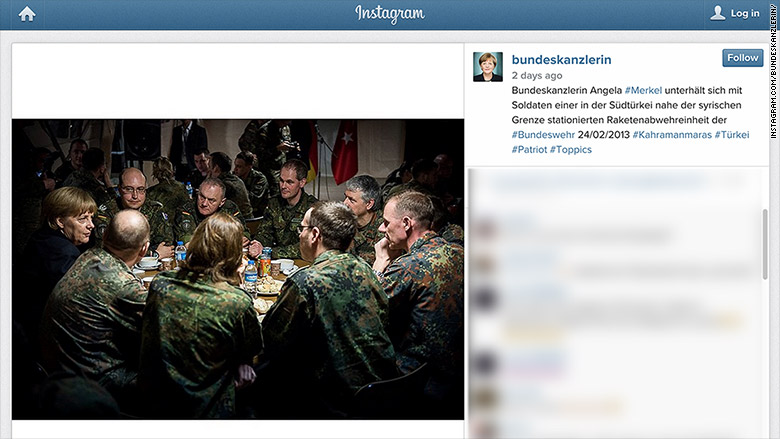 Dubbed the world's most powerful woman, Merkel instantly gained nearly 35,000 followers, leapfrogging seasoned political Instagrammers such as John McCain, John Boehner, and Chris Christie.
The new account has also been spotted by many Internet trolls who have jumped in to post dozens of offensive comments about Merkel.
A large number of those appeared to be coming from Russian users.
Related: How an artist can steal and sell your Instagram photos
But unlike many social media-savvy world leaders, such as President Obama or Hillary Clinton, Merkel has not shared any off-duty, casual pictures. She is well known for guarding her private life.
When German tabloid newspaper Bild published paparazzi photos of the notoriously private chancellor and her husband Joachim Sauer bathing while on a vacation in Italy, it caused a media storm in Germany.
Merkel has not embraced social media. She has an official Facebook page that gets updated a couple times each month, but has stayed off Twitter (TWTR).
Her fans follow a successful Merkel spoof Twitter account @Queen_Europe, which provides a stream of comical commentary on the latest twists in the eurozone drama.