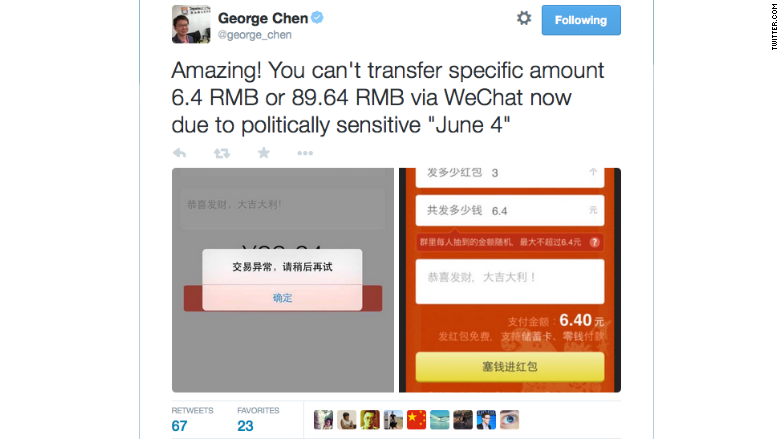 Thursday marks the 26th anniversary of the Tiananmen Square crackdown, and China's government censors are hard at work stamping out any mentions.
Money transfers made through Tencent's popular messaging app WeChat are even being blocked -- if they're made in amounts with the numbers "64" or "89." The numbers are references to the actual date -- June 4, 1989 -- when soldiers and tanks rolled into Beijing's Tiananmen Square to disperse pro-democracy demonstrators.
Users posted screenshots on Twitter on Wednesday, showing that transfers of amounts like 6.40 yuan ($1) weren't going through. Instead, an error message popped up saying, "unusual transaction; please try again."
China's government censors have long snuffed out politically sensitive material -- for example, blocking search results or mentions of fallen leaders.
Using its "Great Firewall," Beijing routinely blocks Internet access to sites like Google, Facebook, Twitter and foreign media websites. Some people use virtual private networks, or VPNs, to get around the censors so they can check Gmail. But the government has been cracking down on that as well lately.
This year, the Tiananmen Square anniversary is further of note as it comes after pro-democracy protests filled the streets of Hong Kong last year. Hong Kong remembers the deadly 1989 incident with a candlelight vigil every year, though mentions of the memorial are also largely blocked in mainland China.
Related: Hong Kong remembers Tiananmen - but this year is different
By Thursday morning, the block on WeChat seems to have been partially lifted. Attempts by CNN to transfer money between Hong Kong and Beijing — and vice versa — appear to have succeeded, but it's unclear if payments within China are working.
Because the Chinese language contains a lot of homophones, sometimes even common words that sound the same as politically sensitive subjects, also get blocked. For example, online searches for "weekend" reportedly were tied up because it involved a particular word that is also the surname of a fallen former leader, Zhou Yongkang.
Tencent didn't immediately respond to a request for comment.
--CNN's Steven Jiang contributed to this report