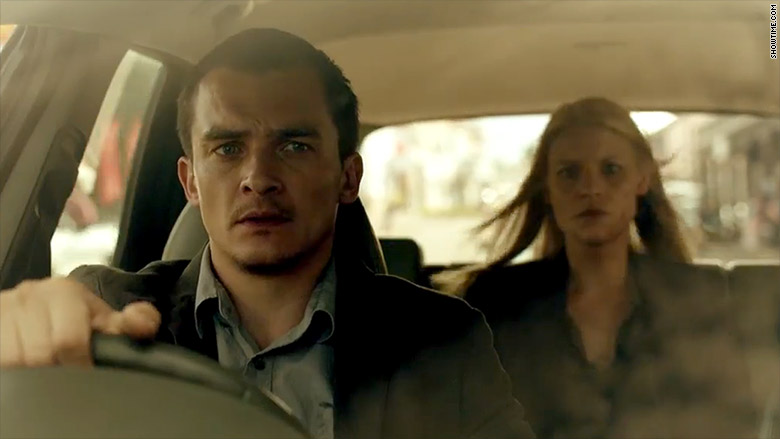 Showtime's new streaming service wants to be available a multitude of ways when it launches next month.
On Monday Showtime's parent company CBS Corporation announced partnerships with the Roku video streaming box and Playstation's nascent TV subscription service Vue.
Showtime will be available through both Roku and Vue, as well as Apple TV, the original partner that was announced last week.
More distribution announcements are likely from Showtime before the new service's early July launch.
Related: Showtime network to start selling subscriptions via the Internet in July
Showtime, the premium cable channel that is home to shows like "Homeland," is currently only available through cable and satellite providers. With these new partners, it is also becoming available via the Internet, no cable subscription needed.
Showtime's larger rival, HBO, took a similar step in April. But HBO started its service, called HBO NOW, through an exclusive 3-month partnership with Apple that locked out devices like Roku until at least July.
CBS and Showtime are taking a bit of a different route than HBO. Apple is a critical partner, since tens of millions of people have Apple TV boxes, and hundreds of millions have iPhones.
But Roku has an important install base too -- the small streaming TV boxes are in more than ten million homes.
"Today more than ever, consumers want choice in how they access entertainment to view what they want, when they want it," Steve Shannon, content general manger at Roku, said in a statement. "The addition of Showtime to the Roku platform helps provide that choice for millions of Roku customers and delivers TV on their terms."
Like those who subscribe to Showtime via Apple TV, Roku customers who sign up in July will also be offered a 30-day free trial to Showtime.
The service is another attempt by traditional TV networks to grab audiences who aren't cable subscribers, but still want the network's shows.
"We are thrilled that Roku and Sony have come on board for our launch in early July," Matthew Blank, CEO of Showtime Networks, said in a statement. "Both platforms have distinct and loyal audiences and together they will build on our service and greatly expand the number of homes that will have access to the Showtime service over the Internet."
Showtime will cost consumers $10.99 a month. HBO NOW costs $14.99 a month.
Showtime hasn't specified an exact launch date, but it says it'll happen sometime in early July, before the new seasons of dramas "Ray Donovan" and "Masters of Sex" debut on July 12.