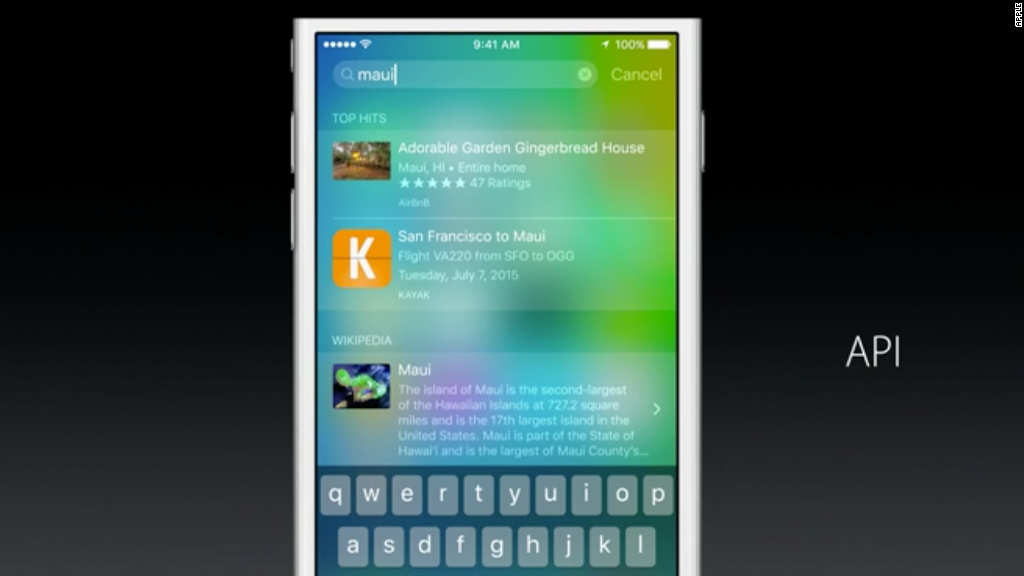 Apple announced its latest software for the iPhone and Mac at its annual Worldwide Developers Conference in San Francisco on Monday.
The event kicked off with a high-production video skit staring Bill Hader, an elevator filled with fake Tim Cooks, giant Angry Birds, and Danny Pudi doing an autotuned song about developing. (Turns out it's pretty to easy to rhyme with Objective C.)
CEO Tim Cook said he was skipping the usual company sales and retail store updates, only saying "Everything's going great." That means there are still no Apple Watch sales numbers.
OS X El Capitan
The next version of OS X, Apple' (AAPL)desktop operating system, has a name: OS X El Capitan. Following a series of cats, Apple is naming new versions of OS X after California landmarks.
Craig Federighi, Apple's software chief, introduced the next Mac OS and showed off its new features. The Spotlight tool search supports natural language searches and includes more web search results, like weather and sports scores. As in Google (GOOGL) Chrome before it, you can now can pin tabs in Safari and see what tab is playing unwanted music and mute it.
There's a split screen view for seeing two apps at once, a la Windows 8 from Microsoft (MSFT), and a way to quickly save messages in Mail. And under the hood, the new OS X is supposed to be much faster.
OS X El Capitan is available to developers today. A public beta will start in July, and it will be available to everyone in the fall.
iOS 9
Siri Proactive. In iOS 9, the new software for the iPhone and iPad, Siri is getting a big update. It is going to attempt to guess what you want to know, before you ask it. Just like Google Now.
Apple's iOS smart assistant is getting an upgrade, called Siri Proactive, that includes predictive tools. It has smart reminders that know more about your location and habits. It pulls from your search history, emails and calendar to give smarter search results to surface information and suggest apps.
"This is all context sensitive to the time, the place and even the devices you're connected to," said Federighi.
Apple may be following Google here, but it sets itself apart in one very important way. Apple isn't a data company, unlike Google, and Federighi said it will never mine your email, photos or contacts for information to target ads or sell to third parties. Things you look up are done anonymously and not tied to your Apple ID.
"We honestly just don't want to know," said Federighi. "All of this is done on device and it stays on your device, under your control."
Apple Maps. The Apple app finally adds transit directions, so you can decide if you're going to grab a bus, walk or drive. It's only in 12 cities to start, but will expand in the future. It's also improving business searches for finding nearby restaurants, and showing if they take Apple Pay.
Apple Pay. Square's next card reader will accept Apple Pay, the NFC payment feature on mobile devices. Apple Pay will also be available to people in the United Kingdom starting in July, and include support for public transit. Apple's Passbook app is being renamed Wallet, and will support retail loyalty cards.
News. Apple has a new news app, different from its oft ignored Newsstand app. It's called (wait for it) News.
It creates a personalized feed called For You, pulling from articles you've read in the past. It updates every time you open the app. The articles can come from anywhere on the Web, but it also features articles created by publishers just for the News app. It looks very similar to Facebook's new native articles, and Flipboard before it, with big graphics and fun interactive elements.
Here again Apple focused on privacy as its killer feature: "News is designed from the ground up with your privacy in mind," said Federighi.
"Quicktype" and multitasking. Apple introduced a new gesture in iOS 9 for iPads: Use two fingers and your keyboard mimics a trackpad. It lets you select text and move the cursor like a mouse.
IPad users can also get split screen apps and improved app switching and keyboard shortcuts. They might seem minor, but small improvements like this push the iPad that much closer to being a serious word-processing device.
HomeKit. Apple's hub for connected home devices, HomeKit added iCloud access and controls for window shades, thermostats, lights and sensors.
HeathKit. The health feature will be able to monitor hydration, menstrual periods, reproductive health measurements, and UV exposure.
CarPlay. It will now work wirelessly in your car.
More power for iOS 9. With all those new improvements, Apple also had to address one of the biggest drags of running powerful tools on a mobile device: battery life.
iOS 9 will have up to an hour more of juice a day, according to Federighi. It's adding a low-power mode to squeeze out three extra hours of life, a feature that already exists on competing mobile operating systems.
iOS 9 will support all the same devices as iOS 8, and the beta comes out in the Fall.
Apple Watch
Just six weeks after it launched, Apple Watch is getting its first big upgrade. In the next version of watchOS you can dictate replies to emails, take FaceTime calls (audio only) and draw in multiple colors on the wrist device. Health and fitness apps can run natively on the watch, which makes them faster and means you don't need to have your phone on you.
You can start workouts using Siri, so you don't have to touch the watch. Feel better about your workout with fancier, sharable health and fitness awards (they rotate and are in 3D!).
Third party developers can access sensors like the accelerometer and heart beat monitor. They can make apps that use the Digital Crown dial, the haptic engine (it makes the watch vibrate) and HealthKit and HomeKit. The Watch also has new face options, including ones that let you put your photos in the background.
Developers will be able to start using the new version today. Watch owners will get the update in the fall.
Apple Music
Tim Cook brought out music producer Jimmy Iovine and Drake to talk about Apple Music, a new streaming service with that has some old school twists: real human DJs making playlists and a new radio station called Beats 1 that is available worldwide around the clock.
The Apple Music service will have unlimited streaming. There are playlists organized by activity and genre, put together by music editors who hand pick what songs come on next. It's trying to differentiate itself from algorithm based competitors like Spotify. However, it does use algorithms to come up with music suggestions for you based on info like your listening history and what's in your library.
In yet another stab at mixing its music services with a social network (remember Ping?), Apple is introducing Connect. It's a platform for musicians to share things with their fans, like songs, remixes, lyrics, videos, and sound bytes.
Apple music costs $9.99 a month, but the first three months will be free. It will be available on desktop and mobile devices on June 30 -- it's even coming to Android down the line. If you have a lot of people in the house, you can get a family plan up to six people for $14.99.