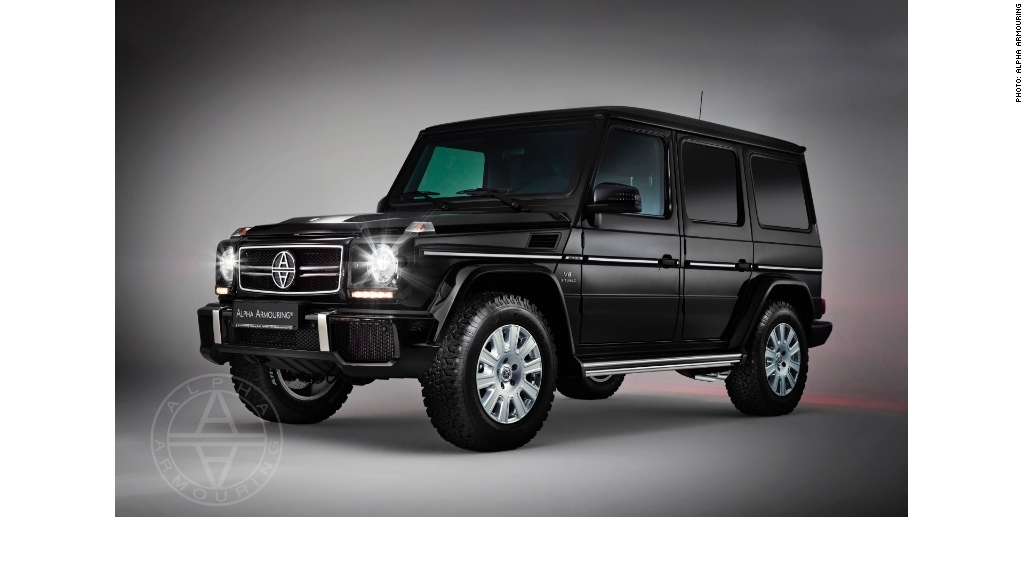 Pimp my armored car!
A growing number of celebrities and VIPs -- worried about kidnapping or violent attacks -- are demanding armored cars that are as luxurious as limos.
Some companies that specialize in armoring vehicles say the luxury segment now makes up more than more than half of their overall sales, and the market is growing by over 10% per year.
According to the International Armoring Corporation, roughly 25,000 new armored vehicles are produced each year. Many of them are shipped to dangerous areas in the Middle East and Africa.
Executives at auto armoring firms say the upscale trend began about five years ago as companies started looking for ways to protect their top executives.
A typical armored car can be uncomfortable and purely functional.
But many clients now demand features such as interior flatscreen TVs, massage chairs, suede upholstery, premium paint jobs and night vision cameras, in addition to the traditional armoring that keeps passengers safe from bullets and blasts.
"If the client wants a particular type of leather, stitching, layout, electronics, communications system, or even [a] specific brand of espresso machine in the vehicle, we will customize the interior to accommodate that," said Trent Kimball, CEO at Texas Armoring.
Related: The cost of being super rich
Germany's Alpha Armouring, which has been customizing vehicles for roughly three decades, said about 40% of its customers are now "VIPs" and "superstars," who demand luxury options. That represents a significant shift from a few years ago when the vast majority of clients were governments and embassies.
The company launched its new Alpha Phoenix stretch SUV at a luxury car show in Monaco in April in a bid to cater to wealthy clients. Previously, Alpha Armouring only showcased at military shows.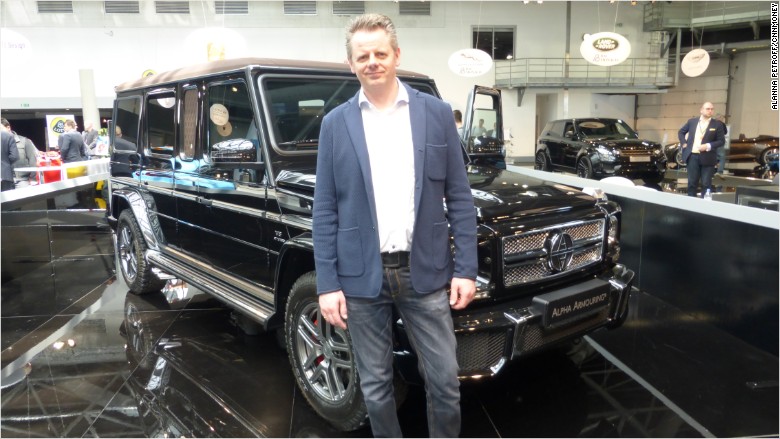 The new SUV -- priced at €1.3 million ($1.5 million) -- is based on a Mercedes G63 SUV, but it's stretched to add legroom. A limo-style barrier gives passengers privacy. Plus, fancy surveillance cameras, electronic gadgets and leather seats have been included.
While a stretched out SUV may get a bit of extra attention on the roads, most armored vehicles try to keep a low profile. Clients generally demand that the exteriors look normal so they blend in.
Related: Monaco car collector profits from 'flipping' Ferraris
No matter how rich you are, money can't buy everything, says Alpha Amouring owner Klaus Ackermann.
The most secure vehicles are off limits to even the richest civilians because governments fear they will be used for private armies.
Ackerman said the German government only allows his company to sell vehicles with the highest level of protection to heads of state.