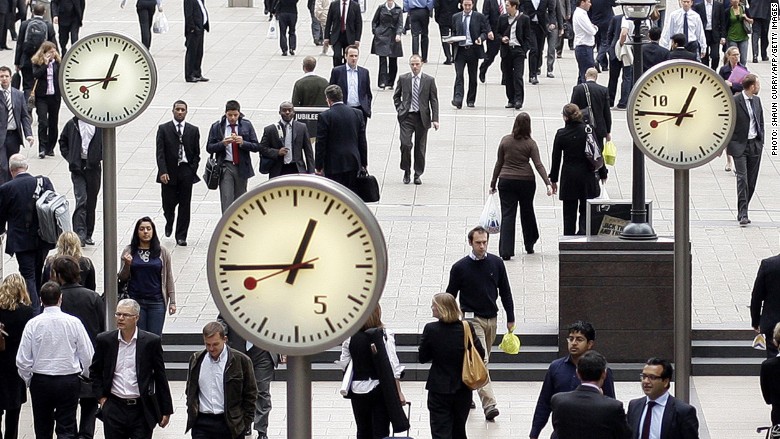 The wild moves roiling some markets are creating job opportunities for thousands of bankers in London.
Global banks such as HSBC (HSBC) are still bleeding jobs, but employment in financial and related services hit a record high last year, and hiring continues at a healthy pace as demand for specialist traders soars.
Recruitment firm Astbury Marsden said the number of new financial jobs in the U.K. capital jumped 52% in May.
A survey conducted by the firm found 4,100 positions were created last month, up from 2,690 in May 2014. That's the fifth straight month of hiring growth across London's financial districts.
And many of those lucky job-seekers have market volatility to thank.
Related: America added more than 1 million jobs in 2015
A pick up in trading in bonds, commodities and currencies has left banks with a skills gap. Workers in these markets suffered the sharpest job cuts in recent years as regulators imposed tough new rules and central banks around the world drove down interest rates.
Astbury Marsden said renewed volatility in bonds and currency markets mean investors are now demanding their banks pursue a "more active trading strategy."
U.K. managing director Adam Jackson said revenues are growing in some areas, creating more opportunities for specialists than his firm has seen for a while.
Investors have been riding some big and unusual swings this year. Bond yields in Europe fell into negative territory, while anticipation of the first interest rate hike by the U.S. Federal Reserve in a decade creates turmoil elsewhere. At the same time, the U.S. dollar has been gyrating and oil prices keep investors guessing.
Related: Pay attention to the chaos in the bond market
The jobs market in London, one of the world's leading financial centers, has rebounded since the crash. The city has the world's biggest share of global trading in many financial markets such as foreign exchange, derivatives and international bank lending.
Trade group TheCityUK said London's financial and related professional services firms employed a record 709,500 people last year -- 12% above the 2010 low.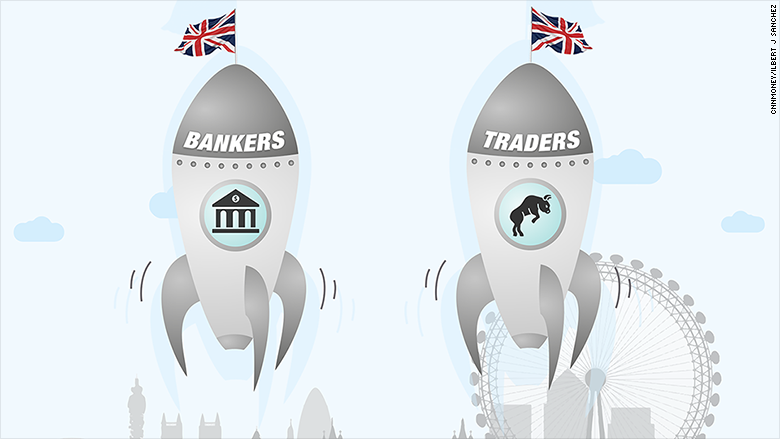 The drive for specialists comes as the wider banking industry tries to transform its operations in the aftermath of the financial crisis.
Big banks including HSBC and Barclays have shed thousands of jobs and refocused their businesses to adjust to higher regulatory burdens and new trading environments. But that's also fueling pockets of opportunity: Astbury Marsden said compliance and risk management jobs are another growth area.
"We are seeing new compliance hiring to support the new front office roles that are being created, and risk professionals are also in strong demand," London managing director Jackson said.