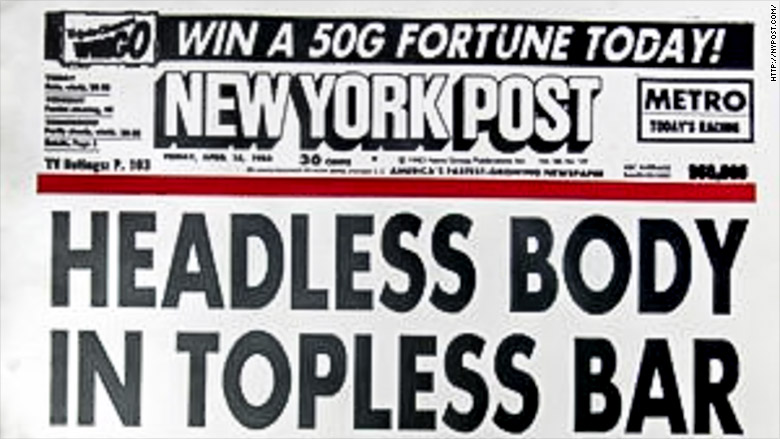 The author of perhaps the most famous headline in tabloid history - the New York Post's "Headless Body in Topless Bar" - has died.
Vincent A. Musetto, 74, was a veteran New York newsman who came up with the legendary 1983 headline, which quickly became one of the most well known throughout the industry and has endured to this day.
Musetto, who was suffering from cancer, died shortly after midnight Tuesday morning at Calvary Hospital in the The Bronx, according to an email circulated among former Post employees.
The famed writer left the paper in 2011 after working various jobs there, including as film critic, for over 40 years.
As for Musetto's most famous creation, "Headless Body," has since become synonymous with the Post itself and that of eye-catching tabloid screaming front pages, known as "the wood." The headline was for a story about a grisly murder in Queens in which the owner of a strip joint bar was shot by a gunman, who then forced a hostage to decapitate the victim.
Charlie Carillo, a colleague of Musetto at the time, recounted to the Huff Post in 2012 that when Musetto penned the headline some editors in the newsroom were hesitant to run it because of concerns that while the murder certainly took place in a bar, it may not have been a topless bar.
Carillo added that Musetto responded, "It's gotta be a topless bar! This is the greatest f****** headline of my career!"
The Post quickly dispatched a young reporter to the bar with one mission - to confirm that it was, in fact, a topless bar. Once the reporter did so, the presses began to run and the headline became part of newspaper lore.
New York Magazine honored it as one of the greatest tabloid headlines in the city's history. It even became the title of a book about the best headlines from the paper.
"VA Musetto was one of the legends of our business, and he became famous for a truly classic headline," Col Allan, editor in chief of the New York Post, said in a statement. "But for those who worked with him and mourn him today, VA offered so much more. Humor. A sharp critical eye. A personal warmth with his colleagues, and deep love for the Post and its readers. All will miss him."
Musetto is survived by his wife, Claire, and daughter, Carly.
Colleagues and former employees of Musetto learned the news via an e-mail chain that includes hundreds of those who worked with the writer at the Post.
After learning the news, one e-mailer, Allen Salkin, wrote, "I wish he was around to write the headline for his obituary."