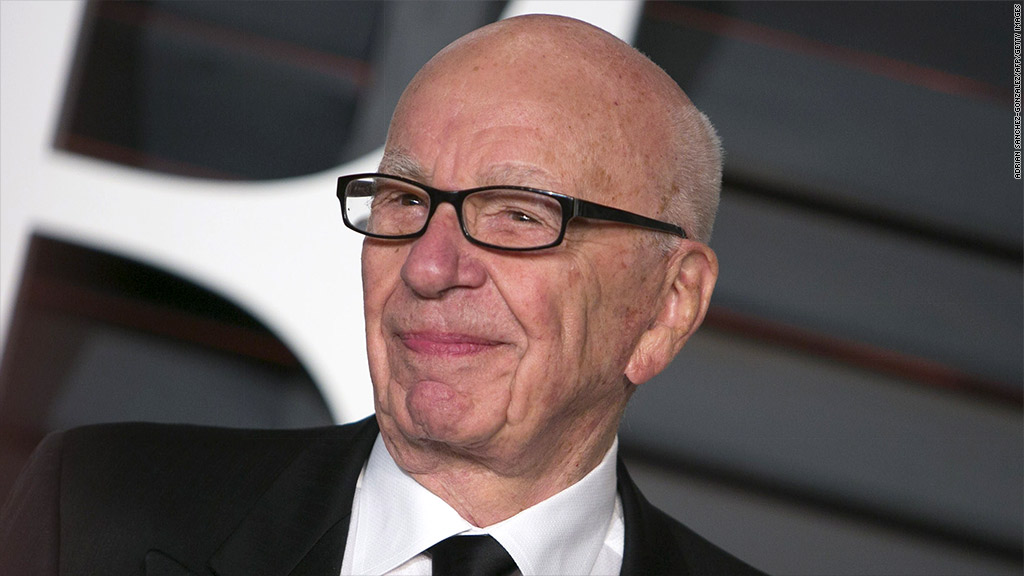 The James Murdoch era hasn't begun at 21st Century Fox yet. But Wall Street doesn't seem too excited about it.
Shares of Fox (FOXA) fell more than 1% at one point Thursday following reports that Rupert Murdoch will soon relinquish his position as Fox CEO and that his son James would succeed him.
Rupert's other son Lachlan will become co-executive chairman along with his father.
Fox shares were slightly higher before the initial report on CNBC, which has since been confirmed by CNN's Brian Stelter.
The stock rebounded as the day progressed and finished only slightly lower.
Related: Rupert Murdoch plans to step down as Fox CEO
The news isn't a complete surprise. The Murdoch family owns a controlling stake in Fox, so it was expected that Rupert would hand pick his successor and keep the leadership in the family.
James Murdoch was promoted to deputy chief operating officer of Fox sister company News Corp (NWSA). in 2011. At that time, Fox was part of News Corp. It became a separate company in 2013.
Last year, James Murdoch was promoted again -- to co-chief operating officer at Fox.
But investors may be worried that the 42-year old James Murdoch is still not yet ready to be CEO.
His image is tainted by the phone hacking scandal at newspapers owned by News Corp. a few years ago. James Murdoch was the executive chairman of News Corp.'s UK publishing unit during that time and stepped down from that role in 2012.
"James Murdoch has to overcome the phone hacking scandal," said Laura Martin, a media analyst with Needham & Company.
Another big concern? Chase Carey, the other co-COO at Fox, will be stepping down from that post. He is remaining with Fox in an advisory role.
Related: Murdoch tapped sons for new posts at News Corp. and Fox in 2014
Carey, a long-time News Corp. executive who was also once CEO of DirecTV (DTV), is widely respected on Wall Street. Carey left DirecTV in June 2009 to return to News Corp. as president and COO.
At the time, Carey's return allayed many concerns investors had about the departure of Peter Chernin, who had left earlier that year to form his own media investment firm.
Chernin was Rupert Murdoch's trusted lieutenant before Carey.
Many investors felt that Chernin was a stabilizing force that held the mercurial Rupert Murdoch in check.
Related: Political power and a hacking scandal: Rise and fall of Murdoch in Britain
In the past few years, Carey has been viewed in a similar regard by Wall Street.
"Chase Carey was a steady hand at News Corp. and Fox -- especially after 'Hackgate,' said one media analyst who asked not to be named. "Carey focused on what shareholders wanted and helped convince Rupert Murdoch to split News Corp. into two and buy back stock."
Some analysts had hoped Carey would be appointed as a sort of caretaker CEO at Fox for a few years once Rupert Murdoch was set to step back from day-to-day operations.
In that scenario, James Murdoch could have continued to learn from Carey before eventually taking over the family business.
But it's not happening.
Related: Time Warner, Fox or Disney: Who rules Big Media?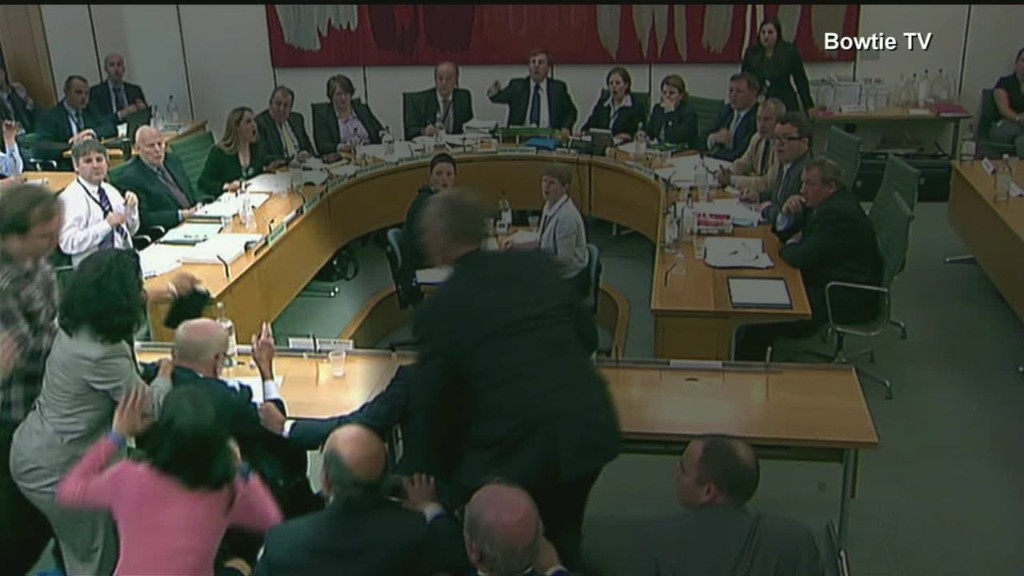 Martin, the analyst at Needham, said James Murdoch will have big shoes to fill.
Rupert Murdoch is a media legend that turned News Corp. and Fox from just a handful of newspapers in Australia to a multi-billion dollar empire.
"Self-made billionaires are hard to come by. So when one steps aside in favor of any successor, investors may be nervous," Martin said. "James also has the added pressure of being the founder's son."
The track record of sons taking over media companies from their fathers is a bit spotty.
Cablevision (CVC) CEO James Dolan is not viewed as favorably by many investors and analysts as his father Charles. But Comcast (CMCSA) CEO Brian Roberts has helped transform his father Ralph's cable company into a media giant.
James Murdoch will also be taking over Fox at a time of almost unprecedented change in the media business.
Related: Fox News chairman Roger Ailes untouched in Murdoch shuffle
Is he the right person to help Fox transition to an increasingly digital world?
And can he help get the Fox TV network back on track? It's stumbled in the ratings lately.
That's a big reason that the stock has lagged rivals Comcast, CBS (CBS), Disney (DIS) and CNN owner Time Warner (TWX) since Fox split from News Corp.
So investors will want concrete details about how James Murdoch plans to turn Fox into a true 21st Century media company once he officially becomes the boss.